Feature
Sinners Who Need the Word of God
Campus ministries in Champaign, Ill., and Ypsilanti, Mich., provide what is most essential for college students and those in their community: the Word and Sacraments.
"This ministry has helped me in my faith, helped me see the light in darkness," said Jodie Olivia Werner, a junior at the University of Illinois at Urbana-Champaign (UIUC) who attends University Lutheran Church in Champaign. "Going to church has really helped a lot."
The Rev. Michael Schuermann, pastor of University Lutheran Church — also called UniLu — is at work amid ever-changing circumstances on the campus, serving students, faculty, staff and members of the community with the Gospel of Jesus Christ.
The Family of UniLu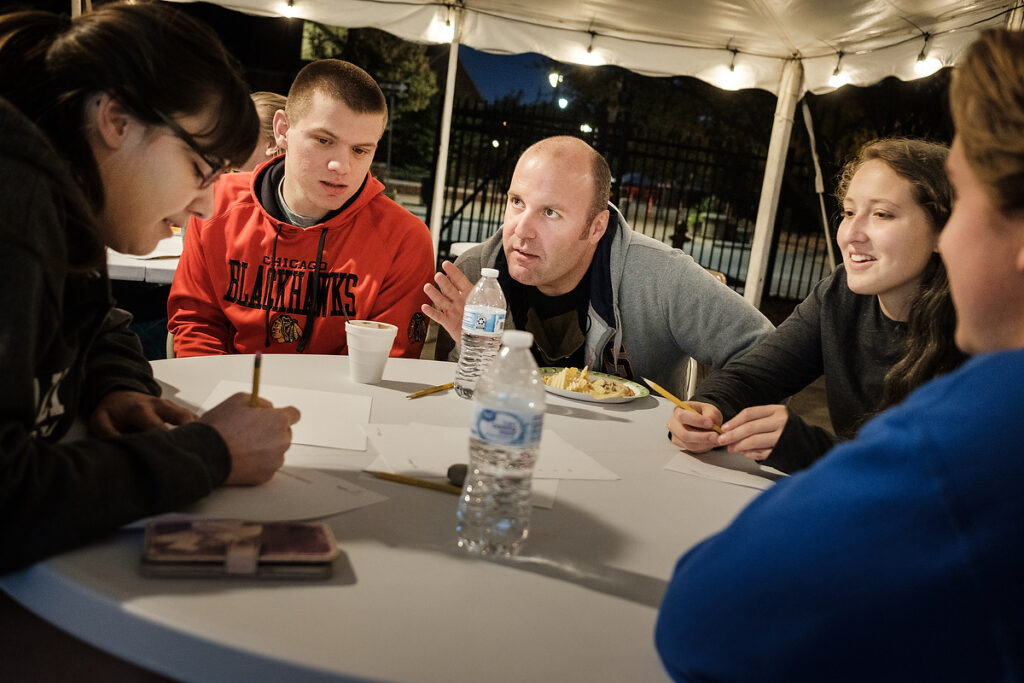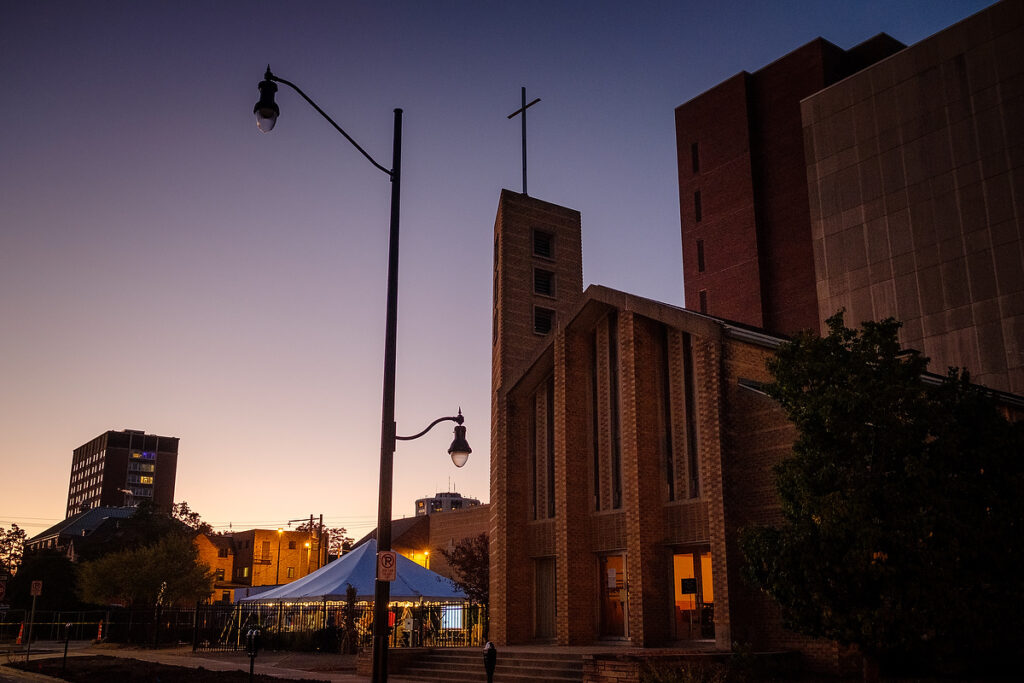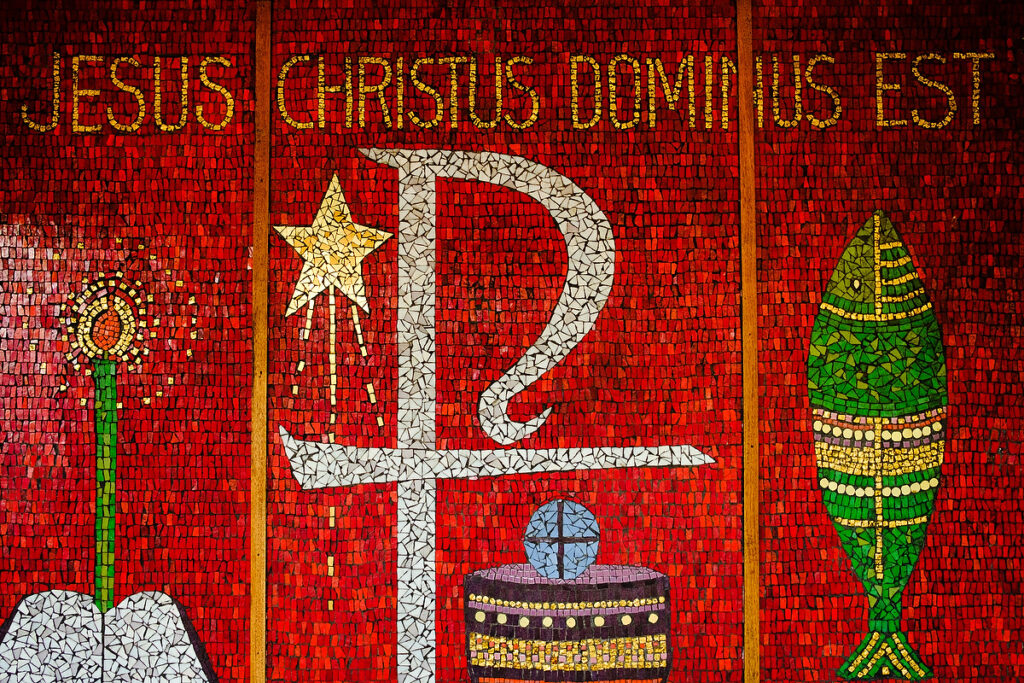 On the evening of Friday, Sept. 18, 2020, students brought blankets and snacks as they gathered outside the church for a trivia night. This was the first night that many on campus were free to leave their dorms due to coronavirus restrictions. Schuermann and his wife, Katie, enjoyed fellowship with the students as they participated in the trivia rounds. Katie safely distributed snacks according to local guidelines and helped a team during the trivia questions. This event took place in an outdoor tent provided to the church by the LCMS Central Illinois District Church Extension Fund. The brisk night stood in contrast to the warmth shared among the students who gathered with their "family" at UniLu.
"I was really struggling in my faith when I first got here … I don't know where I'd be if I hadn't come here my freshman year. And I'm still coming here, and I'm in grad school," said MacKenzie Wells, a student in the veterinary school. "We're family — we're very close here. … It's nice to be around people your age in your situation that believe and think the same things as you do. In classes, it's not always that way. It's cool to meet other people that feel the same way about things."
Campus ministry has a long history in the LCMS that dates back to September 1920. The work in Champaign began in 1941, when the Rev. Erich Heintzen was student pastor. Heintzen purchased a house on the corner lot where the church is currently located. For the first decade, students met in the campus Episcopal church. With the increase of students following World War II, the present church building was built in 1951 and dedicated in 1953. A student center was added to the church in the 1960s. Schuermann now serves this congregation as its sixth called pastor.
Unlike many campus ministries, which operate through chapels as an extension or outreach of a local congregation, University Lutheran Church is a congregation of the LCMS.
When asked about the difference between this parish and other congregations, Schuermann noted, "In many ways, much of it is not that different. … They are sinners who need the Word of God, who need the Lord's Supper, who need to be prayed for, … who have questions, who wander off into sin. … They need a pastor who is there when they give into the temptation to sin."
Although the ministry in many ways is similar to that in any parish, the students at UIUC face the teaching and promotion of anti-Christian and even anti-God worldviews. Schuermann noted that many on campus advocate a materialistic worldview, in which people are really just stuff — matter that has been vivified through some process, and that will die one day. That death is the end. Ironically the other popular worldview is anti-materialistic, wherein people are defined not by their flesh, but by ideas and self-identity, including gender fluidity and the attendant neutral pronouns. Both of these views push students away from Jesus Christ, to find identity and meaning in humanity and in themselves.
University Lutheran Church offers a place for students to ask questions and to hear the proclamation of the true Good News of Jesus Christ. Occasionally, students will stop by to ask about the church and the Bible's teaching. Weekly worship and Bible class provide times to hear the Word and receive the blessed Sacrament.
"It is so important for parents to do the work of finding a place with a campus ministry. This should be high on your list … is there a faithful Lutheran church or campus ministry on campus? If not, you should probably not consider that school," said Schuermann. "When you visit the school, visit the campus ministry. … It is best to have that connection before you come." Schuermann also reminds his students, "Even when the university has events planned on Sunday, skip them and come to church. It's more important to have those connections made."
Thousands of LCMS students have gone through this campus ministry over the years, with many attending even after their undergraduate studies conclude. "I've been at UniLu since 2010. I did all undergrad here, and it was kind of my social group and a great faith center for me. I was in the hard sciences, where there weren't a lot of people who were Christian, and even if they were Christian, they weren't really vocal about it, so it is always nice to come here and have a place where I could be active in my faith without fear of what might happen," said Jonathon Schuh, a professor of engineering at UIUC. "I've been here for a very long time; it just feels like home, and it's a great place."
Friday Night Pancakes at EMU
Eastern Michigan University (EMU) is a public university in Ypsilanti situated near the University of Michigan and Concordia University Ann Arbor. With nearly 18,000 students enrolled in 2019, it's hardly a small school. It can be a difficult experience for a new or returning student at any university to find community. Under a pandemic, that challenge is even more difficult. Hannah Schindel described the student body as "starving for community."
They are filling that void through pancakes.
For 10 years, Cross and Resurrection Lutheran Church, the Chapel at EMU, situated directly on the school's campus, has served up an outreach for the students. It's here where volunteers from both the church and university mix ingredients from scratch while hungry students order free heaping stacks of hot pancakes and waffles and their choice of sweet and buttery condiments on the side. It's an event tailored to the circadian rhythms of college students — 10 p.m. until 1 a.m.
"A large majority of our students that come here are not Christians and are very upfront about it," said the Rev. Bryan Schindel, senior pastor at Cross and Resurrection in Ypsilanti. "They don't know anything about the church. They have not gone to church. They don't have a church background, and they also want to know why we do this."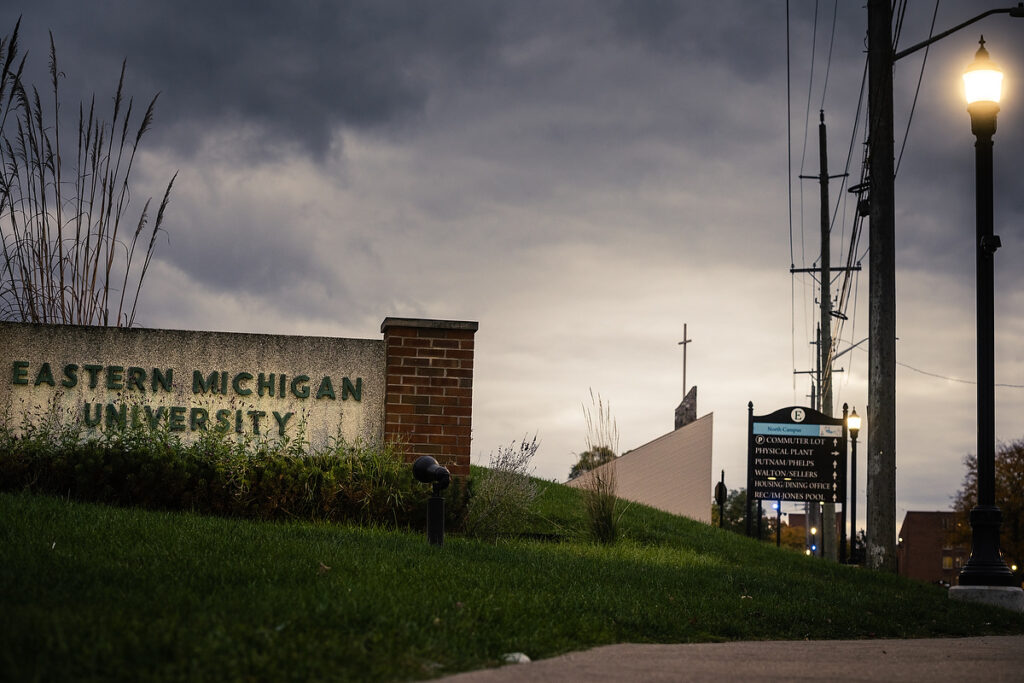 On a brisk Friday evening in Ypsilanti, a hungry young man wearing pajama pants and who defined himself as an atheist sat down with socially distanced friends at a table in the church's fellowship hall. Schindel joined the conversation as the students devoured pancakes and waffles piled high in white takeaway containers. Outside the church, with its triangular architecture and stony steeple, both the exterior sign and a planted banner pushing pancakes welcomed a steady stream of students indoors. On most Friday nights, attendance runs into the hundreds.
Members of the church serve pancakes and share the love of Jesus Christ with their closest neighbors. "Our hope and our prayer," said volunteer pancakes leader and EMU student Evan Rogers, "is that through our conversation with them, we can show that the Lord has a lot of love for them."
Schindel saw a need for the outreach when he was a chaplain working ride-along with police. The students were looking for things to do on Friday evenings after the student center movies let out for the night. Some students got into trouble, so Schindel wanted to provide a place to go when nothing else beside the bars were open. Students came up with the idea for pancakes, and the congregation latched onto it and generously supported the ministry. Over time, word of the outreach spread, and hundreds of students gathered each week. Some students joined the congregation during their years at EMU, while others remained in orbit with the event. "I just think [the pancakes outreach] has been a remarkable little bit of light in the midst of that kind of cloudiness," Schindel said.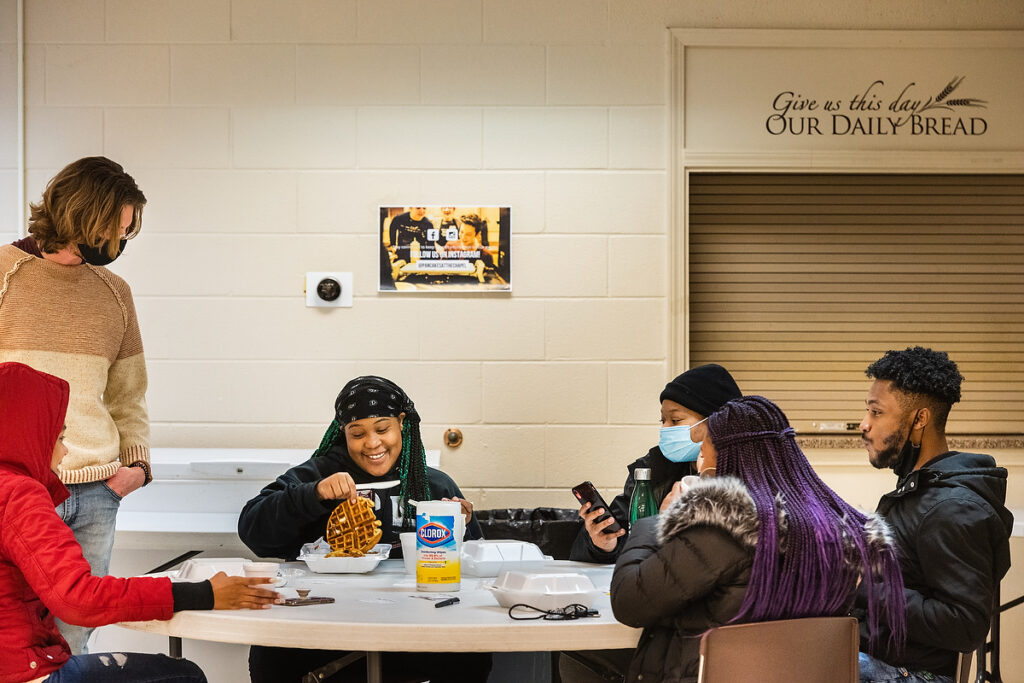 "I love how nice and personable everyone is," said student Paris Brister. "You can talk to them about normal stuff, but also about God." Brister was with a group of friends who have visited the event before.
"We serve people not only spiritually, but also their physical needs," said Hannah Schindel. "Also, there is something special about eating with people … it brings people together." As she delivered pancakes and sat down to talk with seated students, she struck up conversations easily.
As students walked to the fellowship hall, some stopped on their way and prayed in the sanctuary. On this particular Friday evening in October, three friends sat down at a table. As two toasted with disposable cups, the other snapped a photo to remember the night. Meanwhile, church member Brian Perkins prayed nearby with another visitor.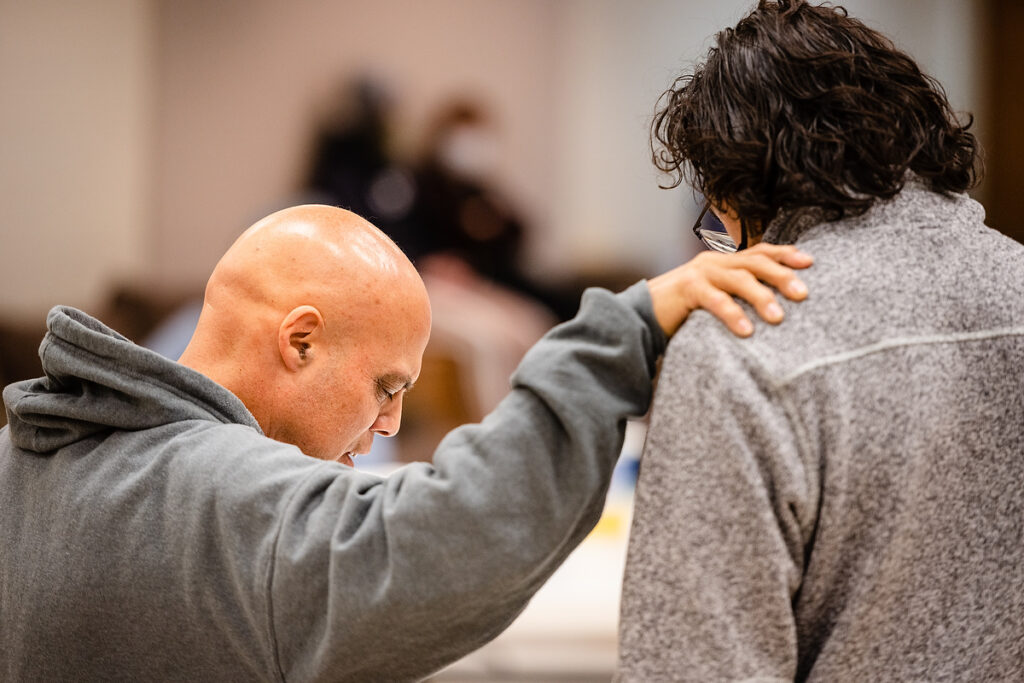 "I feel like the Lord wanted me to be here," said Perkins, who has been with the outreach for years and whose favorite Bible verse is Romans 8:28. "The only reason I'm on Earth is to serve God, and the way I've found to serve God is to serve people … all people are God's people whether they realize it or not."
Schindel said that as pastor, it's a tough reality knowing that your faithful students move on after their time in school, but it gives him joy being a part of their lives during this time. "Lord, thank You for letting me be part of that person's life because I know You're going to use them mightily," he said.
Providing the Essentials
Campus ministry provides what is most essential for college students and those in their community: the Word and Sacraments. In a setting fraught with moral temptations and philosophical influences, in a time of exploration and questioning, the Word of God grounds students in the unchanging truth of God as Creator, Redeemer and Sustainer.
Schuermann noted, "If they are not grounded in the Word, if they don't have a local guide, a pastor, to help them work through these challenges, these are great temptations, and they face those things daily." Schindel, Schuermann and others in campus ministry listen, care for and find opportunities to interact with students on campus. But most importantly, they, like all pastors, serve with the Word and Sacraments. And whether it is pancakes or trivia nights, whether it is individual discussions or group meetings (when possible with restrictions), everything done in campus ministry hangs on Christ and His salvation given through the Word.
Learn More
Pray with Us
Heavenly Father, Your Son grew up in a sinful world and faced all the temptations that befall us, yet was without sin. His perfect life, death and resurrection won for all sinners forgiveness and eternal life. Bless those who serve in campus ministry as they proclaim Christ to those who transition into their adult years. Let them boldly teach Your will to those who are comfortable in sin, and let them comfort with Your Gospel those who are beset and troubled by their sin. In settings defined more by secular and anti-Christian rhetoric than Your Word, work through Your servants to draw all to Christ through His Word. May all who hear believe and grow in the grace and knowledge of Jesus Christ, in whose name we pray. Amen.
Share Jesus with the World
Your generosity today makes possible your Synod's witness and mercy efforts both at home and abroad.
Are you looking to direct your gifts for work that's more specific?
Visit the LCMS online ministry and mission catalog to find those opportunities most meaningful to you!
Don't see what you're looking for?
Contact LCMS Mission Advancement at 888-930-4438 or mission.advancement@lcms.org to talk about all the options available.
Dr. Kevin Armbrust
Director of Editorial for LCMS Communications.
Erik M. Lunsford

Managing photojournalist for LCMS Communications.