National Work
Joyfully Lutheran in the City and the Country
No matter where they live, all people are in need of the same thing: Jesus Christ.
Tractors or mass transit? Row houses or farmhouses? It often seems like there's a big divide between urban and rural living, yet people everywhere are all desperately in need of the same thing: Jesus Christ. Thanks be to God, He calls His people to serve Him in different ways and in different places. Read on for two stories of how God's people are being "Joy:fully Lutheran" — the theme of the upcoming 2019 LCMS convention — as they love and serve their neighbors in the unique contexts in which they've been placed.
Loving and Feeding People in Inner-City Detroit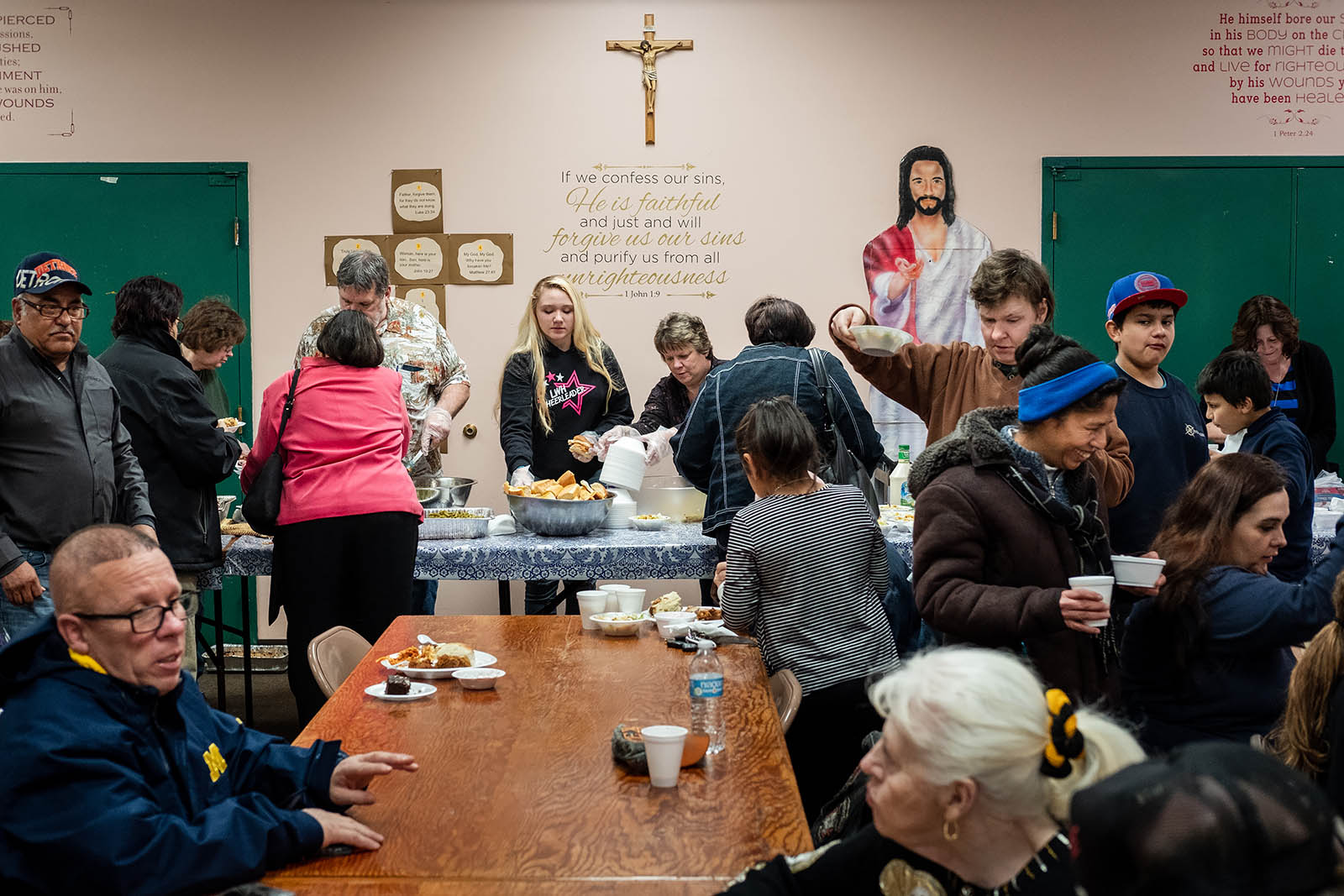 On a chilly Wednesday evening in late March, Family of God Lutheran Church in southwest Detroit was so full that even the first pew was filled.
People came from all over for the dedication of the ministry's new sanctuary. They came to celebrate what God was doing in this inner-city area.
Before moving into a better facility and receiving renovation assistance from Laborers For Christ, Family of God was located between two decrepit buildings that housed evils such as illegal drug use and prostitution. The ministry served food to the community in order to bring hope and healing to the neighborhood, all the while praying for God to do His work there.
Now, the community gathered to celebrate that those buildings that once enabled sin have been demolished and the ministry has a proper place to worship. Yet in the midst of the handshakes, hugs and smiles after the dedication service, a man sat silent and alone in the first pew. He did not come to celebrate. He was broken.
The Rev. Jim Hill, pastor of Family of God, joined him and sat with his arm around the man's burdened shoulders. They spoke of addiction and its devastation on the man's family. They spoke of need and desperation. And then Hill spoke of Jesus.
This is the life and ministry of Family of God. The ministry serves all who come, drawn by the offer of a free meal, a friendly face, informal counseling, tutoring or simply the feel of family. Many who attend Family of God are struggling with addiction and other destructive patterns. Many who come will never join a church. But in the midst of sin and struggle, Family of God feeds and cares for the body and, most importantly, proclaims Christ.
The work of Family of God is supported by at least 18 area congregations that provide financial support, bring food and send volunteers.
On average, 60 to 70 people come for the meals, which are offered six days a week. Some come long before the food is ready, and many stay after the meal is over.
On the day of the dedication service, one man sat and copied the Bible by hand. It's something William Holloman does regularly — sometimes copying his favorite verses, sometimes entire books. "When I write the Bible, it's Christ Jesus and the Holy Spirit," said Holloman. When asked what Family of God means to him, he smiled and said, "Pastor Jim is my teacher."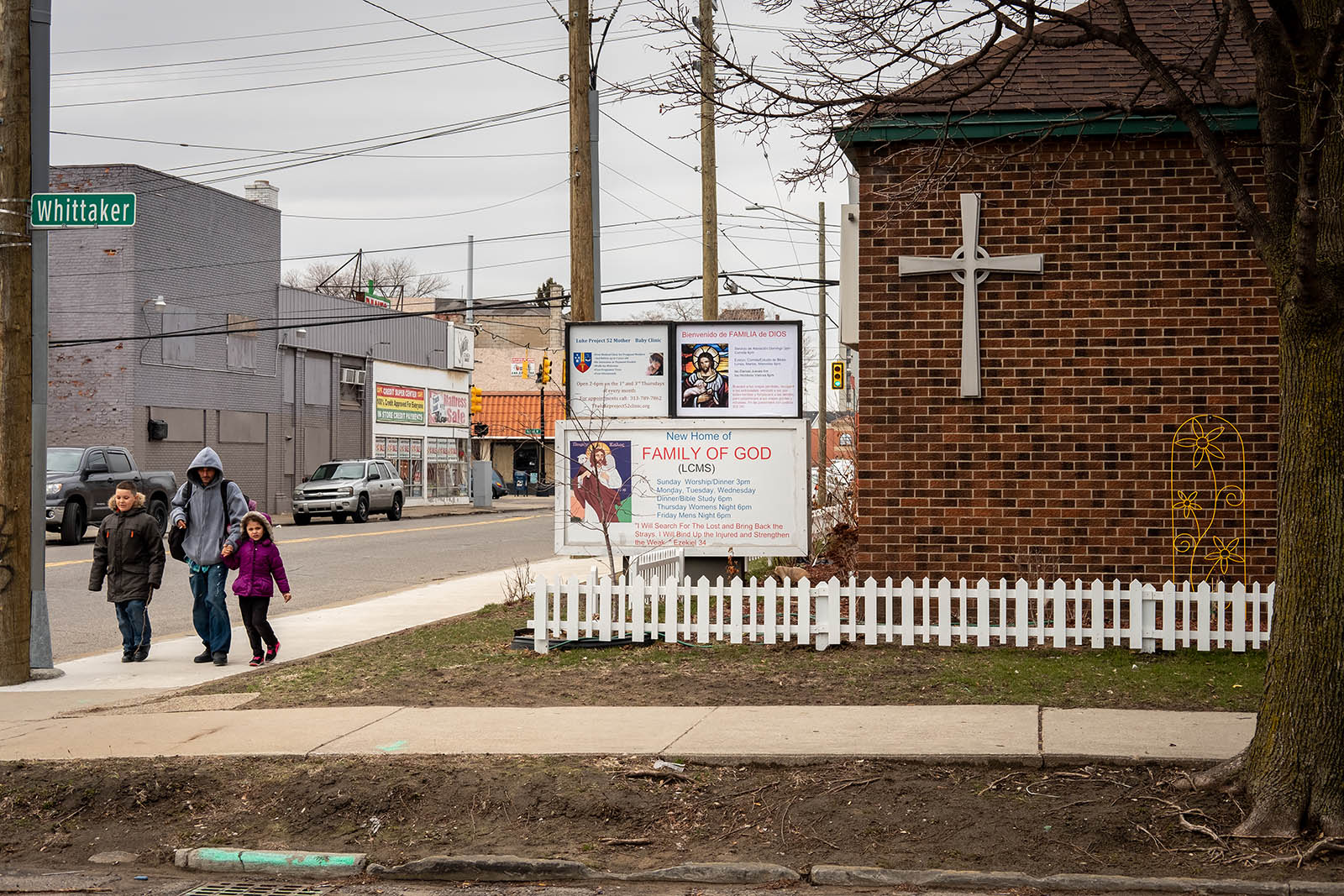 "God's grace can reach into lives even when the world says we are worthless," Hill said in his sermon that evening. "God's love is so great, His sacrifice so powerful that there is no one who can't be saved. You can never be too gone. No matter who we are or where we've been … we are all desperately in need of the same grace." As Hill spoke, he pointed to a painting of the thief on the cross.
The plea of the condemned criminal is the prayer of Family of God. "Lord, remember me when You come into Your Kingdom." Sinners in repentance turn to the only one who can save. And Jesus' gracious response is the only hope: "I tell you the truth. Today, you will be with me in paradise." The words of the Crucified One make us family — the family of God.
Caring for People through Quilting in Iowa
On Tuesdays and Thursdays, the basement of Trinity Lutheran Church in Algona, Iowa, is filled with chatter, laughter and the hum of sewing machines. From this humble space, the church's TLC Quilters serve the community in small but powerful ways.
The group consists of about 60 women — and a few men — who sew quilts, teddy bears, doll clothes and other items for those in need. Last year, the group gave away 1,301 quilts and more than 700 teddy bears.
These items are lovingly made and given to community children, veterans, cancer and Alzheimer's patients, and anyone who needs a little TLC. The church works with the Kossuth County CARE Team, a community nonprofit, to identify possible recipients and invite them to Trinity for giveaway events each year.
TLC Quilters organizer Barb Bitterman and CARE Team executive director Linda Vaudt have many stories of the people who've received the gifts: There was the little girl who told everyone the handknit hat she received was her "God hat" because it came from the church. Then there was a boy who said the giveaway event, which includes dinner and Bible stories, was the first time he'd heard about God.
"When we first started, people said, 'You'll never get people to come. There's no one like that here,'" Bitterman recalls. "But they do come. They're thirsty for love."
Production has greatly increased since the group formed in 2011, and they have expanded to provide items for people in need even further afield — such as children receiving counseling from Lutheran Services in Iowa and victims of Hurricane Harvey in Texas. Yet, they still put great care into each project, from the smallest doll dress to the largest quilt. "The details show the love and care that goes into them," Bitterman says. "We want the recipients to see and feel that."
Bitterman encourages the TLC Quilters to attend the giveaway events. In addition to quilts, they often give out dolls, stuffed monkeys and wooden trucks.
"I love the nights we give away [the quilts and toys]," says quilter Lois Berhow, as she talks about the time she described each quilt to a boy who couldn't see so that he could pick out just the right one. "I love seeing the expressions on the kids' faces as they choose which one is going to be theirs."
The TLC Quilters' enthusiasm is contagious. During the summer, a group of about 25 children from the community joined them to learn to sew.
They even taught church member Gary Reynolds. "I never thought at 85 I'd be sewing," says the retired horse trainer. But now he comes regularly to make large pillows that can be used as temporary beds for refugee children at a public elementary school in Des Moines.
Trinity's senior pastor, the Rev. Tom Schlund, says they've had several people join the church as a result of this outreach. One was a family that attended a giveaway event; another was a woman who came for the sewing and later stayed for the message that was preached of Christ crucified.
"Ultimately, God's expectation is for us to love Him and love other people — and tell them why," Schlund says. "That's something the TLC Quilters do very well." 
Learn More
Pray with Us
God, You gather Your people together wherever they may dwell to forgive them and to give them eternal life. You also call Your people to love their neighbor and serve them in those places. Bless the work of Family of God in Detroit and the TLC Quilters in Iowa as they share the love of Christ as You give them opportunity. So teach each of us to serve and love, that Your Church might reflect the joy that is ours from Your grace in Jesus Christ, in whose name we pray. Amen.
Share Jesus with the World
Your generosity today makes possible your Synod's witness and mercy efforts both at home and abroad.
Give now
Are you looking to direct your gifts for work that's more specific?
Visit the LCMS online ministry and mission catalog to find those opportunities most meaningful to you!
Don't see what you're looking for?
Contact LCMS Mission Advancement at 888-930-4438 or mission.advancement@lcms.org to talk about all the options available.