Feature
'Immerse Without Drowning'
The importance of vicarage on pastoral formation.
"It's not really a question of need," Vicar Mark Gaschler said. "It's a question of great joy, of the great opportunity that we have, that God has called men to go out and to bring out His Gospel." Gaschler, a student at Concordia Theological Seminary, Fort Wayne, was the 32nd vicar to serve at Trinity Lutheran Church in Norman, Okla., under the supervision of the Rev. David Nehrenz, newly elected district president in the LCMS Oklahoma District.
A vicar is a pastor in training. These men are assigned by the Synod's Council of Presidents, acting as the Board of Assignments, into congregations around the country for a year of hands-on learning under the supervision and mentorship of an experienced pastor. They are not assistant pastors, noted Nehrenz. Instead, they are learning the craft.
In Norman, Gaschler opened his day with a women's Bible study at the church and closed it late in the evening with Bible study and fellowship with students at the Oklahoma University LCMS U chapter. The next day, he assisted at the preschool's chapel service and visited a shut-in. During his vicarage, he lived in the parsonage next door to the church and met regularly with Nehrenz for counsel and planning.
'Part of a Long Chain'
Nehrenz never tires of seeing men preach the Word of God in the pulpit as he oversees their training. He recalled the influence of his supervising pastor when he was a vicar. "I love being a vicarage supervisor because you're part of a long chain of continuing to raise up pastors for the next generation. I was influenced by my vicarage supervisor, and now God is using me to influence other young men who want to be pastors."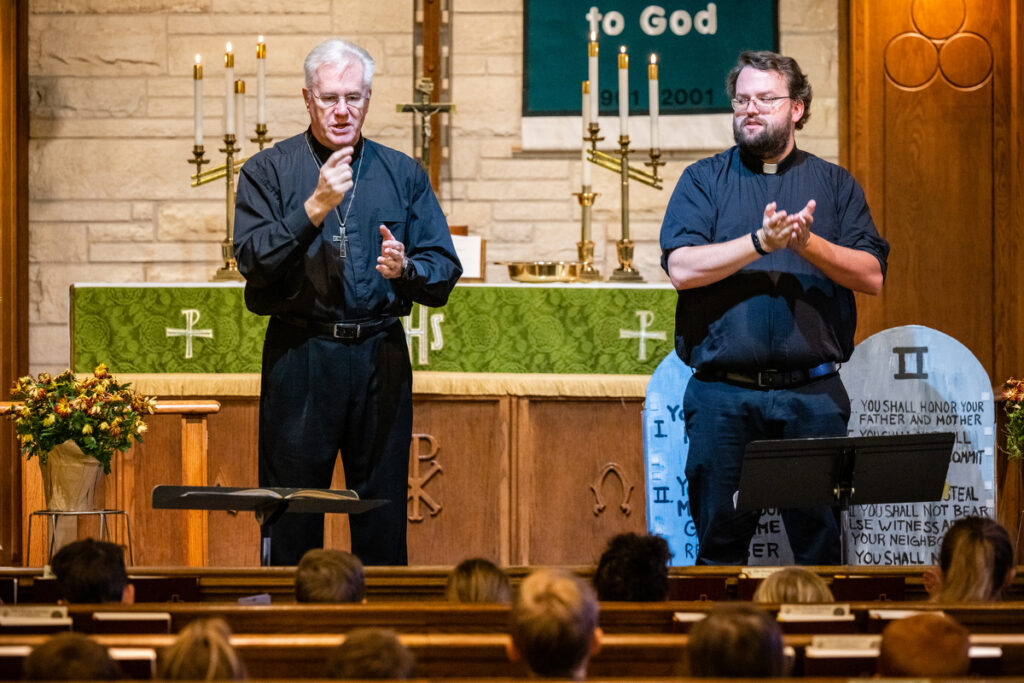 "While a seminary education begins to form a man for the pastoral office, it is also true that the pastoral office forms a man to be in this sacred vocation," said the Rev. Dr. Glenn Nielsen, director of Vicarage, Deaconess Internships and Placement at Concordia Seminary, St. Louis. "Vicarage gives the student marvelous opportunities to carry out functions of the office such that he is formed by the Holy Spirit working through the vicarage experience. A man's identity, character and skills become more and more in tune with the pastoral office simply by his supervised participation in that office."
In April, both Concordia Seminary, St. Louis, and Concordia Theological Seminary, Fort Wayne, held their annual vicarage and deaconess internship placement services. During the service, seminarians learned where they would be serving their vicarages assigned by the Council of Presidents. At Concordia Seminary, seminarians entered the service, some dipping their fingers in the baptismal font in remembrance of their Baptism.
"Now this will be a formative year for you," said the Rev. Dr. Lucas V. Woodford, president of the LCMS Minnesota South District and preacher at the vicarage assignment service in St. Louis. "It's going to impact your future ministry for years to come. You're still in the middle of your studies, and yet now you will be sent out to put it into practice. … That means there will be challenges ahead for you this coming year, that's for sure. But the Lord will never leave you nor forsake you, that's His promise. That, too, is for sure. You are beloved and precious to Him. You have been chosen by the Lord."
After the service in St. Louis, the pastors of congregations receiving a vicar greeted the seminarians. The Rev. Dr. Ralph Blomenberg, senior pastor at Immanuel Lutheran Church in Seymour, Ind., was one of the pastors in attendance.
At Immanuel, Vicar Nick Wagenknecht was the 24th vicar to serve under Blomenberg and the 36th vicar to serve at Immanuel overall. Congregations like Immanuel and Trinity provide a valuable service to the Synod by operating these longstanding vicarage programs.
Last October, Blomenberg supervised while Wagenknecht taught confirmation class at Immanuel's school. Afterward, Wagenknecht read Scripture while assisting Blomenberg and the associate pastors with a congregation member's funeral and committal. By the evening, Wagenknecht had also made shut-in rounds and coached youth at the school.
"The congregation itself is the chief champion of [the vicarage program]," Blomenberg said. "We as pastors love the program. We love to work with the guys, share the work with them, talk with them [and] try to help them learn what we have learned as we have gone through our experiences."
Equipped to Serve
Nielsen is thankful for congregations like Immanuel and Trinity that open their doors to vicars. "Vicarage is perhaps the most significant year by which a candidate for pastoral ministry gathers the knowledge, experiences and mentored reflections needed for him to turn the various activities he will do into faithful and fruitful acts of ministry for God's holy people wherever he may serve as a pastor in the church," he said.
Wagenknecht said he loves learning how to be a pastor, and Blomenberg sees to it that he learns all aspects of the pastoral ministry. Blomenberg's approach is to "immerse without drowning": "We immerse them in the experience of what it means to be a pastor and to get to know your people. … The overall scope is that when they get finished with their vicarage, they will at least have touched on the major things that they will deal with as a pastor." But of course, there are still surprises, Blomenberg noted.
"The pattern of theological learning, practice in the parish and then theological reflection in the fourth year is a part of what makes our pastoral formation programs so effective," said the Rev. Dr. Todd A. Peperkorn, director of Vicarage and Internships at Concordia Theological Seminary, Fort Wayne.
The Rev. Joshua Hayes, pastor of St. John Evangelical Lutheran Church in rural Palmer, Kan., recommends vicars learn from the good and the bad and take the time to observe the ministry and ask questions of their supervising pastor. As the sole pastor of a growing congregation at St. John, he leans on some of his prior vicarage experiences as he shepherds Christ's flock in Word and Sacrament.
He likens the vicarage to that of a medical residency: "We want our doctors to be experienced, but also to have had some guidance. And certainly, we would want those who are operating on our souls to be equally as prepared as we can make them be, humanly speaking."
Set Apart to Serve
The preparation of pastors and other church workers is of vital importance to the LCMS. That's why the Synod in convention adopted Resolution 6-01, "To Support and Participate in the Comprehensive Church Worker Recruitment Initiative," in 2019. This initiative — which is now known as Set Apart to Serve — is led by the Rev. Dr. James A. Baneck, executive director of the LCMS Office of Pastoral Education. It seeks to reverse the trend of declining enrollment in church work programs at LCMS seminaries and universities to ensure that the saving faith continues to be passed along from one generation to the next until our Savior's return.
"Nothing is more important in all the world than the forgiveness of sins and our eternal life," said Baneck. "So, God gives pastors to the church. This is His gift. It's also His mandate."
Learn More
Pray with Us
Lord of the church, You call men to serve in the Office of the Holy Ministry, that they might proclaim the Gospel in all its truth and administer Your Holy Sacraments according to Your good and gracious will. We thank You for the congregations and pastors of our Synod who help form men for the office through vicarage. Be with all vicars, and grant to them endurance and wisdom as they prepare for lives of service to Your church and this world. Preserve the truth in our days, that Christ crucified would be on our lips and in our hearts. In Jesus' name. Amen.
Share Jesus with the World
Your generosity today makes possible your Synod's witness and mercy efforts both at home and abroad.

Are you looking to direct your gifts for work that's more specific?
Visit the LCMS online ministry and mission catalog to find those opportunities most meaningful to you!
Don't see what you're looking for?
Contact LCMS Mission Advancement at 888-930-4438 or mission.advancement@lcms.org to talk about all the options available.
Erik M. Lunsford

Managing photojournalist for LCMS Communications.