Feature
'Your Service Matters'
A congregation in Washington and a summer camp in Michigan are working to raise up youth for faithful service in God's kingdom.
"Pastors can reach out and spread the Word of God and the love of God — it's something that I would love to do. I mean, there's no higher calling, really," said Jason Church, a recent high school graduate who attends St. Luke's Lutheran Church, Federal Way, Wash.
He first told his mother that he wanted to be a pastor when he was 13 years old. Now, he is about to leave for the pre-seminary program at Concordia University, Nebraska, Seward, Neb.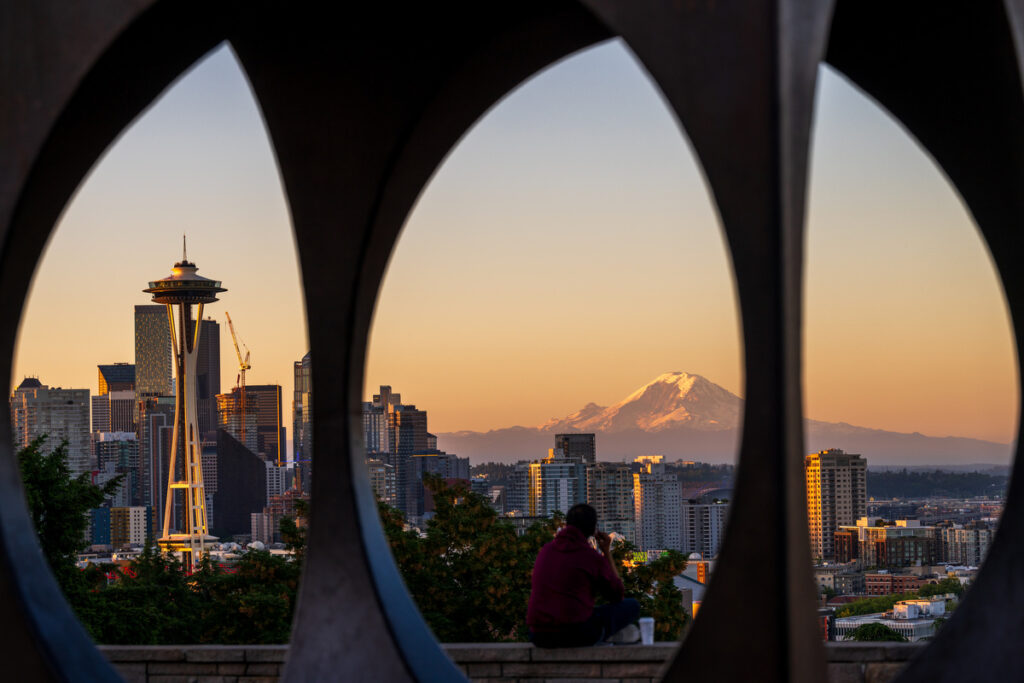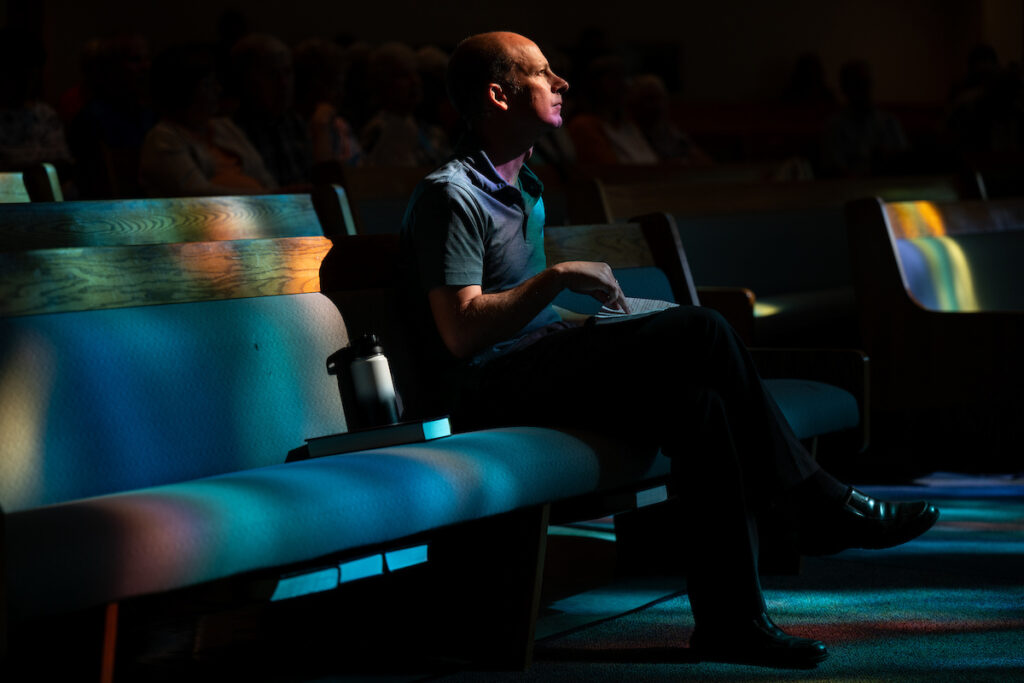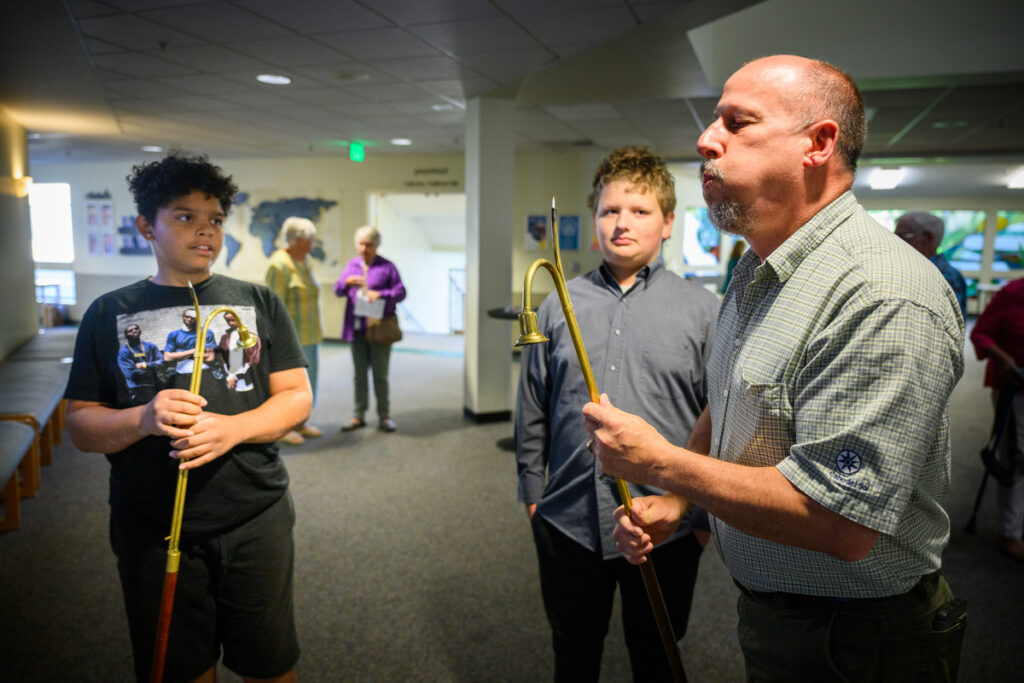 Incorporating Youth into Church Life
Many children of St. Luke's have gone into church work. The congregation's current associate pastor was baptized and confirmed there. Another child of the congregation will enter seminary next year, and two others — Sam Hoag and Dillon Weber — just started their fourth year at Concordia Seminary, St. Louis.
"First and foremost, it came from our parents," said Hoag. He and his wife, Rachel (a director of Christian education who graduated from Concordia University Irvine, Irvine, Calif.), both grew up at St. Luke's. "Ever since we were born, every Sunday we were brought to church. … So, we saw it modeled by our parents."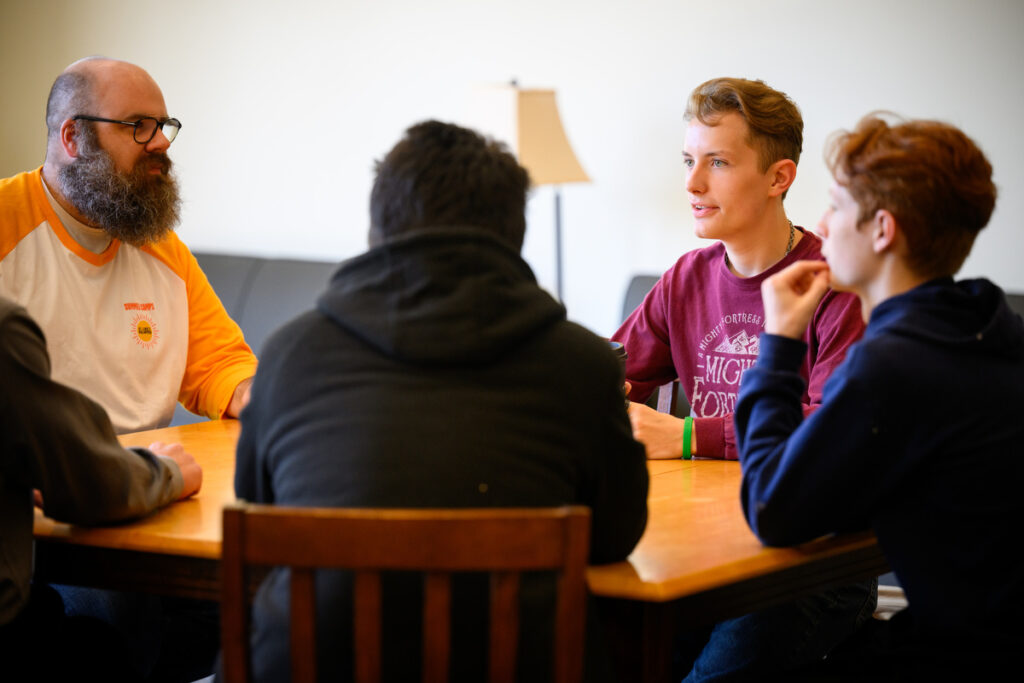 The people of St. Luke's are intentional about incorporating youth into the life of the church.
"We have posters around. One of them says, 'We want every young person at St. Luke's to have five adults who know them by name and care about them.' … We give real space to making that a value," said the Rev. Dan Weber, lead pastor of St. Luke's.
Dennette Church, Jason's mother, can attest to this. "You'll see the adults coming to see the kids [after church]. … As my kids are getting older, they're having conversations with these people that are old enough to be their parents, to be their grandparents. Those people being involved in their lives makes a huge difference in their wanting to be around church."
This care does not start when young people reach high school. They are welcomed and supported from birth.
"So many people raised my kids," said Dennette Church. "When they were really little it was so hard, and I came to church to relax, because people took them, because they held them, because I could sit down for five minutes and listen to a sermon."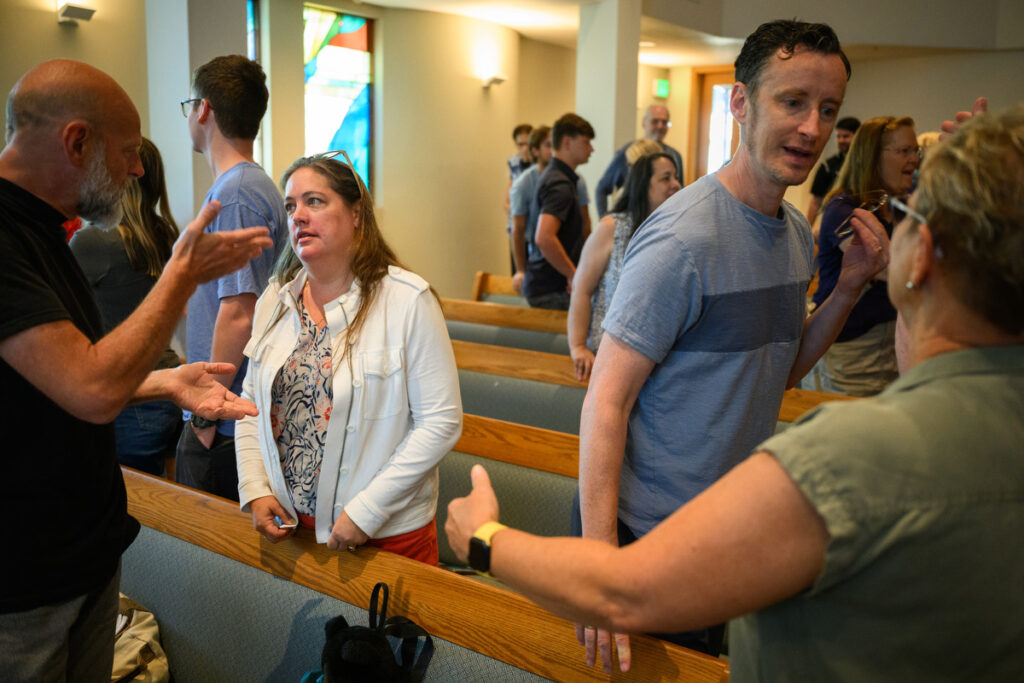 She also grew up at St. Luke's. As in all congregations, there is an ebb and flow. When she was confirmed, there were 56 children in her confirmation class. This year, Jason is the only senior. But through it all, the Holy Spirit has continued to work through the ministry of St. Luke's.
The Rev. David LaFore, associate pastor of St. Luke's, was baptized there when he was 9 years old. Having grown up in a family with some skepticism toward religion, he viewed church with a critical eye. God worked through the youth pastor at that time both to answer LaFore's doubts and to set him on the path toward church work.
"He took intentional time to care for us, to shepherd us. He would … pray for me, would stay up till 1 a.m. answering questions that I had about the Bible and Scripture and about God in general, and would give … real answers and not give an answer when he didn't have one. I respected that. … And he pointed out what my gifts were and said, 'You have the skills and the makings of a good pastor,'" said LaFore.
The youth pastor also set a good example. "He seemed to actually enjoy his job," said LaFore. "He enjoyed spending time with us and enjoyed what he did for the church. … There was something significant to it, and he was open about that."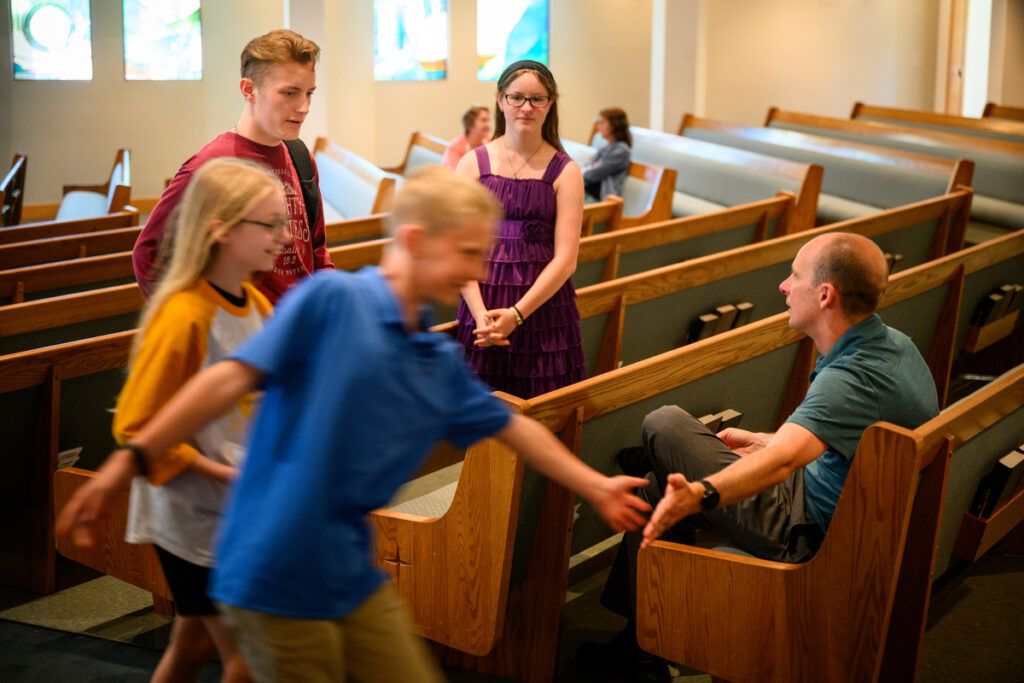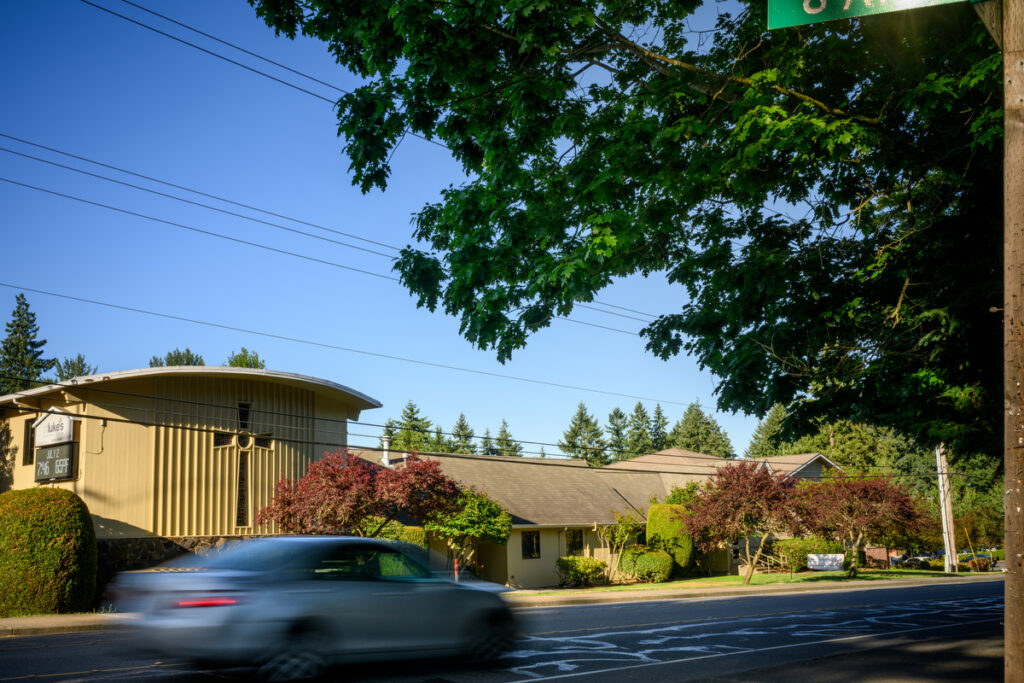 Weber is intentional about providing opportunities for youth at St. Luke's to serve and to lead from a young age. He invites young men to sit with him as he writes his sermon and works through the text. He has had youth present during Bible class hour, accompany him on shut-in visits and read during worship.
"It communicates something to the kids," said Weber. "If I'm the only person who can speak to them, that says, 'This is something for the experts.' … But inviting, encouraging, empowering and enabling them says, 'Your voice, your service matters.'"
Leading by Example
Across the country, the Holy Spirit is forming future workers for His church through Camp Concordia in Gowen, Mich.
"Camps are raising up church workers," said Mary Oldenburg, executive assistant at Camp Concordia. "We've run into so many pastors, teachers, DCEs that had worked at camp."
At Camp Concordia, the factors that lead youth down church work paths are strikingly similar to those at St. Luke's: adults encouraging youth to live a life in the Word of God, setting examples of joyful service and providing opportunities for youth to serve.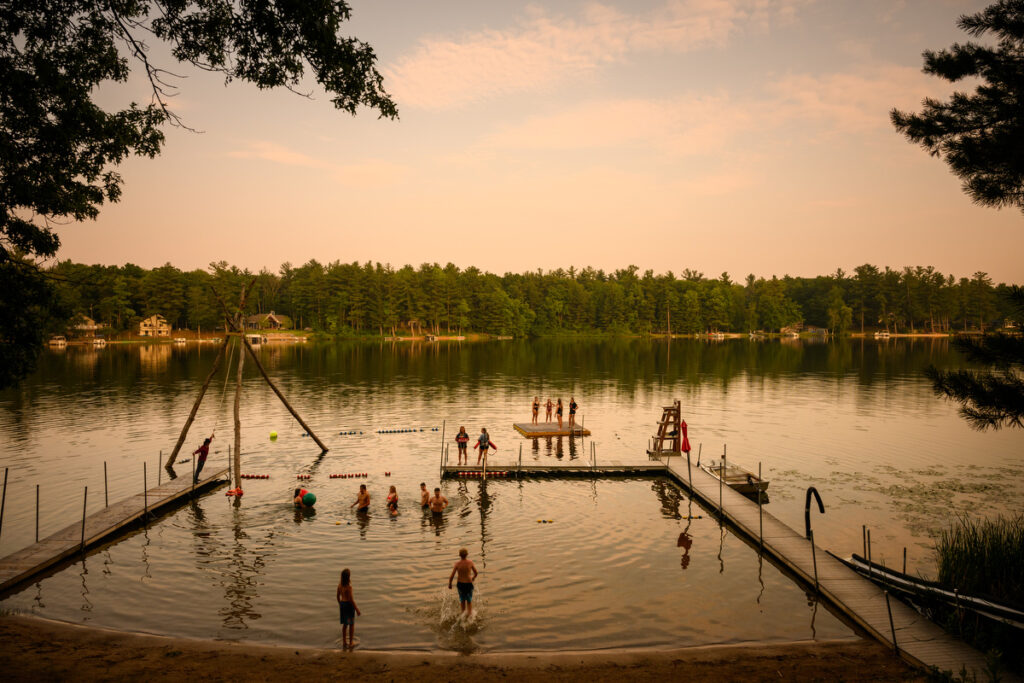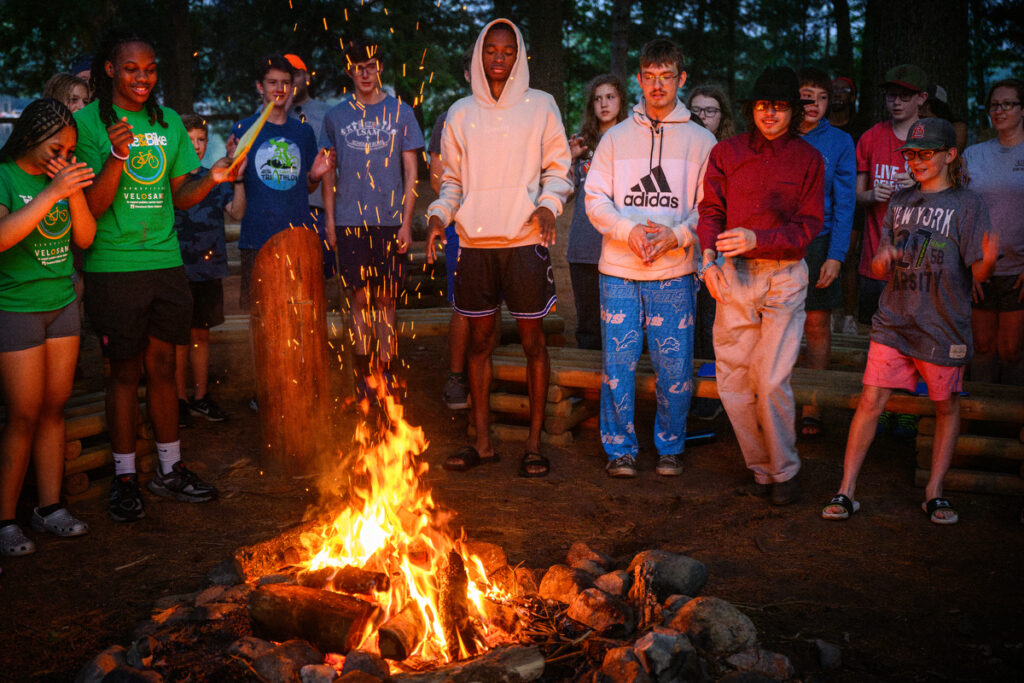 Youth are able to attend as campers through 10th grade, and older youth attendees serve as "junior counselors." During their college years, many return to serve as counselors.
Daily Bible studies in the morning and campfire devotions each night keep campers focused on the Word of God. But just as important is the example that the counselors set for the youth.
"The kids see them and they want to be like them. If a counselor wears a cap, they're all wearing caps by the end of the week. … If a counselor is wearing a Concordia University T-shirt, they're going to be saying, 'Ooh, tell me about Concordia University.' When a counselor shares who Jesus is in their life, and how they are training to be a church worker, [the campers are] going to be like, 'I could think about doing that too. I want to be like them,'" said Oldenburg.
Chloe Dahn, who is studying to be a director of Christian education at Concordia University, Nebraska (CUNE), has served as program coordinator at Camp Concordia for the past two years.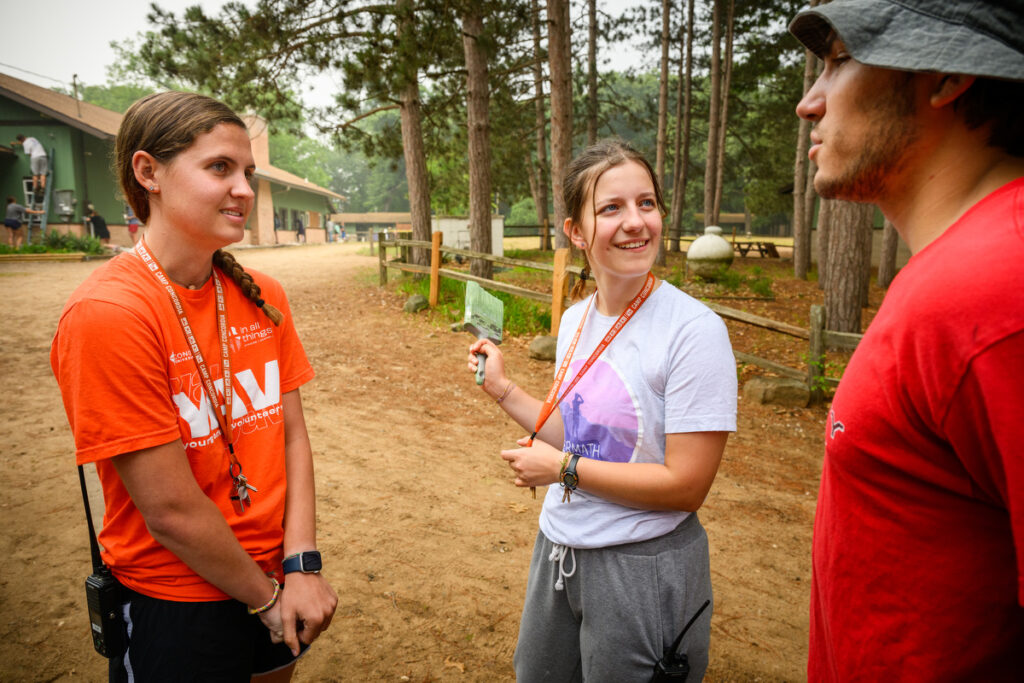 "Sometimes I'll have my Bible open in front of me, and they get curious and ask, 'Oh, what are you reading?' … Then I see often by the end of the week they are opening their Bible more and they are digging into the Word themselves," said Dahn.
Grant Rohde has been coming to Camp Concordia since 2014 and has worked as a counselor for the past two years. He attends CUNE and plans to become a high school math teacher. Rohde's parents are both teachers, but he grew up thinking he didn't want to be one himself.
"I did not want to be the person talking in front of people or leading anything. … I was like, 'There are other people that can do it better than me.' But then coming to camp, I saw that there are a lot of people [serving] that are just like me … . We are all equipped to serve," said Rohde.
Equipping Others
Both Weber and Oldenburg traveled to the LCMS International Center in St. Louis at the end of February to participate in the launch of the Set Apart to Serve (SAS) pilot program, which included the development of church work recruitment resources for the Synod.
Both St. Luke's and Camp Concordia served as SAS "pilot sites," testing these resources and providing feedback. Over several months, Weber and Oldenburg participated in monthly calls with leaders from 33 other pilot sites (LCMS congregations and schools) and SAS leadership. The SAS resources will be launched to the entire Synod in the fall, providing updated information about professional church work in the LCMS as well as guidance for encouraging youth toward church work.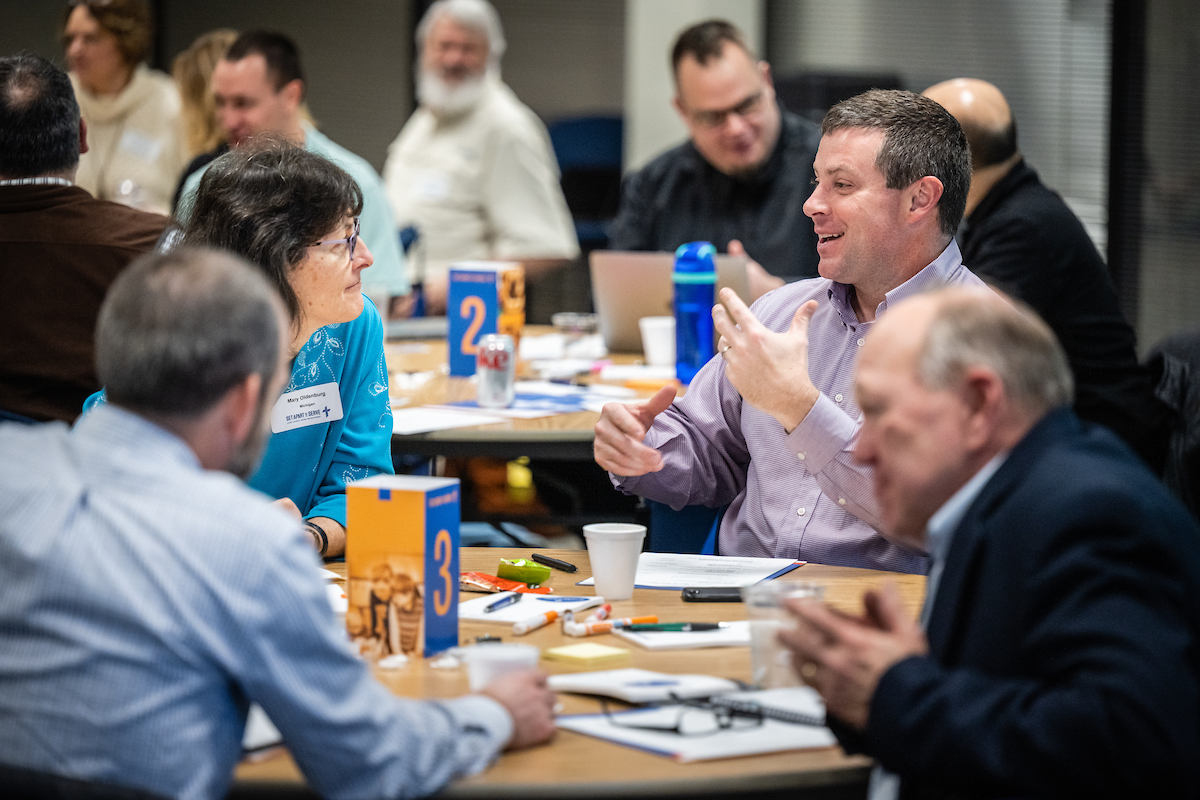 Weber is excited for the awareness that SAS is bringing to the church about the need for church workers: "People don't realize how many people are retiring and how few people are enrolling. … It's not just a problem, but there's an opportunity. Even if every pulpit was filled right now, even if we had every retiree replaced, there are millions of people who don't know Jesus. … The goal is for the mission of Christ to go forward."
These resources encourage what both St. Luke's and Camp Concordia have found to be true about raising up church workers: that it does not require any novel idea or new program. Instead, it requires adults in the church to bring their children to the Divine Service, involve them in the life of the church and lead them into lives of joyful service by example.
"This is the church saying, 'We should pray to the Lord of the harvest to send laborers.' And we are not just being passive about that," said Weber. "God could call through a burning bush if He wanted, but it's more likely He's going to speak to that kid through an adult. [With] Set Apart to Serve … there's intentionality to say, 'What can we do?' And there are a bunch of resources that help answer that question."
Learn More
Pray with Us
Lord of heaven and earth, You have promised to provide for Your church through Word and Sacrament, that she might be presented to You without spot or blemish. Continue to raise up church workers from the youth of our congregations, that the church might continue to have pastors to distribute Your gifts, teachers to teach Your Word, deaconesses to care for those in need, and all the ways Your servants provide for Your people, through Jesus Christ, our Lord. Amen.
Share Jesus with the World
Your generosity today makes possible your Synod's witness and mercy efforts both at home and abroad.

Are you looking to direct your gifts for work that's more specific?
Visit the LCMS online ministry and mission catalog to find those opportunities most meaningful to you!
Don't see what you're looking for?
Contact LCMS Mission Advancement at 888-930-4438 or mission.advancement@lcms.org to talk about all the options available.
Stacey Egger
Staff editor and writer for LCMS Communications.