National Mission
Standing Before the Throne
Memorial Lutheran Church is located in the most ethnically diverse metropolitan area of the United States, and the congregation's doors are wide open with the Gospel.
It can be easy to overlook Memorial Lutheran Church and School, Houston. Its modern, one-story structure is dwarfed by a high rise and squeezed between shops, restaurants and residences. Yet, people keep finding their way here, and the members are eager to welcome them.
The parish, which was started by people of European descent some 60 years ago, regularly receives new members who come in by a friend's invitation, the church sign, a flyer, church transfer, Baptism and confirmation.
Bringing Christ to All
"Christ — that's the big thing which is very important in this church," said Solomon Chafamao Abiye, a Lutheran from Ethiopia who learned about Memorial from a flyer on a bulletin board. "We are all one in Christ, and we are invited by our Lord and Savior, Jesus Christ, to this unity."
At Memorial, people from many different countries regularly gather around Word and Sacrament.
"The church looks like all people, all nations," said member Steve Hernandez. "What our Lord and Savior commands, to go and baptize all nations, doesn't mean simply your little part of the world. To walk into our sanctuary and see that, that is probably one of the most beautiful things."
"We don't look at what somebody's background is," said member John Coulter. "We look at them as just like everybody else in the pews: sinners who God has saved."
But the diversity here is not just ethnic. "Memorial has all types of people and we welcome them all," continued Coulter, who with his wife converted from the Episcopal church 26 years ago. "There are a lot of professionals, engineers, people who work for NASA, people who work in the oil industry … every field you can think of."
Jessica Rosenwinkel's family transferred in after relocating to Houston for work. "There are a lot of things that make Memorial a good fit for our family," she said, "the most important is the preaching and the catechesis. … The preaching is always Christ-focused."
The Rev. Sagar Pilli baptizes a child in February.

Memorial is located in the most ethnically diverse metropolitan area of the United States.

The Rev. Dr. Scott R. Murray, LCMS third vice-president and senior pastor of Memorial Lutheran Church and School, distributes the Sacrament during worship.
Inviting People In
"As a result of preaching … the people have their own personal relief at God being so gracious to them in Christ and having fully redeemed them. … Well, what does that look like when they carry out their Christian lives?" asked the Rev. Dr. Scott Murray, Memorial's senior pastor and the Synod's third vice-president. "They have gotten extremely good at reaching out to people … in some remarkable ways."
The Tanzanians in Houston have come to Memorial primarily through word of mouth. That's how lifelong Lutheran Mathew Mohono came to Memorial, and the cycle continues as each new member extends the invitation to their own friends. "We invite people, and I think that's the very best way [to bring people into the church] nowadays," he said.
Friends and guests gather at a home for a deceased family member's memorial.
On a recent Saturday evening, the Tanzanian community of Houston gathered at the home of the Karaze family, members of Memorial, to mourn the death of a relative in Tanzania. This provided an opportunity for them to share their faith in Christ and the resurrection of the dead.
"It's a get-together when someone dies … relatives, friends, Tanzanians, Kenyans, we come together to console one another," said Johanes Karaze. "There are Swahili hymns, [and] we pray." And there was food — lots of traditional Tanzanian food.
The Tanzanians at Memorial have been active in inviting their African friends to join them at Memorial for worship and fellowship opportunities that bring the African community together at the church.
Teaching the Faith
Memorial also has an active ministry to Telugu-speaking people, and they recently celebrated their 33rd Baptism.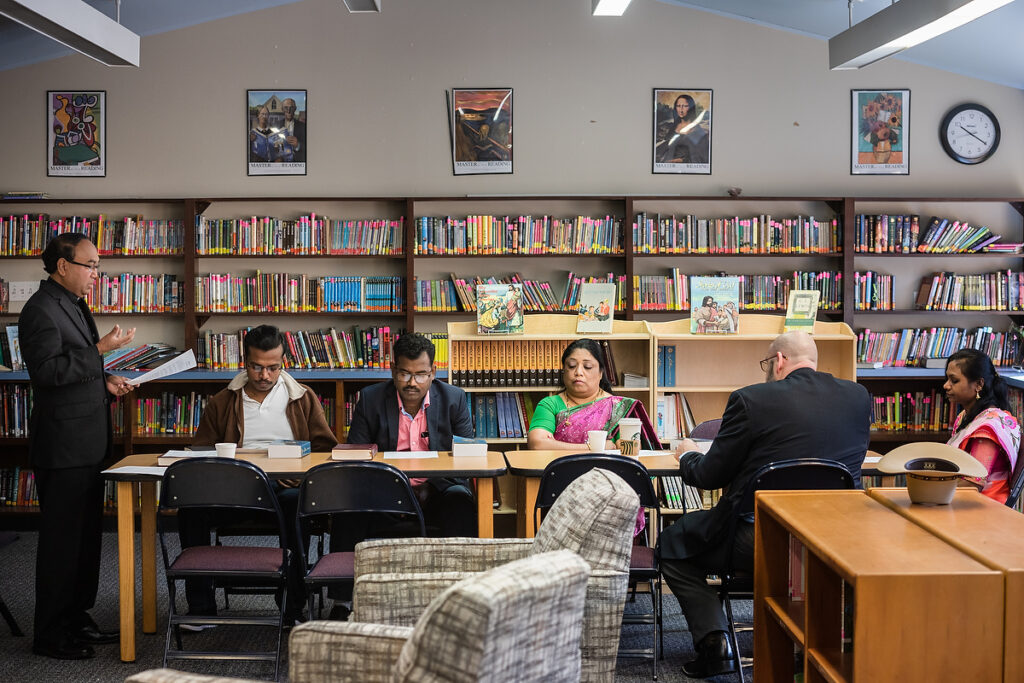 "Most of them were [formerly] Hindu," explained Assistant Pastor Sagar Pilli, who started this ministry to people from southern India who are now living in Houston. "They listened to God's Word here [at Memorial], they took classes from me, and that clarified their questions about Baptism, conversion, God, salvation. It was a very good and long effort to teach them, patiently answering their questions before they received Baptism."
Such conversions are not easy. Pilli, who grew up Lutheran in the midst of the all-encompassing Hindu culture of India, explained the challenges, "Sometimes it is leaving the family or the religion that has been part of them for years, so it's a difficult thing. They can wear the same dress, eat the same food, but they have to leave the idols and other gods and worship Christ alone as their Lord and Savior."
Pilli sees his job as moving the Telugu from point A to point B by teaching the basics of the Christian faith as found in the catechism and addressing all the cultural questions about Hinduism and Christianity. "At that point, if the person is willing, we move to Baptism," said Pilli. After Baptism, the teaching continues as Murray instructs them in preparation for communicant membership.
"I had a woman take my adult instruction class six times," explained Murray, who sees preaching and teaching as the primary tasks of the church and its pastor. "I have seen such joy in people who I'm instructing, and they are having this 'aha' experience. And that's true whether they were born into a Jewish family or a Telugu or Houstonian family."
Taking the Faith Home
Anna Kavugha-Ssekyanzi, a Tanzanian who has been at Memorial for more than 30 years, first learned about the church when she saw the sign while driving down the road. "I told my husband, 'Wait, this is so close to home, and this is a Lutheran church. Let's check it out.'"
For the last 25 years, she's been on the faculty of Memorial's thriving day school, which offers a classical curriculum. Like the congregation, there is great diversity among the students and faculty.
Teacher Anna Kavugha-Ssekyanzi sings with students during morning Matins.

The Rev. Robert Paul, associate pastor and headmaster, teaches class.

Students queue in the hallway before class.
"We [the teachers] are strong in helping the children with their religion curriculum so when these children take home the weekly lessons and memory [work], most tell their parents," Kavugha-Ssekyanzi said. "I have had email, texts and conferences of parents saying, 'Thank you for the way you teach, … now I am learning about religion from my child.'"
God is blessing their efforts and working through His Word. Kavugha-Ssekyanzi is godmother to no less than 11 of her students who have come into the church through Baptism. "Our school stands out as we preach, speak and teach the truth, the beauty of being Christian."
Food and Fellowship
As you might expect, Texas brisket, smoked overnight, is a congregational specialty and is front and center at parish dinners. But on any given weekend, unique and aromatic flavors fill the air of the fellowship hall as smaller groups gather. Whether the food is prepared from traditional recipes and spices handed down in families from Texas, Africa or India, all are invited to join these frequent feasts.
"Food is an important part of our culture, so it is homemade," said Pilli. He explains that Telugu families start preparing food a day or two before a fellowship meal. "After the [worship] service in our culture, they want to stay here, because this is a meeting point; [it] is here they want to tell their stories, fellowship, eat and go home."
The congregation values these gatherings, and its facilities include a well-equipped kitchen. The church opens its doors to the Telugu and Tanzanian communities and others who want to use the facilities for meetings and meals. Church members bring their friends to these ethnic gatherings that often become a first step toward learning about Christ and joining the church.
One, Though Many
Murray recalls the remarkable decision by the lay leaders when the opportunity to begin the Telugu mission began. "The congregation said, 'We don't want to have a divided worship.' They just said, 'It's incumbent on us as Christian people to have unified worship, where we are all saying the same thing the same way, and so they became very intentional about bringing in this community."
"When we were first talking and approached with the potential for the Telugu mission … very quickly it became a consensus that we really wanted them to worship with us and be in our church service," recalled Coulter. "That's what the Telugu wanted as well. It's worked out very well for all of us, although they do have their separate culture and we are welcome to be part of it. They invite us all the time."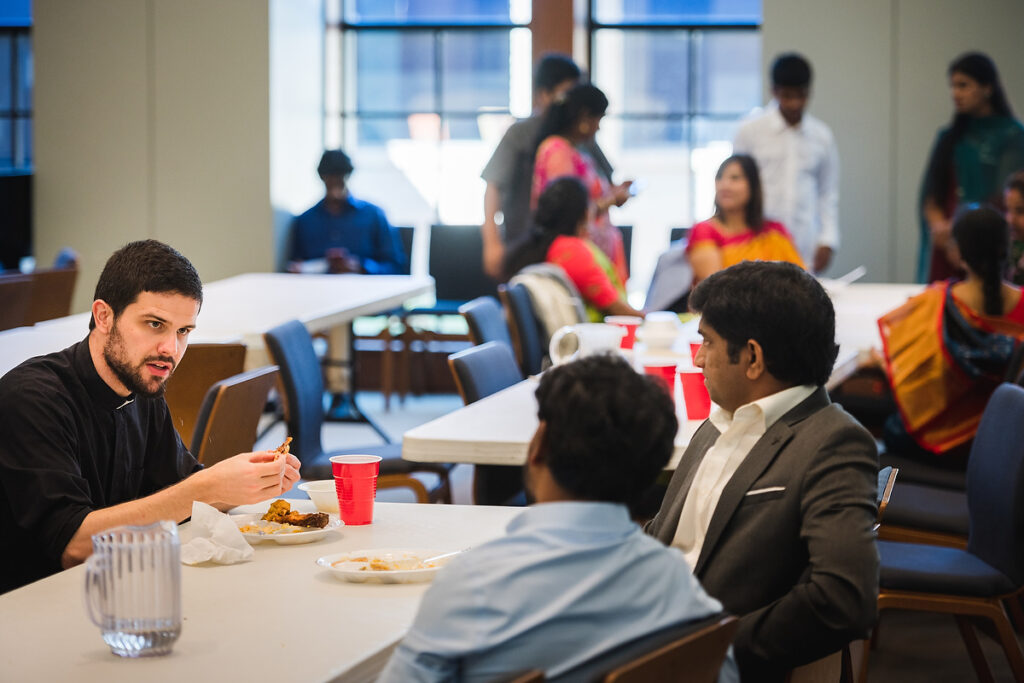 "They kind of shake things up a bit," added Vicar Martin Hill, a student from Concordia Theological Seminary, Fort Wayne. "With a lot of the cultures that are here … the Word of God keeps it all the same and that's kind of the fascinating thing. You walk in here and you are hearing the same word being preached [and] studied in Bible study, often the same hymns and the liturgy. So, through it all, Christ and His work in the church wherever you may be … Houston, India, Tanzania, wherever … that is still the same message preached to everyone."
Have No Fear
"If you're in a situation where your neighborhood is changing and it's become ethnically diverse or quite different from the people in the pews, first of all, don't be afraid," said Murray. "Never sell short the people of other ethnicities in your neighborhood — or their ability to love, treasure and digest what we are teaching. We should have no fear. We are teaching the truth."
Referencing Revelation 7, Murray continued: "These are the people who will be gathered around the throne of the Lamb in eternity, … why should we be afraid to have them around the altar of the Lamb together with us?"
"After this I looked, and behold, a great multitude that no one could number, from every nation, from all tribes and peoples and languages, standing before the throne and before the Lamb, clothed in white robes, with palm branches in their hands, and crying out with a loud voice, 'Salvation belongs to our God who sits on the throne, and to the Lamb!'"

(Rev. 7:9–10)
Learn More
Pray with Us
O Lord God, who created all people and calls us to be one in Christ, continue to unite peoples from all nations under the banner of Your Son. Let His love and forgiveness unify and strengthen the Body of Christ in all places. Reconcile our differences under Christ, our head, and teach us all to love our neighbor even as Christ loves His church. Continue to bless the work of Memorial Lutheran Church in Houston, and teach us all to bear witness to Christ to those in our communities until our Savior returns. In Jesus' name. Amen.
Share Jesus with the World
Your generosity today makes possible your Synod's witness and mercy efforts both at home and abroad.

Are you looking to direct your gifts for work that's more specific?
Visit the LCMS online ministry and mission catalog to find those opportunities most meaningful to you!
Don't see what you're looking for?
Contact LCMS Mission Advancement at 888-930-4438 or mission.advancement@lcms.org to talk about all the options available.
Deaconess Pamela J. Nielsen
Associate executive director for LCMS Communications.