Feature
'There in the Name of Jesus Christ'
After Hurricane Ian hit Florida in September, LCMS Disaster Response and its volunteers and partners were quick to provide helping hands and the Gospel to those in need.
"What really hit us the most [was when] we had to go down to the local Home Depot to get some supplies, and we [took] a back road. On one side was the woods, on the other side was a trailer park. On the woods side, it looked just like snow on the ground, all of the insulation and the fiberglass. It was just white. And then you turned around to look at the homes…" Robert Holmes paused for a moment. "There was just no way to describe the unbelievable damage."
When Holmes and his wife, Cynthia, members of Lakeside Lutheran Church in Venice, Fla., first ventured out of their house after Hurricane Ian made landfall on Sept. 28, they were met with a scene of utter devastation, unprecedented in the memory of many seasoned Floridians. Hurricane Ian was one of the strongest recorded hurricanes ever to hit the contiguous United States. It was also the second deadliest, trailing only Hurricane Katrina in 2005, with a death toll of 135. The Category 4 storm left millions without power, wrecked thousands of homes and even broke apart the Sanibel Causeway.
"Most people have never seen a storm like this," Holmes said. Ian's incredibly destructive storm surge set it apart from previous hurricanes.
"[The flood surge] is what has made most of the difference as far as people actually losing their entire homes, their cars, everything they own completely gone," said the Rev. Curtis Deterding, pastor of Zion Lutheran Church in Fort Myers, Fla. "Just within my congregation alone, we've had quite a number of people who have lost absolutely everything."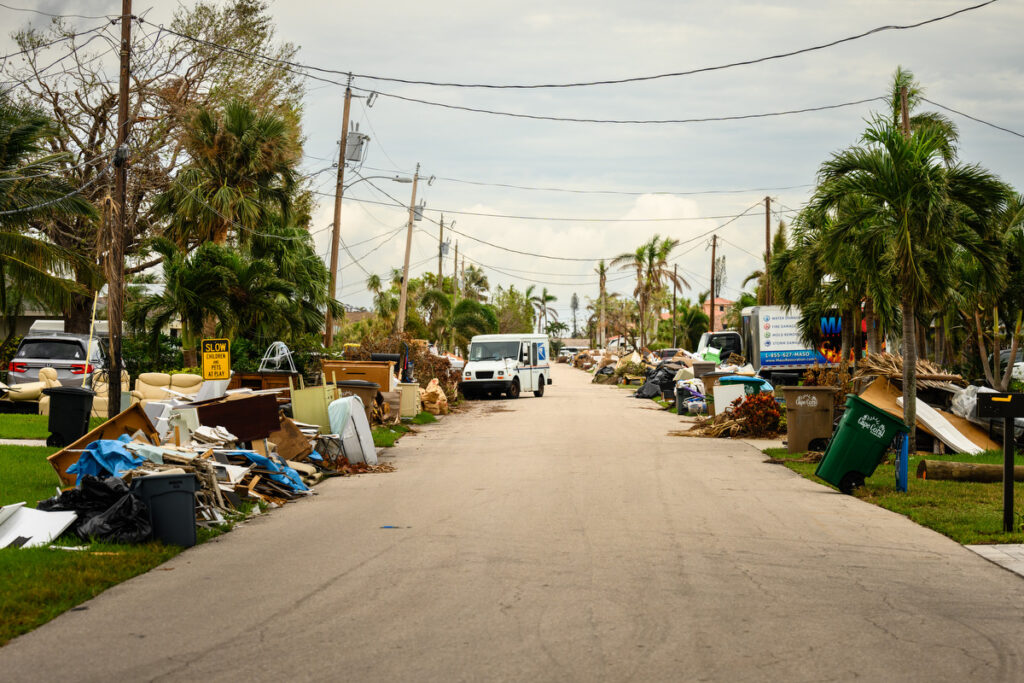 Piles of debris — tangled brush, sodden furniture, ruined possessions — fenced in house after house on neighborhood streets. An estimated 1.8-million cubic yards of storm debris would need to be cleared away. Cars that weren't totaled by the sheer force of the flood were ruined by its corrosive saltwater. For weeks, out-of-state tow trucks filed in, slowly clearing the piles away. The days of no electricity, no water and no cell service that followed the storm were harrowing for many.
"When you see destruction as widespread as this, it really impacts you mentally and spiritually," Deterding said.
Seasoned LERT Volunteers Spread the Gospel
"I always keep an eye on the Gulf. When Ian took a turn, I notified my team and told them to make time, make their arrangements, do whatever you can do to get off," said Steve Harris, the leader of a Lutheran Early Response Team (LERT) based out of Zion Lutheran Church in Pasadena, Texas. Nicknamed Z-LERT, Harris' team was just one part of the response coordinated by LCMS World Relief and Human Care's Disaster Response unit, in conjunction with the affected districts, district disaster response coordinators and the Synod's LERT volunteer network.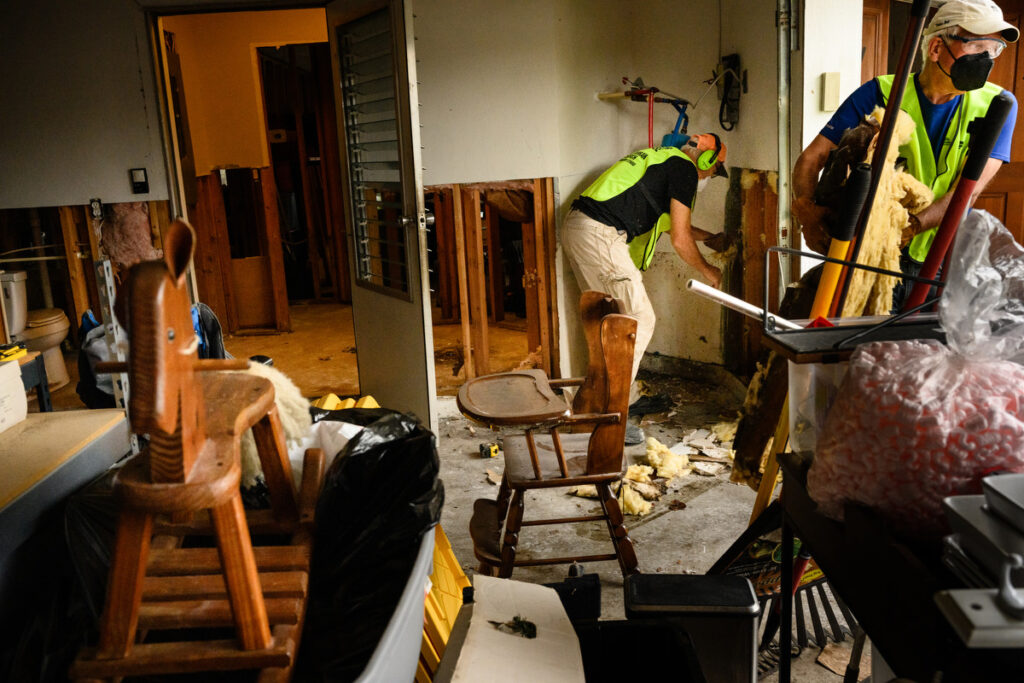 Harris' team formed in the wake of Hurricane Harvey in 2017 and has deployed for disaster relief on the Gulf Coast several times since.
"We thought we could do more after Hurricane Harvey," said Harris. "We said, you know, we ought to organize. … All the years of living on the Gulf Coast told me I needed to be LERT-trained, and even more so chainsaw-trained."
Many on Harris' team received their LERT and chainsaw training from the Rev. Ed Brashier, volunteer team leader at Shepherd's Heart Ministry and district disaster response coordinator for the LCMS Southern District. A former lineman for Alabama Power Company, Brashier brings years of experience with tree removal, plus heavy equipment, to the job. His trusty Bobcat compact skid steer, purchased years ago with a grant from LCMS Disaster Response, has made his work possible through many disasters.
Brashier joined forces with Harris' group of LERT volunteers at Good Shepherd Lutheran Church and School in Sarasota, Fla., where there were over 30 trees down on 16 acres of land.
"If this church and school had to pay for this, I'm guessing they would be paying somewhere in the neighborhood of $60,000 to $70,000 to do this," said Brashier. "With the Synod's help and the Florida-Georgia District's help, we're able come in here for only a small fraction of that cost to be able to clean this up."
In the first week alone, over three dozen LERT volunteers from across the United States participated in the response. Two teams, hosted at Zion Lutheran Church in Fort Myers and Lakeside Lutheran Church in Venice, Fla., served nine different LCMS congregations, cleaning up church property, school classrooms and church workers' homes, logging over 4,600 volunteer hours as of Nov. 1. Volunteers intend to stay through Christmastime to continue to help other congregation members and those in the greater Fort Myers and Venice areas.
Five volunteers from Forged by Fire, led by the Rev. Paul Ernewein, joined the LERT camp at Zion, with a mobile kitchen and enormous cast iron pots in tow. The team cooked huge batches of jambalaya and shrimp pasta, giving out 6,000 hot meals to people in need in the greater Fort Myers community.
"The thing about LERT is it's not just about chainsaws or mucking out. We have people who cook, we have people who just listen to people talk, because after your house has been ripped to shreds or flooded to the ceiling, you just have to talk to somebody," said Harris.
Resilience in the Body of Christ
"We were thoroughly amazed at the degree of help. We're used to the Lutherans sticking together and helping each other, but when they came in, they took over the place," said Robert Holmes.
"And they took the fear out of us, and the apprehension," said Cynthia Holmes, finishing his sentence.
The Holmes family and several others at Lakeside Lutheran Church were served by LERT volunteers in the weeks following the storm. After a disaster such as Hurricane Ian, LERT meets a tremendous need, not just for the skilled know-how of chainsaw work, but also for the comfort of the Gospel.
"The LCMS has been wonderful at helping people … in a time where they just don't know where to turn, don't know what to do, don't know how to act," said Brashier. "You see it all the time, in every disaster — there is the same type of hopelessness. … Churches make such a bold difference. We come in bringing the Gospel, being the hands and the feet of Jesus Christ, and even the voice of Jesus Christ. I'm never going to leave a home without saying that we are there in the name of Jesus Christ and asking if we could pray with them."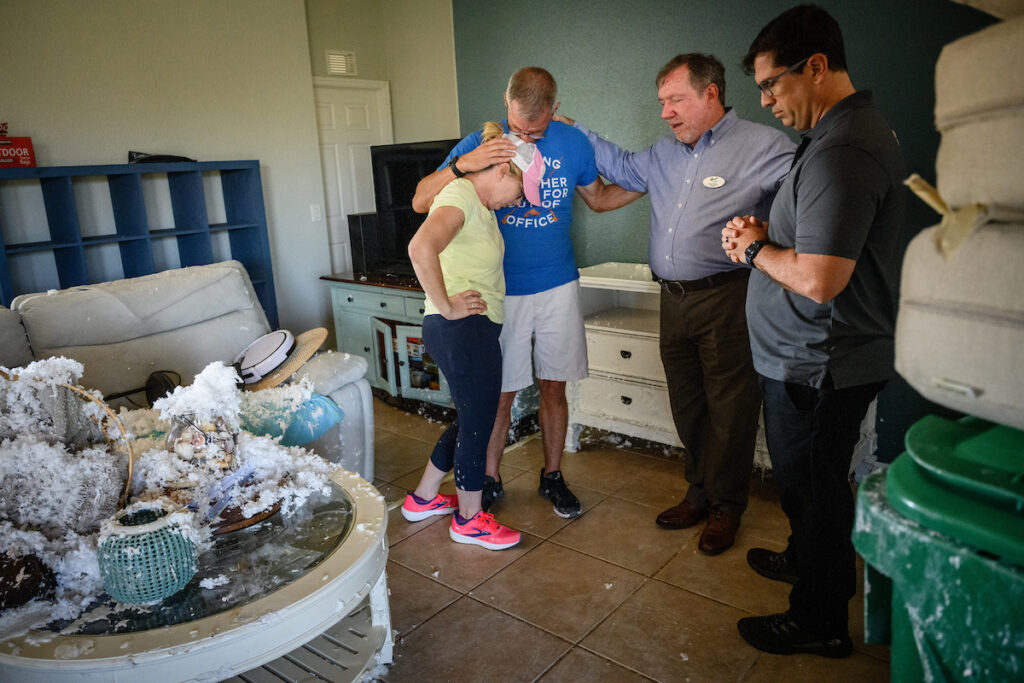 The Rev. James Rockey, president of the LCMS Florida-Georgia District, upon visiting the LCMS congregations affected by the storm, said that even in the midst of great loss and devastation, "I saw thankfulness, resilience and joy. … And [the joy] didn't just come from the fact that [the people affected] and those they love are still alive, but … from a God who indeed is real and alive and ever present with them — no matter what they may face in this life."
Learn More
Pray with Us
Eternal Word made flesh, You bore our sins and infirmities in Your flesh and carried our sorrows. Until Your return, this world continues to convulse and to confound. Grant to Your church the faith that You are our ever-present help in times of trouble. May that faith be reflected in our service of one another and our witness to the Good News of salvation. Bless those who this day face difficulties due to storms and other trials. Grant them, we pray, faith to trust in You for salvation and for all good things. Engender in each of us a willingness to serve and give generously, that our heavenly Father may be glorified and all would know Your love. In Your most holy name we pray. Amen.
Share Jesus with the World
Your generosity today makes possible your Synod's witness and mercy efforts both at home and abroad.

Are you looking to direct your gifts for work that's more specific?
Visit the LCMS online ministry and mission catalog to find those opportunities most meaningful to you!
Don't see what you're looking for?
Contact LCMS Mission Advancement at 888-930-4438 or mission.advancement@lcms.org to talk about all the options available.
Sarah Reinsel
Staff writer and editor for LCMS Communications.