Mercy Moment
Help and Hope After Disaster
Members of the Synod's Lutheran Early Response Team program help with recovery efforts after a tornado touches down near Mayfield, Ky.
"We're from St. Paul Lutheran Church, and there are people here who care about you, who love you and who can offer you the hope of Jesus Christ."
This was the message that Lutheran Early Response Team (LERT) members shared with residents of Mayfield, Ky., after an EF4 tornado cut a 166-mile path through the area on the evening of Dec. 10, killing 78 people and causing extensive damage to many businesses and homes. St. Paul Lutheran Church in nearby Paducah, Ky., served as a hub for LCMS recovery efforts by providing meals and a place for the volunteers to stay. For four weeks following the tornado, nearly 70 LERT members — LCMS volunteers trained to deploy rapidly in the event of a disaster — converged on Kentucky to assist with the cleanup and walk alongside those who were impacted.
When the Rev. Dr. Ross Johnson, director of LCMS Disaster Response, and the Rev. Dr. Roger Paavola, president of the LCMS Mid-South District, asked St. Paul's pastor, the Rev. David Appold, if the church could serve in this way, Appold agreed eagerly, even though Christmas was quickly approaching.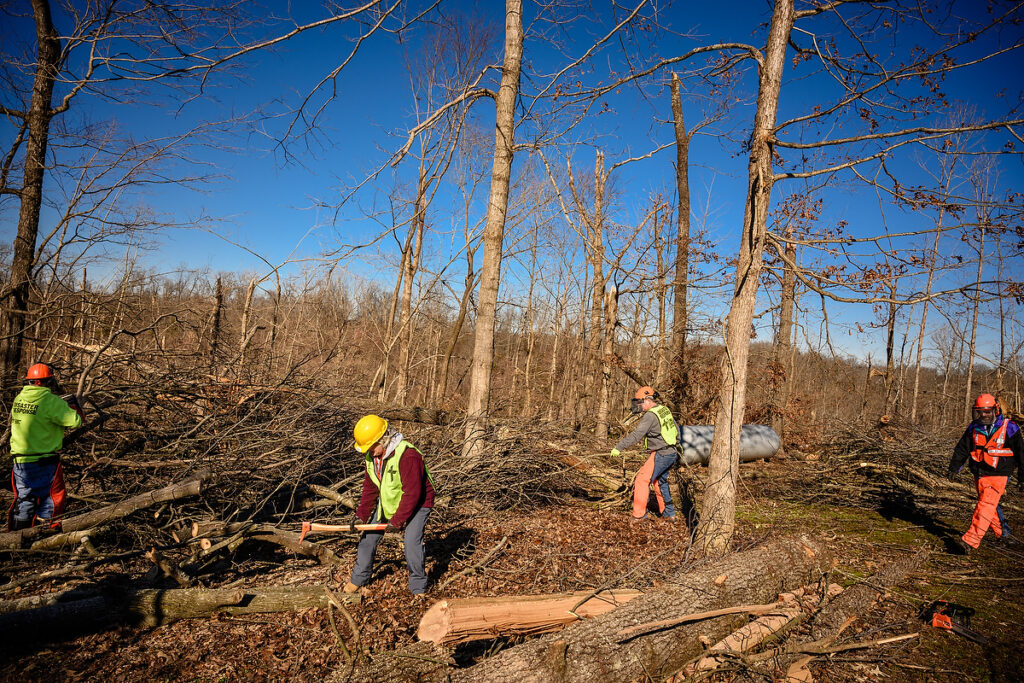 "They are the best guests we could ask for," Appold said of the volunteers. "You hear the stories about scam artists, people who are taking advantage of folks [after a disaster]. So, to go in and say, 'We're with St. Paul. We want to help you just because we love you. There's no cost.' It's amazing to people. And then to follow up and say, 'Can we pray with you?' People just love to be loved."
Appold has the names and contact information for all the families that were assisted so that he can follow up with them. He and other pastors have made several visits to pray with people and give out gift cards — something that has been especially meaningful to families who lost everything right before Christmas.
In total, the LERT volunteers assisted 50 families by cutting up damaged and fallen trees and dragging debris to the street, where FEMA trucks could pick it up and haul it away.
"They cleared the most dangerous trees, the ones that have the hangers and the widow-makers [broken limbs that could fall at any time]. We want to make sure that the property is safe for the people when they are working around their yard," said Janet Simko, district disaster response coordinator (DDRC) for the LCMS Mid-South District. This was Simko's first time in the role of DDRC, and she was grateful for the help and guidance of many experienced leaders and volunteers.
Among those who stepped up to help was Brian Mead, who came from Spring Hill, Kan., to serve as site manager. He's been to numerous disasters, first with the National Guard and now as a LERT instructor. On Jan. 10, he was working with nine volunteers at a house outside of Mayfield that was still surrounded by a tangle of downed trees.
According to Mead, the wooded property had taken a "direct hit." A logging company had already removed the salvageable lumber, but there was still much more cleanup to do. "It's a big job, but we're trying to give them back a little of [what their property looked like] before."
The volunteers at the property that day included both new and experienced LERT members. For Cheryl Delair of Milwaukee, it was her first disaster after going through the LERT training a few months ago. "I didn't think I'd be coming down for anything so soon, … but I know there's a need here," she said. "It's heavy work, but it's manageable if you're careful. Everybody can help."
Cindy Reif of Illinois joined LERT after being a recipient of the group's service when her town of Ottawa was hit by a tornado several years ago. She has now used her skills on six different occasions to help those impacted by other disasters. "People here are always willing to give you new tips and look out for your safety. It's a great group," she said.
As Simko reflected on her first time to respond to a disaster as the DDRC, she noted that she had no idea just how involved the process would be. Her phone rang constantly for weeks, and there was a flood of paperwork to handle. But looking back, she was glad to have been able to help in this way, and both she and Appold are working with long-term recovery groups in the area.
"When you see the results, the rest of it doesn't make any difference," she said. "Was there a better way? Maybe, maybe not. But the end result is that we've helped somebody, and that's the encouraging part."
Learn More
Megan K. Mertz
Managing editor of Lutherans Engage the World and chief copy editor for LCMS Communications.