Feature
Preach It
Two pastors are honing their preaching skills through PALS, Preach the Word and their growing friendship.
The Rev. Jacob Hercamp met the Rev. Merritt Demski at an LCMS PALS (Post-Seminary Applied Learning and Support) facilitator's conference in St. Louis. About four months later, Demski, administrative pastor of Immanuel Lutheran Church in Waterloo, Ill., reached out to Hercamp, pastor of St. Peter's Lutheran Church, LaGrange, Mo., to see if he was interested in working through Preach the Word (PTW) together. Hercamp agreed.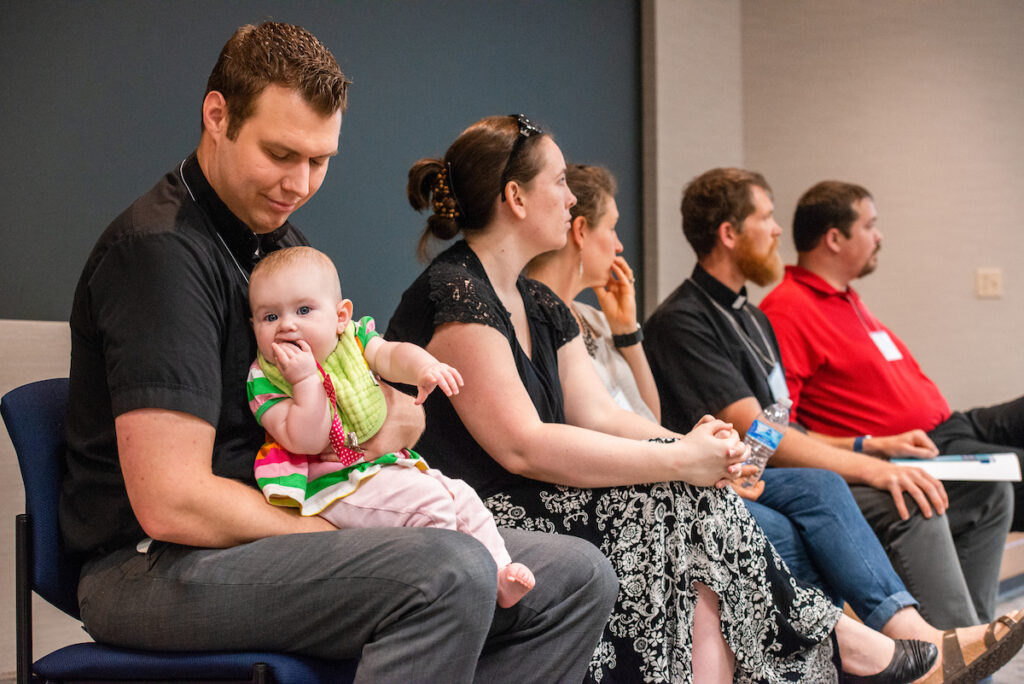 "Preach the Word is great. I get to do what I enjoy and to hone my craft," Hercamp said. "The teachers in the modules remind me to make sure that in every sermon people are hearing Christ for them."
PTW and PALS
PTW was started in 2015 as a voluntary program for LCMS pastors who want to improve their preaching. Participants usually meet together in a triad to work through video-based modules on topics like the use of story in preaching, using biblical text in sermon preparation, and leveraging technology in preaching. The ninth module — "Preaching in a Post-Christian World" — was released in November 2020, and more modules are currently under development.
Each module contains much to think about and discuss, and Hercamp and Demski usually spent about a month watching the modules and preparing on their own. Then, they met together with their wives — Emily and Veronica — and their children. This arrangement proved to be a blessing to both families.
"PALS and Preach the Word have been very helpful for Jacob and our family. It is good any time you have the opportunity to connect with others," said Emily Hercamp, Jacob's wife. "We have always found value in doing that."
Thus far, Hercamp and Demski have worked through four modules and are beginning work on a fifth.
"It has been great to get to know another pastor who has a different educational background and such different experiences than myself. I graduated from the seminary in St. Louis, and he graduated from Fort Wayne after spending some time in England," said Demski. "It has been a blessing to get to know him and his family and for us to be able to shape one another through our experiences and strengths."
But then the pandemic happened. And, like everything else, this gathering was put on pause.
Preaching God's Word
Hercamp is pastor of St. Peter's in LaGrange, Mo., an agriculturally oriented town filled with family and history. It is not uncommon to see grandparents with their grandchildren in the pew each Sunday. Yet, with devastating floods (1993, 2008 and 2019) and the closure of the town's foundry and public school, LaGrange has struggled recently to attract people. On top of the local struggles, there are not a lot of Lutherans in the area.
St. Peter's is the only LCMS church in Lewis County, as well as the northernmost congregation in eastern Missouri. Some people drive from near the Iowa border — nearly 50 miles — to attend. St. Peter's stands stalwart in the face of change. The congregation, founded in 1855, recently repaired and restored the sanctuary to its original 1908 design, finding beautiful artwork under layers of plaster.
In the early days of the coronavirus, Hercamp contacted the local health department to find out what was allowable. "I took my cues from other churches and pastors I know," he said. "I tried to be proactive — stay ahead of the curve, so that we didn't have to be reactive."
When the state shut down, Hercamp had 29 services scheduled for Holy Week, with nine on Easter, to keep people safe and appropriately distanced. But even with all his preparation, his plans were thwarted when the governor issued a stay-at-home order.
"We livestreamed everything … with my wife and children singing for the livestream," said Hercamp. Once people were allowed to gather again in smaller groups, Hercamp offered midweek in-person services in addition to Sunday services.
"I grew up here. … With COVID, Pastor has done an amazing job of reaching out on various avenues and ways," said Leanne Merrill, who works as a nurse at a local hospital. She recounted how she was able to share the Gospel due to the livestream. "One of the people at work, who was on hospice, was dying, and I played the service for her on my phone. Her family couldn't visit."
The midweek services allow Hercamp to implement what he has learned through PTW. "We've been extremely blessed … people have embraced the midweek services and are coming to hear God's Word."
As the pandemic continued, Hercamp contracted pneumonia and had to quarantine. Though never officially testing positive for COVID-19, Hercamp's regular platelet donations (something he began before the coronavirus) now show antibodies.
"We are holding the best we can in the midst of the Lord's storms," said Hercamp. This observation also is reflected in a painting of the cross of Christ on a rock, recently added to St. Peter's as part of their 165th-anniversary celebration. Abby, a high school senior and member of St. Peter's, contributed the painting, and another member is currently constructing a frame for it to match the woodwork of the sanctuary. This group of God's people rejoice in God's grace and continue to trust in Him through the changes of this life.
Continuing in PTW
The online availability of PTW means the modules are accessible even after a group has completed them. "The wonderful thing about the modules is that I can go back and re-watch the videos to review the things I learned," Hercamp noted.
Hercamp and Demski are beginning their work on "Preaching the Baptized Life," the seventh module of PTW."I recall homiletics from seminary, when we learned how to preach the whole baptismal life," said Hercamp. "I'm looking forward to learning from Dr. Lessing how he encourages us to preach the whole baptized life in our sermons. … Christ has died for you. Christ has saved you. … We need to hear that every Sunday, but we also need to talk about how that affects our daily lives."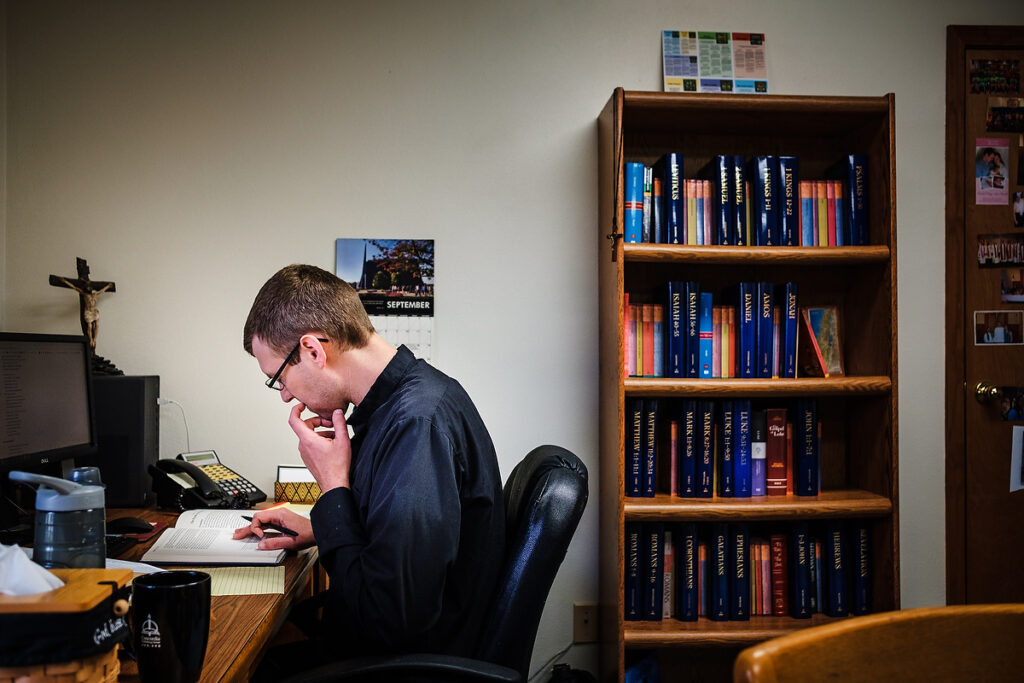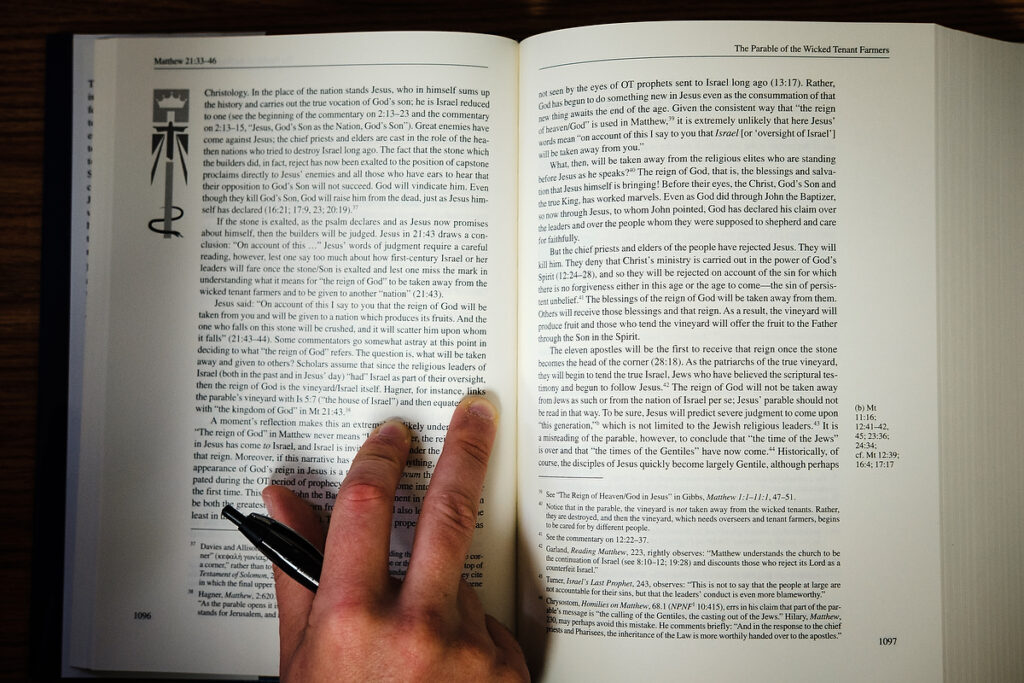 Though unable to gather in person, Hercamp and Demski continue to benefit from PALS, PTW and their growing friendship. "Our friendship gets me out of my bubble and helps me to see pastoral and homiletical issues from different perspectives, which have been a blessing to my preaching and congregation," Demski said.
"I've really enjoyed Preach the Word. It gives me a new perspective," explained Hercamp. "I love reading books and exegesis, but if you can't preach it, what's the point?"
Through all of the changes and adjustments of the last year, the call to preach the Word remains. And sinners still need to hear the proclamation of Law and Gospel. As these two pastors go about this critical task, they have found that they continue to benefit from what they have learned and practiced through Preach the Word.
Learn More
Pray with Us
Our Father, You sent forth Your Son to be our Savior. After His resurrection, Jesus thus sent forth His servants to preach the Word. That ministry of preaching continues in the church, and thereby You call sinners to faith by Your Holy Spirit. Thank You for the pastors who faithfully proclaim the Gospel and administer Your Holy Sacraments. Bless them in their labor to teach and proclaim Your Word of truth. Bless all who preach and all who listen, keeping them by Your Spirit in the one true faith in Jesus Christ, our Lord. Amen.
Share Jesus with the World
Your generosity today makes possible your Synod's witness and mercy efforts both at home and abroad.

Are you looking to direct your gifts for work that's more specific?
Visit the LCMS online ministry and mission catalog to find those opportunities most meaningful to you!
Don't see what you're looking for?
Contact LCMS Mission Advancement at 888-930-4438 or mission.advancement@lcms.org to talk about all the options available.
Dr. Kevin Armbrust
Director of Editorial for LCMS Communications.