Q&A
Q&A with the Rev. Scot Kerns, Montana State Representative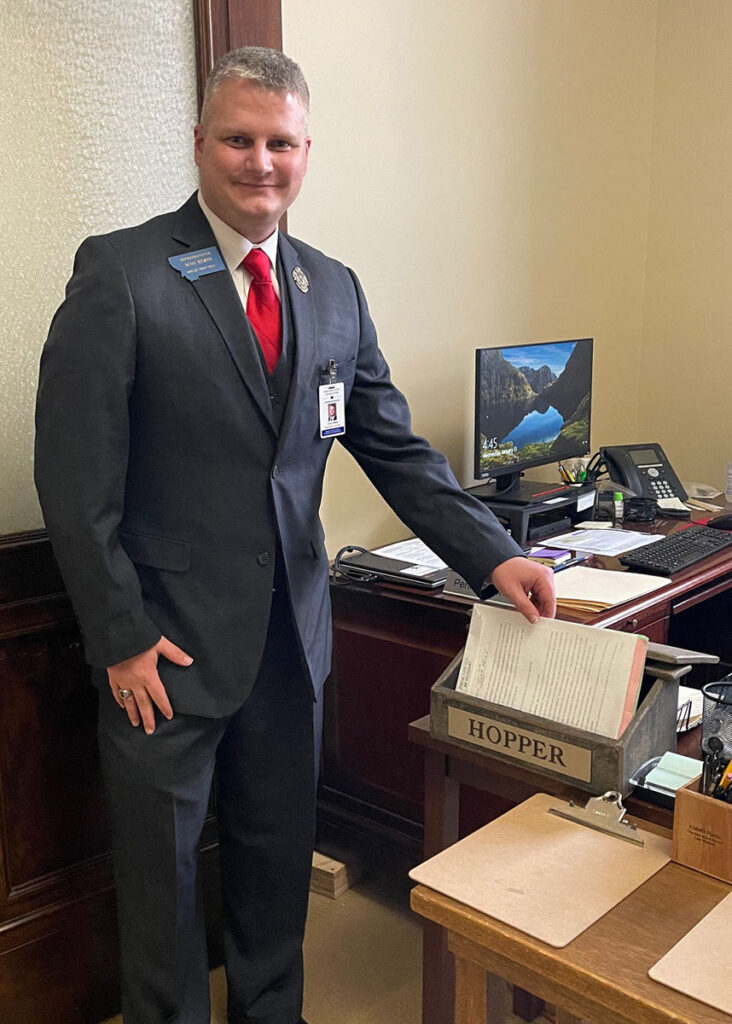 Pastor, Air Force chaplain and now member of the Montana House of Representatives. The Rev. Scot Kerns has worn many hats since graduating from Concordia Theological Seminary, Fort Wayne, in 2013. Despite his busy schedule, Kerns continues to make time to serve as intentional interim pastor for St. John Lutheran Church, Fairfield, Mont., and Zion Lutheran Church, Power, Mont., while also pursuing a Master of Business Administration from the University of Montana.
What does a typical week look like for you?
A: While the Legislature is in session, I typically work Monday through Friday and some Saturdays, usually starting at 7 or 8 a.m. and going frequently late into the night. Once the week's over, I head back to Great Falls and get ready for church services on Sunday. I do church services both at 9 a.m. and at 11 a.m., with a half-hour drive in between the churches. After church, I usually take a pastor's nap and get back on the road to Helena, and then I get ready for the week to start all over again. Not to mention doing pastoral visitations and working on college homework in my spare time.
How do you juggle two demanding roles?
A: I don't know if "juggling" is the right word, because both roles are kind of an extension of me. I definitely have to make time, especially to make sure members are visited and to respond if we have any emergencies with the church. Thankfully, my congregation has been very gracious and understanding. They realize that this is an opportunity for me to speak on their behalf, for me to shape the community that we live in.
How do you view your vocations in the right-hand kingdom (the church) and the left-hand kingdom (the world)?
A: They ultimately are informed by God. God is the one who is in control of both of them, and I serve Him in both. We pray for both our church leaders and our government leaders. I'm thankful that I receive prayers on both accords, because I definitely need it. I invite you to pray for me as well!
What role do the Scriptures play in your decisions as a government official?
A: A lot. I am unequivocally Lutheran. You can look at my voting record. I strive to be in line with what our church teaches, believes and confesses, as this is also what I believe. The Holy Scriptures absolutely inform what I see and how I think and the way that I go through the world.
Have you had any opportunities for Christian witness in this role?
A: Life doesn't stop when you are serving in public office or in service to public office. We have a number of staff members who have had some tragedies and big struggles, and we've had legislators who've had the same. I've had some amazing opportunities to talk to them and work through some of the tough stuff that they're going through. Really, when you think about it, it's very similar to the idea of being a part of the military. When I was an Air Force chaplain, you are with a group of people, you're embedded with them, you're going through the same stuff that they're going through. You almost can't help but have a witness. It's hard to not be engaged with people around you. People reach out to you. It is my fervent prayer that my witness points them to the ultimate comfort that we have in Christ alone.
Is there anything tough about being a clergyman in the state Legislature?
A: No, and that's the really amazing part. We hear this refrain of "separation of church and state." But that's not what the U.S. Constitution was written to address, nor what us citizens or church members should be concerned with today. [The First Amendment] is all about protections from Congress interfering with the church. It doesn't go the other way around. That is where we can have a voice in this. We have the opportunity to freely exercise our religious beliefs. The free exercise clause allows us to do that. We are free by the Constitution to practice our Christian beliefs, and we should be passionate about speaking up for the great freedoms we have and steadfastly protecting those liberties going forward.
Find resources on religious liberty from the Synod's Free to be Faithful campaign.
Megan K. Mertz
Managing editor of Lutherans Engage the World and chief copy editor for LCMS Communications.