National Work
An Unlikely Mission Field
A grant helps bring the church and community together in a laundromat in San Antonio.
Although Wednesdays are usually slow at the E-Z Wash laundromat in San Antonio, there was a line out the door on a recent Wednesday evening as people from the community gathered for Laundry Love, an outreach of St. Paul Lutheran Church.
Once a month, members of St. Paul come to the laundromat to help people wash, dry and fold their clothes. As nearly 70 loads cycle through, church and community members eat pizza together, talk, pray and form friendships.
"Laundry Love is first and foremost an endeavor where we come to the community and … try to bring the love of Jesus that we have as Christians to where they are," said the Rev. David Murillo, senior pastor of St. Paul. "Oftentimes, we have homeless people, we have working poor, we have families where a little bit of help, even $10 worth of quarters and some soap, goes a long way."
It hasn't always been comfortable for church members, Murillo admits. They've served former gang members, as well as people who've lost family members in drive-by shootings. But as the church and community come together in this unlikely place, they are "able to enter into these people's lives in a powerful way."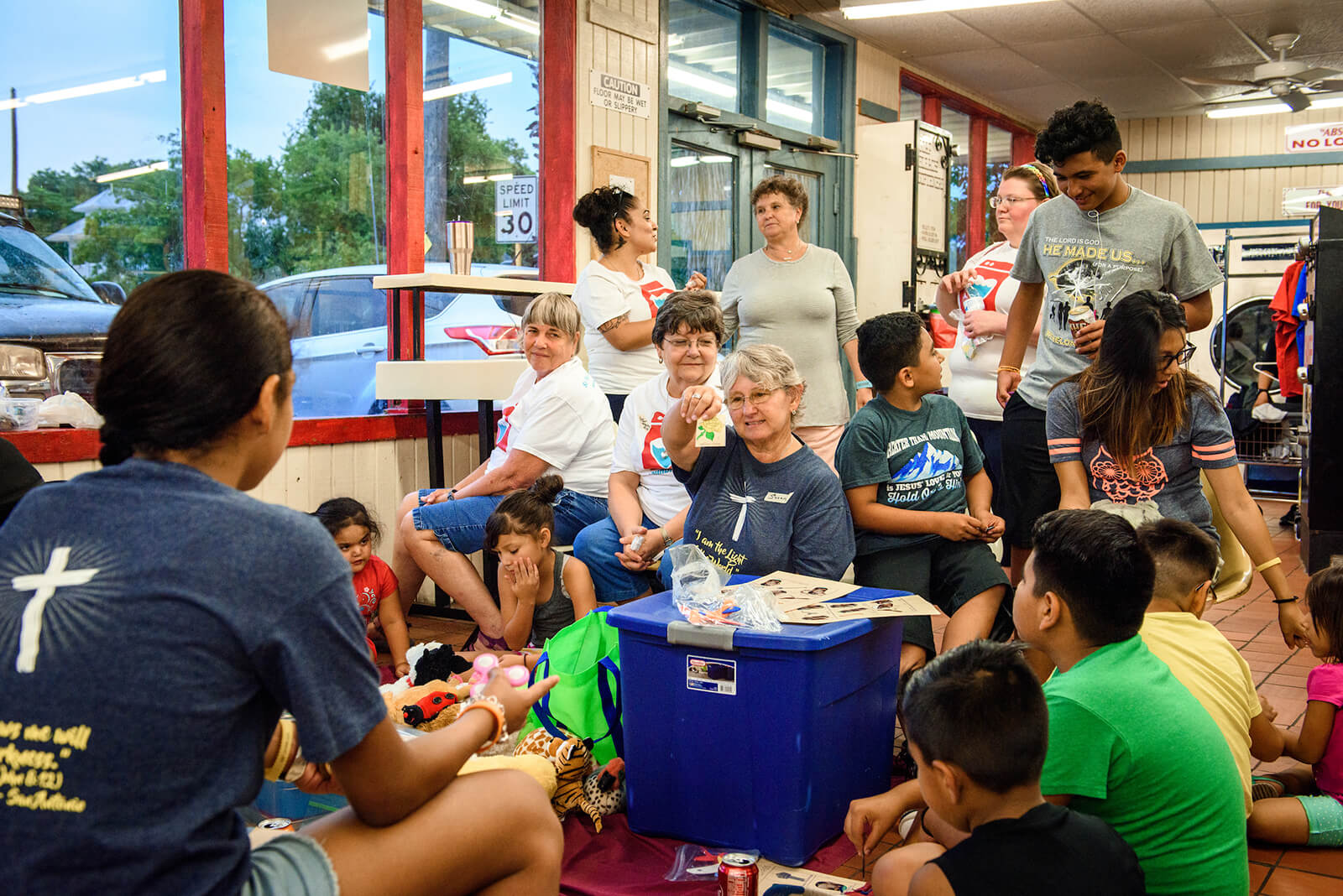 Each month, Murillo sees church and community members connecting in meaningful ways. Often, the moments are subtle — such as people giving high-fives to each other or a child making a craft during the mini Sunday school they hold at Laundry Love — but some moments are more dramatic.
During the closing prayer at the August event, attendee Roberto Cantu began weeping as he shared that his mother had died a few days earlier. Afterward, church member Tom Kusiak stayed to comfort him.
"They care for me here," Cantu later said, when asked why he's a regular at the monthly event.
St. Paul was able to establish Laundry Love — which is part of a national initiative to care for people by helping to provide clean clothes — and fund it for two years thanks to a $12,000 grant through The Lutheran Church—Missouri Synod's "Stand With Your Community" program. The grant program focuses on inspiring and empowering laity for local witness and mercy outreach opportunities during the 500th anniversary of the Reformation and was made possible by a partnership between the LCMS, Thrivent Financial and Lutheran Church Extension Fund.
"We're a smaller, inner-city church. Honestly, if we didn't have this money to make it happen, I don't know that the church would have supported it the way that they did," Murillo said. "But now people really dig this thing. We have every intention to keep it going."
Murillo said a few people have attended worship at St. Paul after coming to Laundry Love, while others have reconnected with churches they used to attend. Either way, he prays they will find a church where they will hear about Jesus each week.
The ministry "is super simple," Murillo said. "We show up. We bring food and soda. And we pay for laundry until we run out of quarters. Jesus does the rest."
Pray with Us
We thank You, Lord, for the generosity of Your people to provide "Stand With Your Community" grants. Bless the efforts of those reaching out to their communities. Give them wisdom and patience as they bring Your Word to the people You place in their lives. May all trust in the death and resurrection of Jesus Christ for salvation. Amen.