National Work
Introducing International Students to Christ
Campus ministry to international students is flourishing in Minneapolis thanks to a partnership with Mission Field: USA.
How do I find truth? Why does God allow evil in the world? What is sin, and why is it important? How does one man save me from this? What makes Christianity any different from other religions?
These are some of the big questions asked by international students who attend the University of Minnesota, Twin Cities.
God's answers — or at least guidance — are available. The Rev. David Kind, pastor of nearby University Lutheran Chapel (ULC), is equipped and ready to teach God's Word. The problem, however, is that Kind often doesn't know these students, and they don't know where to find him.
God has provided that needed connection in Rebecca Wagner, an LCMS national missionary who serves alongside Kind at ULC and focuses on outreach to international students.
Mission Field: Minneapolis
In August 2016, Wagner began serving at ULC as the Synod's first national missionary to Minneapolis. She was already familiar with the ministry, since she had been attending events there while working at a local Chinese and Spanish immersion school.
Wagner brings not only genuine friendliness but also the ability to speak Mandarin Chinese and Russian to the role. This unique combination helps her bridge cultural gaps and make friends with many of the international students.
Kind was eager for the assistance. As ULC's only staff member, he shepherded a congregation of 140 members, ran an active campus ministry for American students, and supervised Luther House — a former sorority house-turned-bed-and-breakfast that ULC purchased and renovated. The top floor of the building now houses six students who are involved in the campus ministry, while the ground floor provides space for ULC's many Bible classes, free meals and game nights.
"There was just no way for me to do international outreach on top of what I was doing already," he says.
But he knew there was a great opportunity to share the Gospel with international students at the university. The Twin Cities campus hosts nearly 6,500 international students from 130 countries, and almost half of these are from China.
Kind talked with his district mission executive, and together they approached the Rev. Dr. Steve Schave, director of LCMS Church Planting and Urban & Inner-City Mission, about bringing a national missionary to the campus through the Synod's Mission Field: USA initiative. The initiative provides resources to support church planting in the LCMS, while also partnering with ministries and districts to send national missionaries to underserved areas.
Making Friends, Sharing the Faith
During the week, Wagner can often be found meeting one-on-one with students on campus, in coffee shops, at Luther House or in her own home. These discussions are guided by what the students want to talk about.
"She'll make connections and invite somebody to her house for tea. She's extremely hospitable. It's a lot of relationship building. She spends a lot of one-on-one time with them before I ever see them or meet them," Kind says. "Often there's an openness to hear more about the church or the Gospel. Then she brings them here [to ULC], and we introduce them to Christ."
When Wagner meets with Juncheng, a Chinese student studying philosophy, they often talk about Western morality. During a recent discussion, Wagner turned to the Ten Commandments and to what Jesus says about them in her bilingual Chinese-English Bible.
When she meets with Peiqi, they are able to encourage each other as sisters in Christ. As a Chinese Christian, Peiqi is eager to make Christian friends on campus, and she attends the weekly international Bible study at ULC.
Sometimes, students seek Wagner out specifically to talk about Christianity. "Last year, there was a student from Saudi Arabia who came up to our table at the student activity fair and said, 'I would like to find somebody to study the Bible with,'" Wagner recalls.
The woman attended adult instruction classes at ULC during the school year before returning to her home country last summer. "When we'd meet up, we'd talk about the Bible and how different the accounts are between the Quran and the Bible," Wagner says. "Even though she has gone home now, we trust that God's Word does its work."
Although Wagner often brings up her faith in these meetings, she's quick to note that she isn't trying to teach theology. Instead, she's making friends, sharing in the struggles and joys of their daily lives, and sharing her faith as appropriate to each conversation.
"The Bible is applicable to every situation," Wagner says. "So, whenever we encounter difficult decisions or challenges, it's easy to bring up what God says or to say, 'This is how Christians deal with it.' I try to connect as much of our conversation as possible to the Bible."
'You Can't Pass This Opportunity Up'
When students are open to learning more about the church, Wagner connects them to ULC's activities and to other Christian students.
Some international students attend Kind's weekly international Bible study. For those who have good English skills and want to dig deeper, he invites them to join an adult instruction class, even if they aren't looking to join the church.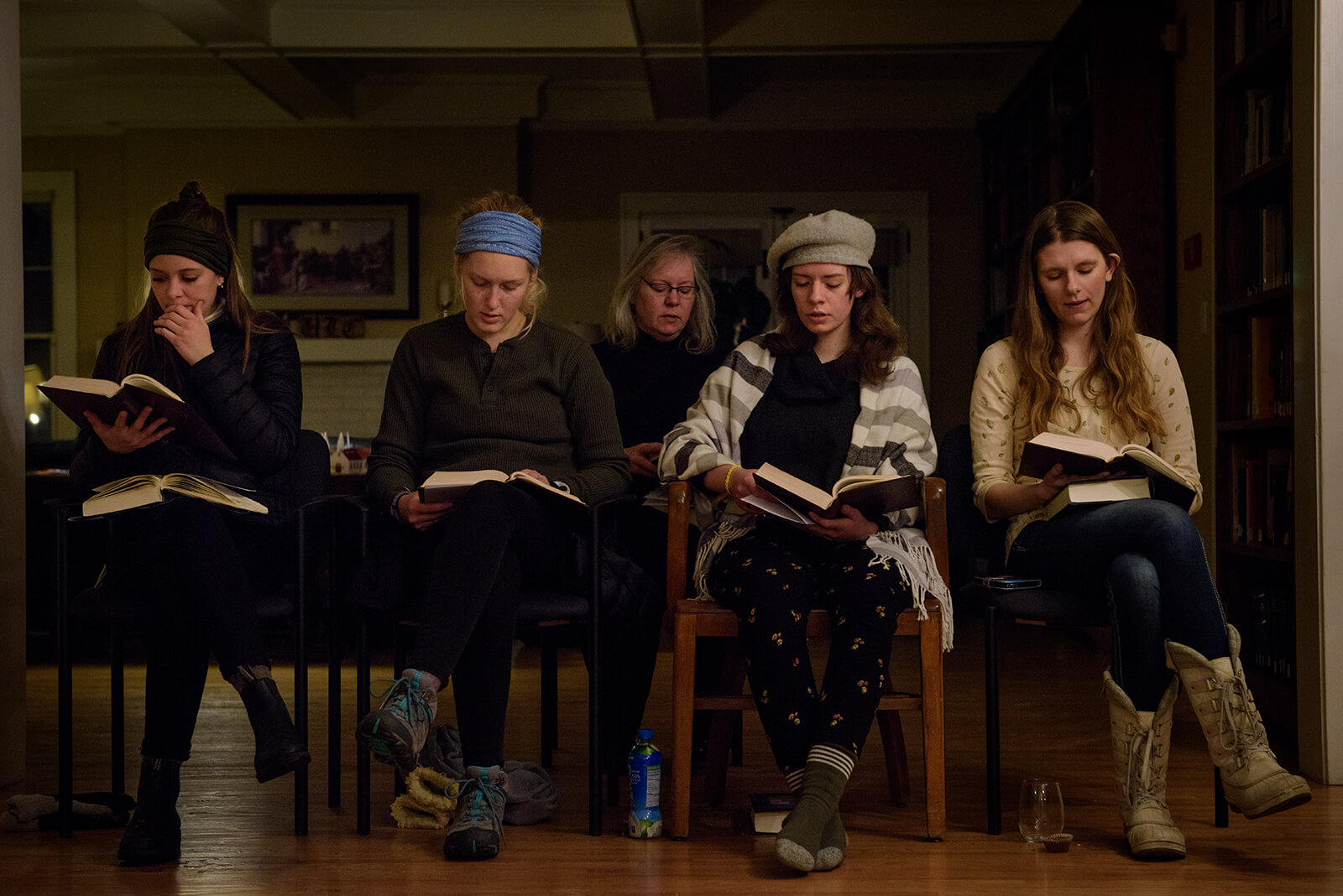 According to Kind, life at ULC "centers around the Divine Service." There's also Matins on Monday mornings, Vespers on Wednesday evenings and Bible study on Fridays. Plus, there are ample opportunities to grow in fellowship throughout the year through sledding activities, retreats, free meals and other events.


Wagner's favorite event of the school year was when she took a group of Chinese students to visit an LCMS church in the country that was having a German festival and potluck.
"The pastor and a couple members of the congregation were able to show us all the different parts of the sanctuary and explain the significance of Baptism and Communion. He did a wonderful job of giving those students an in-depth look at what Christians hope in and find joy in," she recalls. "The students were so touched that they prepared a meal for us and took such good care of us."
Kind encourages congregations that want to get involved to start in a simple way. Reach out to your local Lutheran campus ministry and offer to cook a meal or invite them to bring students to your next event. Even though American students often are ambivalent about Christianity, Kind says that international students are "such a joy" because they are so eager to learn.
Wagner agrees, noting that the world is coming to their doorstep in Minneapolis.
"Fortunately for us, a lot of people who might not be able to hear the message of Christ in their own country are coming here, where they can ask as many questions as they want," Wagner says. "That's the reason I said yes to Pastor Kind when he asked me to take on this role. It's a wonderful chance to share the Gospel with Chinese students and people from Muslim countries. You can't pass this opportunity up."
Pray with Us
Lord of the Church, our only hope for salvation, watch over those who care for Your loved ones as they attend college, especially those at University Lutheran Chapel and the University of Minnesota, Twin Cities. Strengthen Pastor David Kind as he serves through Word and Sacrament ministry. Bless also the work of Rebecca Wagner as she forms friendships and reaches out to students from different countries. May Your Kingdom continue to grow in people's lives through this ministry and through all who spread Your Word and witness to Your love, O Jesus, who with the Father and Spirit reigns forever and ever. Amen.