Spotlight
Encouraging the Church's Young People
For 42 years, the LCMS Youth Gathering has strengthened teenagers in the faith while also raising up young adults for service to the church and world.
Torrential downpours. Hurricanes. Pandemics. The LCMS Youth Gathering has weathered these situations and many others during its 42-year history as the Synod's premiere event for teenagers. Every three years, church groups from around the United States — and even from a few other countries — head to the Gathering city for several days of worship, learning, fellowship and service.
The first Gathering was held on a college campus in Fort Collins, Colo., in 1980 under the theme "Rejoice in His Presence." It replaced a prior pan-Lutheran event that included young people from several Lutheran church bodies.
After that first year, the Gathering moved to bigger cities to accommodate its rapidly increasing attendance. Since then, it has been held in San Antonio; Washington, D.C.; Denver; New Orleans; Atlanta; Orlando; Minneapolis; and Houston. The largest Gathering was in Orlando in 2004, when some 30,000 youth and adult leaders attended.
Director of Christian Education (DCE) Jim Lohman, associate director of LCMS Youth Ministry, has been involved in the Gathering since 1986, when he first brought a group of youth from his church. Over the years, he became more and more involved in the planning process until, eventually, he joined the LCMS Youth Ministry department full time in 2002.
One often-overlooked part of the Gathering, according to Lohman, is how it gives younger people the opportunity to strengthen their skills and gain confidence in serving the church. This includes the 200-plus planners, as well as the young adults who volunteer either with their home congregations or as part of the Gathering team. Although the roles have changed names over the years, those from age 19 to 25 can currently serve as Young Adult Volunteers (YAVs) and those 25 and older can serve as Gathering Ambassadors or as part of Team Flex. At the 2022 Gathering, held in Houston this past July, there were some 500 YAVs and more than 200 Ambassadors.
"I was a young leader who was mentored and raised up. People took a risk with me," Lohman recalls. "And the Gathering continues to do that. We recognize young adults, younger DCEs or pastors or deaconesses or even young people who are working other jobs. We invest in them and give them an opportunity to grow and use their talents. The Gathering builds strong churchmen and women wherever they might be serving."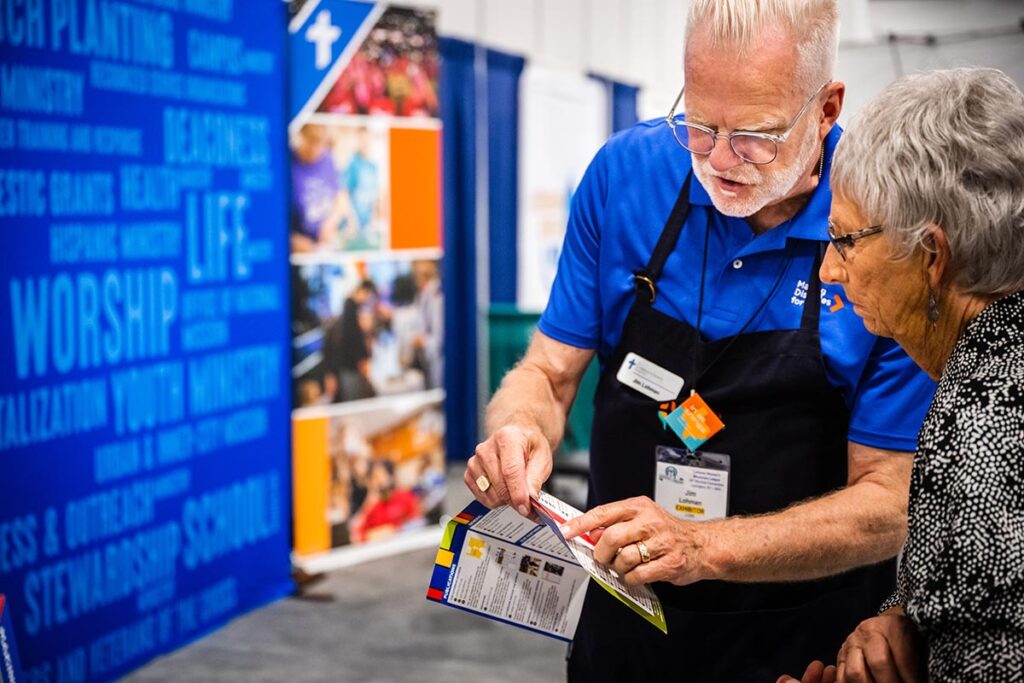 Cindy Twillman, DCE at King of Kings Lutheran Church in Kansas City, Mo., is one such example. She attended the 1980 Gathering as a youth and was "amazed by worshiping with the thousands of youth and adults that were there."
The experience had a lasting impact on her desire to be involved in youth ministry. Even after graduating from college and becoming an accountant, she continued to encourage the youth at her congregation to attend the Gathering. While volunteering at the 1992 Gathering in New Orleans, she finally decided to follow her passion by returning to school to become a DCE — a position she has now held for more than 25 years.
"Through my years of experience with Youth Gatherings, I have seen countless youth tremendously impacted in their faith life. It is an opportunity for them to join with thousands of others in prayer, Bible study, worship and fellowship," she says. "The Gathering also provides our youth [with the opportunity] to step out of their comfort zones and be involved in service and leadership opportunities."
Learn More
Megan K. Mertz
Managing editor of Lutherans Engage the World and chief copy editor for LCMS Communications.