Feature
Huddled in Houston
Youth workers and youth gathered in Houston in July for a joint National21 and YouthLead conference.
"The main reason I came is to prepare for the Youth Gathering, since this will be my first one. … In addition, the main sessions have been excellent, and I've learned a lot of helpful things about youth ministry. I've been very impressed with how this has been put together," said the Rev. Mark Lund, associate pastor of Trinity Lutheran Church, Algona, Iowa, about his experience at the National Lutheran Youth Workers Conference (National21) in Houston July 11–14. "It has helped me with the logistics and planning … simply being here in Houston has been helpful … there's something about being at the place. … That, plus everything they have been going over, has been helpful."
LCMS Youth Ministry hosts the National Lutheran Youth Workers Conference the year prior to each triennial Youth Gathering in the same city as the Gathering. It aims to educate and provide resources for those who work with youth in their congregation and to familiarize youth leaders with the setting for the Gathering.
"The Gathering is more than the five days of the event. It is a gathering around God's Word leading us up to the Gathering … growing together in Christ. We celebrate the wonderful thing we have in Lutheran doctrine," said the Rev. Dr. Mark Kiessling, director of LCMS Youth Ministry. "This is more than a youth gathering. It's about being in the Word of God in the local congregation and in our districts."
National21 attracted 425 participants — including 62 youth — who came together to learn how best to serve the youth in their care. This included both preparing for the Youth Gathering in 2022 and learning how better to understand and serve this current generation of youth.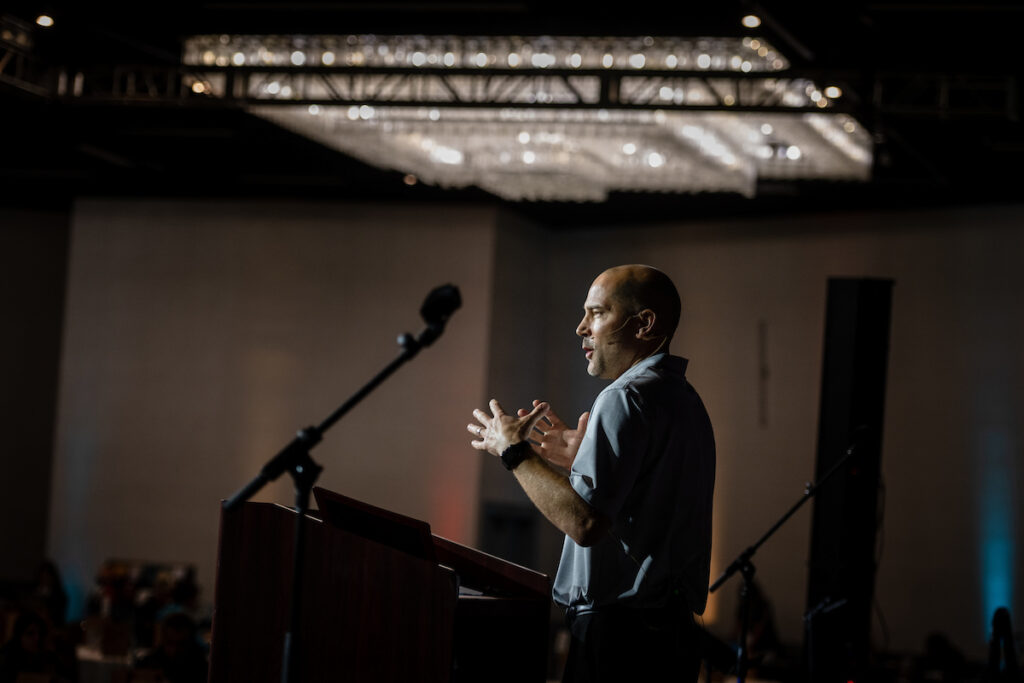 'In All Things'

The Rev. Dr. Peter Nafzger, assistant professor of Practical Theology and director of Student Life at Concordia Seminary, St. Louis, led the conference Bible study through video. Nafzger focused on the Youth Gathering theme "In All Things" from Colossians 1:15–20, expanded the study to the whole Book of Colossians, and encouraged everyone to consider the whole story of Scripture. He also highlighted the importance of story in communication, pointing to God's use of narrative in the Scriptures and the importance of story as each Christian shares God's Word.
Nafzger concluded by noting three important aspects involved with serving the youth in our congregations and those in each community: 1. know His story — the story of everything, the story of God in Christ found in the Scriptures; 2. listen to their story; and 3. proclaim the story of Jesus.
The theme of listening to youth permeated much of the discussion and many of the presentations during the conference. Experts explained the tendencies of Gen Z, a generation marked by their desire to treat all people with dignity, noted for their focus on technology, a generation who both seeks God and eschews religion.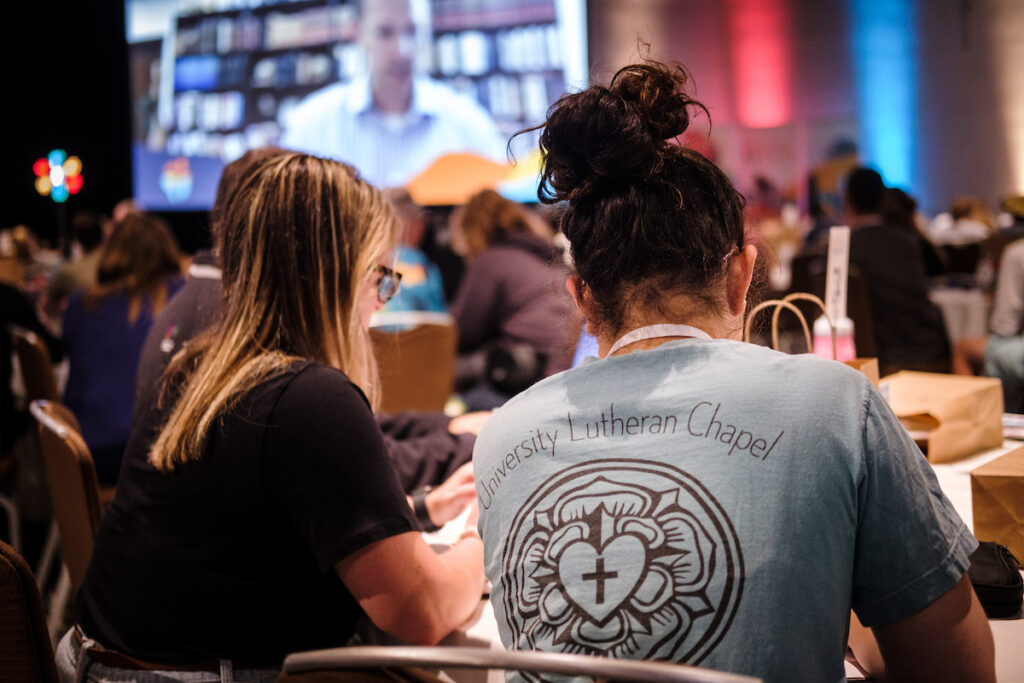 "I honestly don't feel like [Gen Z] is really that different than any generation. … We don't want to hate. We're not trying to promote hate or judge other people for their sins," observed Kylie Autulio, a member of Trinity Lutheran Church, Burr Ridge, Ill., who was in Houston as part of the YouthLead track. "Even though you do need to tell people that what they're doing is wrong, there's no reason to ridicule someone just because they're sinning. You need to know it's a sin and to understand why it's wrong, but the current generation just doesn't feel the need to put down and like get rid of those people."
YouthLead

Concurrent with the National Youth Workers Conference, YouthLead (formerly known as Lutheran Youth Fellowship) met for their annual retreat. Sixty-two youth met to grow in their ability to lead other youth and to learn how to live as Lutherans in this world. The executive committee of YouthLead — five youth who were elected and serve a three-year term — arrived early and prepared the event for the other youth. This executive team served as the primary leaders for the four-day event.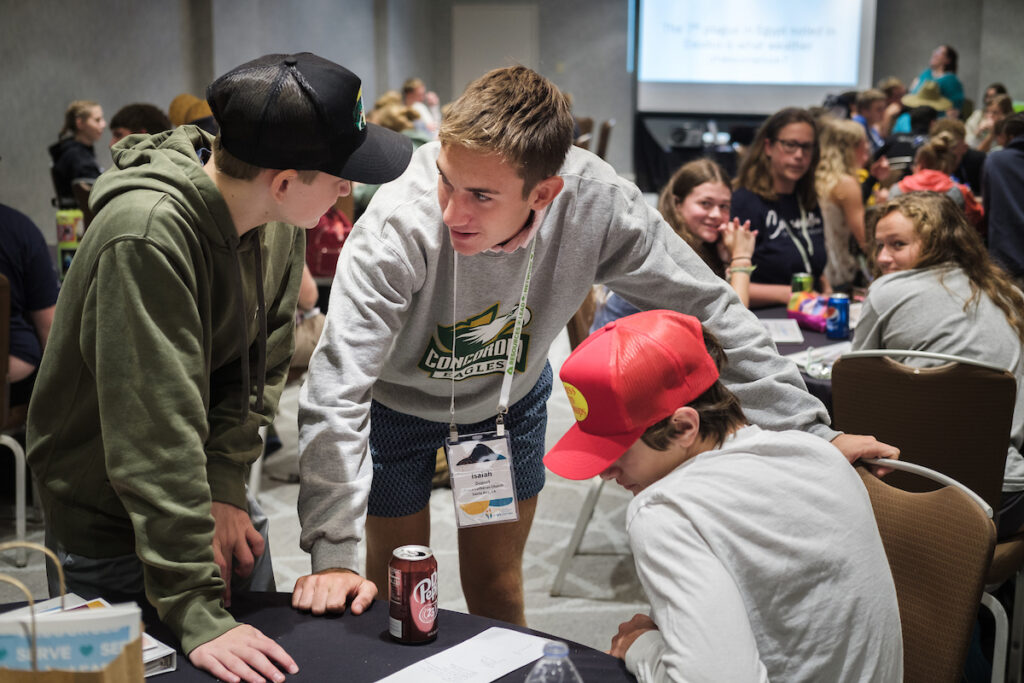 "YouthLead is to encourage youth who have been identified by a youth worker or other adult, to come together with other youth to learn about Jesus and God's Word and to take that back to their churches and into their lives," said Isaiah Duport, a member of the YouthLead executive team who attends Peace Lutheran Church in Tustin, Calif. "YouthLead is a community that sticks with you, especially when you don't always feel like you have a community at home like this. … The [adult] leaders who come pour into every kid like they are their own [child]. … That's really helpful and powerful when you go back home, to know they support you and care for you."
Normally, YouthLead holds its annual retreat in St. Louis in the early spring. Yet, as with nearly everything, COVID-19 necessitated adjustments and flexibility. Since restrictions made their St. Louis meeting impossible, LCMS Youth Ministry moved the retreat to Houston in conjunction with National21.
"There are 60 people in this room who believe what I do," observed Jackson Smith, a member of St. Paul Lutheran Church in Montgomery, Ala., and a YouthLead executive team member. "I come from a small church. There aren't even 60 people there." Smith led a discussion in which he challenged his peers to live out their faith: "How does your walk influence how people see you? What happens if they don't see the fruit of the Spirit in you?"
"YouthLead has offered training for young people in the church for more than 40 years, and it's a great blessing to bring it alongside the National Lutheran Youth Workers Conference. This training helps equip teens to be servant leaders in their congregation and to grow their identity in Christ," said DCE Julianna Shults, program manager for LCMS Youth Ministry. "One of the things that continues to make YouthLead special is that teens are led primarily by other teens. It's always a joy to see God working through young people to reach out with the Gospel to their peers both at the conference and afterwards."
A YouthLead group holds a discussion during the 2021 Teen Leadership Training.

Daniel Meyer, director of Christian education at Christ Memorial Lutheran Church, St. Louis, leads a breakout session.

Tanner Olson, director of church ministries, and Leah Abel, director of Christian education, speak during the National Lutheran Youth Workers Conference.

Participants discuss topics during a breakout time.

A group tours the George R. Brown Convention Center, site of the upcoming LCMS Youth Gathering.

A participant listens during a Bible study.

Rhonda Palmersheim, associate vice president of Alumni and Constituent Relations at Concordia University, St. Paul, St. Paul, Minn., leads a breakout session.

YouthLead members come together during the conference.

The Rev. Michael Newman, president of the LCMS Texas District, is introduced by the Rev. Dr. Mark Kiessling, director of LCMS Youth Ministry.

The Rev. Dr. Chad Lakies, regional director for North America at Lutheran Hour Ministries, leads a breakout session in a packed room.
Helping Congregations Serve Their Youth

Throughout National21, LCMS Youth Ministry emphasized its "7 Practices of Healthy Youth Ministry." Based on over five years of listening, reading data, conducting research and digging into Scripture, Youth Ministry developed seven keys for healthy congregational youth ministry. Healthy congregations have:
Warmth, challenge and grace;
Supportive adults;
Engaged parents; and
Opportunities to serve and lead.
Healthy congregations also help young people:
Deeply understand their baptismal faith;
Discover a resilient identity in Christ; and
Live out their unique vocation.
"It's a wonderful opportunity for multiple levels to be involved in the National Youth Workers Conference," said Randy Bickel, director of family life and youth ministry at St. Martin Lutheran Church, Birch Run, Mich., who is also serving as the district coordinator for the Gathering for the LCMS Michigan District. "It was great to get information and also develop relationships with those around you that are sharing the same struggles, the same joys and the same interests; and [also to] be able to brainstorm and share those things to help and support each other and especially with our young people through the church."
More than the shared information and learned familiarity, National21 showed the church's deep interest in and love for her youth.
"It was a blessing to be able to be in the same space with youth and adults from across the country. These last months have put major restriction on networking and learning opportunities, and the conference provided help and support for congregations' ministry. The event was not only a great time to start preparing for the LCMS Youth Gathering in 2022, [but] it also provided time to discuss opportunities, challenges and concerns around ministry to young people and families with what is happening in our communities," said Kiessling. "God's Word, reminders of His faithfulness, and God's gift of faith and hope on display in the lives of the young people who attended brought great refreshment and focus on God's continued blessings through these difficult past months."
Learn More
Pray with Us
Heavenly Father, You love and care for Your children as they grow up and face trials. We thank You for the youth in our church and for those who work to share Your Word with them. Bless the directors of Christian education and all youth workers in our congregations as they strive to point our young people to Jesus. Bless also the planning for the next LCMS Youth Gathering, which will be held in Houston in the summer of 2022. May it be a time for fellowship in the shared confession that You love and justify all by grace through faith for the sake of Jesus Christ, in whose name we pray. Amen.
Share Jesus with the World
Your generosity today makes possible your Synod's witness and mercy efforts both at home and abroad.
Are you looking to direct your gifts for work that's more specific?
Visit the LCMS online ministry and mission catalog to find those opportunities most meaningful to you!
Don't see what you're looking for?
Contact LCMS Mission Advancement at 888-930-4438 or mission.advancement@lcms.org to talk about all the options available.
Dr. Kevin Armbrust
Director of Editorial for LCMS Communications.