Spotlight
Your Connection to Our Synod's Mission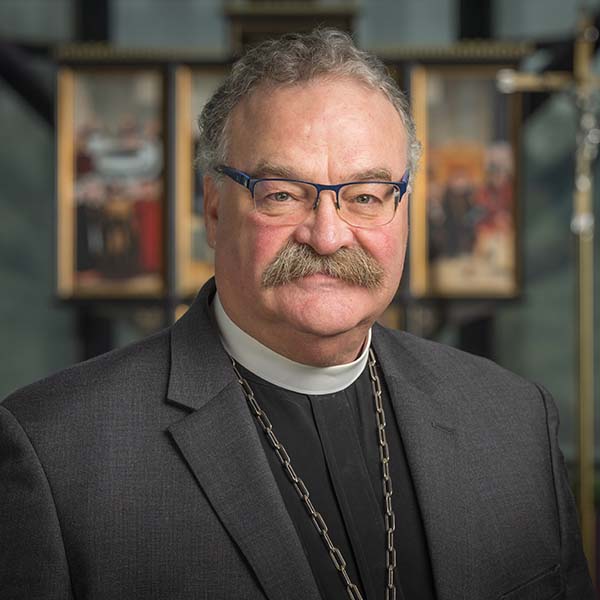 My dear brothers and sisters in Christ Jesus,
Sending missionaries. Caring for disaster victims. Training pastors for international partner churches. Raising up church workers for service in the U.S. Supporting military chaplains and veterans. The Lutheran Church—Missouri Synod (LCMS) carries out an astounding variety of witness and mercy work in locations all around the world. To help strengthen awareness and aid in connecting God's people to this work, LCMS Mission Advancement offers an often-overlooked resource: the men and women who serve as "mission advocates" for the church.
I am blessed to travel with and work alongside these men and women, each of whom stands ready and willing to help connect caring, committed Lutherans like you with the Gospel outreach of the LCMS. I trust them, and I want to encourage you to take advantage of their skills and services as you seek to find joy in your giving and involve yourself in the proclamation of Christ and Him crucified around the world.
Our mission advocates are an important connection point to our Synod's work nationally and internationally. Their role is to link people with the mission efforts that would be most meaningful to them as contributors. Advocates are authorized to travel on behalf of the LCMS to visit personally with interested individuals and to give mission presentations to congregations and groups. Should the Holy Spirit lead a Christian disciple or group to give in support of that work, the mission advocate follows up with information to demonstrate the impact that contributor is having on the church's mission. They also work to address any subsequent questions that sometimes surface.
My prayer is that the knowledge of our mission advocates would bless you and open wider the door to a joyful partnership as we, together, preach Christ crucified for sinners.
Sub Cruce,
Rev. Dr. Matthew C. Harrison
President, The Lutheran Church—Missouri Synod
Who Is Your Mission Advocate?
Martha Dahlke
Serving North Dakota, South Dakota, northeastern Colorado, Wyoming, Montana, western and northern Utah, Idaho, Oregon and Washington
314-996-1322
martha.dahlke@lcms.org
Joe Deverian
Serving California, Nevada, Arizona, New Mexico and Hawaii
(Deployed out of Los Angeles)
562-383-8454
joe.deverian@lcms.org
David Fiala
Serving Wisconsin and Minnesota
314-278-9750
david.fiala@lcms.org
Michael (Mike) Fischer
Gift planning advocate serving nationwide
(Deployed out of Phoenix)
480-313-5251
mike.fischer@lcms.org
Jacob Gnan
Serving Texas and New Mexico
(Deployed out of Dallas-Fort Worth)
414-807-8534
jacob.gnan@lcms.org
Mark Hofman
Serving Colorado, Connecticut, Kansas, Maine, Massachusetts, Nebraska, New Hampshire, eastern New York, New Jersey, Rhode Island, southeastern Utah, Vermont and Alaska
(Also the executive director of Mission Advancement and the interim director of the LCMS Joint Seminary Fund program)
314-996-1315
mark.hofman@lcms.org
Frank Kremer
Serving Arkansas, Louisiana, Mississippi, Oklahoma and southwestern Missouri
314-996-1358
frank.kremer@lcms.org
John Lewis
Serving Michigan, Ohio, Indiana and Florida
(Also the senior mission advocate and director of the advocate team)
314-996-1374
john.lewis@lcms.org
Zachariah Schnare
Serving Illinois, Iowa and northwest Missouri
618-973-2426
zach.schnare@lcms.org
Shane Smithson
Serving Missouri and the southeastern United States, including Tennessee, Alabama, Georgia and South Carolina
314-974-8508
shane.smithson@lcms.org
Gary Thies
Serving western Iowa, Nebraska and other areas on request as a specialist advocate for missionaries and mission projects through Mission Central in Mapleton, Iowa*
712-882-1029
gary.thies@lcms.org
Krista Young
Serving Pennsylvania, Maryland, the District of Columbia, Delaware, Kentucky, Virginia, West Virginia, North Carolina, New Jersey and western New York state
(Deployed out of Sylva, N.C.)
314-745-2381
krista.young@lcms.org

* Mission Central is a partnership of the LCMS, Iowa District West and the Nebraska District. It operates under the tax-exempt status given to the LCMS by the IRS and is a budgeted, integral part of the LCMS Mission Advancement unit.
Learn More