Mercy Moment
Chainsaw Training Helps LERT Volunteers Share the Gospel After Disaster
Men from eight LCMS districts will take what they learned home to teach others.
"Have a complete plan and follow it," said Tim Ard from Forest Applications Training as he stood under a 100-foot tree needing to be felled. "Your hinge is your friend."
Men from eight districts of The Lutheran Church—Missouri Synod (LCMS) listened as Ard taught them how to cut down trees, buck and limb fallen trees, and clear debris in a safe and beneficial manner. These men will take the information gained at this training to their districts to train other Lutheran Early Response Team (LERT) volunteers on chainsaw technique and safety.
"Unified training leads to a unified response," said the Rev. Dr. Ross Johnson, director of LCMS World Relief and Human Care Disaster Response. "When a disaster strikes, we work out of a local LCMS congregation. … We do everything in the name of Christ. It is a way, in dark times, for the church to be the light of Christ in very tangible ways. … People have been extremely receptive. Even people of different faiths and religions receive help with thanksgiving. And we share the Gospel with them."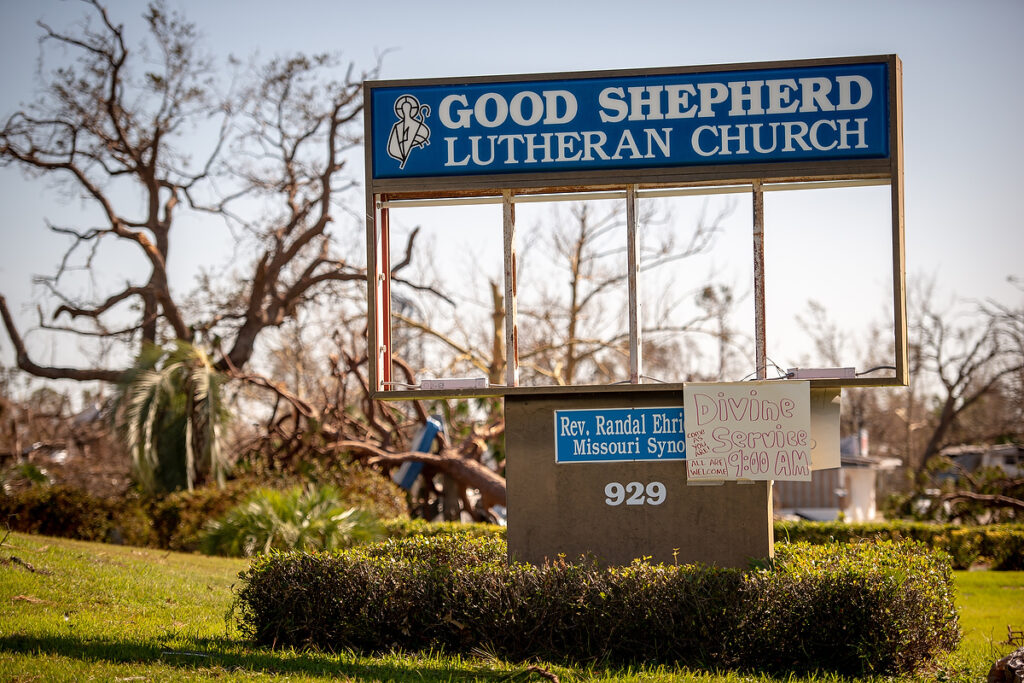 This "train the trainers" event took place on the property of Good Shepherd Lutheran Church in Panama City, Fla. Hurricane Michael hit Panama City on Oct. 10, 2018, damaging the church and many of the trees on its 15-acre property. Although much work has been done, many trees still need attention.
When planning this event, "we thought of Good Shepherd in Panama City," said the Rev. Michael Meyer, director of disaster training for the LCMS. "During this training, we are helping get rid of some of those trees so that they don't become a problem and a liability."
"They have been the hand of the Lord. They were the first on the ground with our district president. It's been like having a big brother with you and helping you through the process," said the Rev. Randal Ehrichs, pastor of Good Shepherd. "The training here on our grounds has been pure gift to us."
Storm chasers often infiltrate communities after disasters and charge thousands of dollars to remove damaged trees or debris. But the LERT volunteers want to serve their neighbor for free.
"These guys want to serve their neighbor," said Meyer, "with chainsaws, certainly, but also with the Gospel."
Tim Ard from Forest Applications Training demonstrates how a tree can "barber chair."

Steve Lockhart prepares the skid-steer while the Rev. Ed Brashier, Southern District disaster response coordinator, saws a fallen trunk.

A trainer checks the lean of a tree before it comes down.

The team dislodges a tree.

Trainers fell a tree together.
David Ricks, chairman of Lutheran Disaster Care, a Recognized Service Organization of the LCMS, agrees: "We take the Gospel with us when we go. We pass out the 40-day devotional booklet from LCMS Disaster Response. We meet with the family and have a prayer before we begin. … Some people have shown up at the local Lutheran church as a result."
Following a disaster, people with chainsaw skills are in high demand. That's why LCMS Disaster Response wants to equip LERT members to provide this service safely and efficiently.
"This chainsaw training serves to increase our dedicated volunteers' capabilities and give them added capacity to extend mercy to those who haven't the means or skills to perform this dangerous work in their communities," said the Rev. Robert Wurst Jr., LERT volunteer manager for the LCMS. "LCMS Disaster Response is working to support our volunteers in the many ways they serve with Christ's love."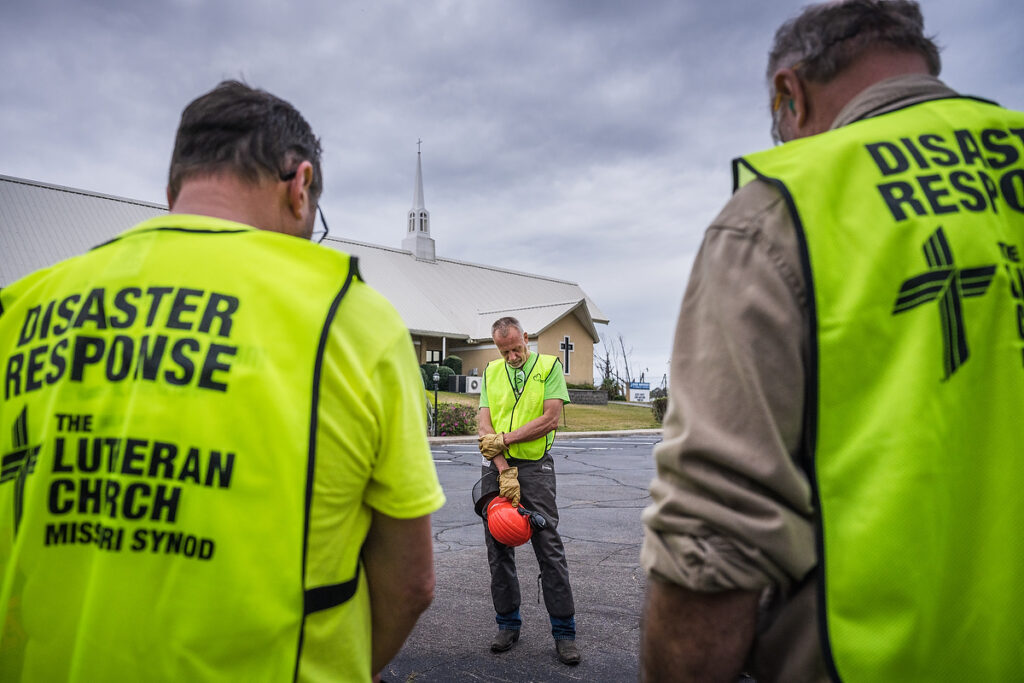 Wurst is a recent addition to the LCMS Disaster Response team, and he brings a unique skillset to the position. While serving as a parish pastor, he also worked with the local fire department. He brings organizational skills as well as practical skills.
"With him, we will do a better job of managing our database of volunteers and implementing them cohesively," explained Meyer. "There is a saying, 'Spontaneous volunteers are the second disaster for any disaster.' We do not want our volunteers to contribute to that. We want to match up volunteers with the opportunities so they can serve in the best way possible."
This chainsaw training is meant to be repeated in LCMS districts, but it will also be part of a curriculum being developed for the church. LCMS Disaster Response is preparing a suite of resources to cover safety, personal protective equipment, the physics of felling trees and clearing debris on the ground, and strategies including critical incident stress management.
"LERT is mainly a mercy-based group," said Micah Pobanz, an attendee from Messiah Lutheran Church, Hays, Kan. The 23-year-old joined LERT after helping people in Kansas City following tornadoes, and he wants to help his district train others for similar situations. "We show the love of Christ to people who are hurting and in need."
Learn More
Share Jesus with the World
Your generosity today makes possible your Synod's witness and mercy efforts both at home and abroad.

Are you looking to direct your gifts for work that's more specific?
Visit the LCMS online ministry and mission catalog to find those opportunities most meaningful to you!
Don't see what you're looking for?
Contact LCMS Mission Advancement at 888-930-4438 or mission.advancement@lcms.org to talk about all the options available.
Dr. Kevin Armbrust
Director of Editorial for LCMS Communications.