Feature
'The Word Does Everything'
Students and staff of the Luther Academy in Riga, Latvia, gather in Wittenberg, Germany, for a week of in-person learning and fellowship.
"It's all about the Word. It was then and it is now. … Thanks be to God, the Word does everything," said LCMS missionary Rev. Dr. Cory Rajek, a professor at the Luther Academy in Riga, Latvia. The school is the seminary of the Evangelical Lutheran Church of Latvia, which is a partner church of the LCMS.
From Oct. 31 to Nov. 6, students from Italy, Bulgaria, Latvia and Sweden gathered in Wittenberg, Germany, for one purpose: to study the Word of God in preparation for service to the church.
Study, Worship, Fellowship
During this week, the Luther Academy students — who usually take classes online — met with their professors for a week of in-person education, worship and fellowship. Others came to observe and further their theological education. Reflecting the perennial and prominent difficulties and obstacles involved in international mission work and education, not everything turned out as hoped. Just days before the class began, students who planned to come from Pakistan and Africa were informed that their visas were denied by the German government. This, along with continuing COVID-19 restrictions, meant that even during this on-site intensive, some had to participate through Zoom.
The Rev. Dr. Arthur Just Jr., professor of exegetical theology at Concordia Theological Seminary, Fort Wayne, and an LCMS missionary, led the week's class on the history and conduct of the liturgy. During his opening lecture, Just established the reason for the church's worship and for the Luther Academy: Christ and Him crucified. "If the liturgy is not about the Lamb who was slain and raised again, then it is not the heavenly liturgy."
God's Word and Sacraments are vital to pastoral training, and thus they were the highlight of this week of instruction. On Oct. 31, the day the church rejoices in the Reformation, the students, professors, missionaries and others gathered in the chapel of the Old Latin School and received God's blessed gifts of Word and Sacrament — mere steps from St. Mary's Church, where Luther often preached. The chapel's windows stood open, unable to contain the robust preaching and singing, which rang out to those who had gathered in Wittenberg to celebrate Luther. Some wandered in to investigate this gathering, where Christ was fully and faithfully proclaimed in the full extent of the Law and the immense sweetness of the Gospel. Souls were set free from sin, and salvation was proclaimed by grace through faith. And the saints gathered for the Lord's Supper, with all the company of heaven.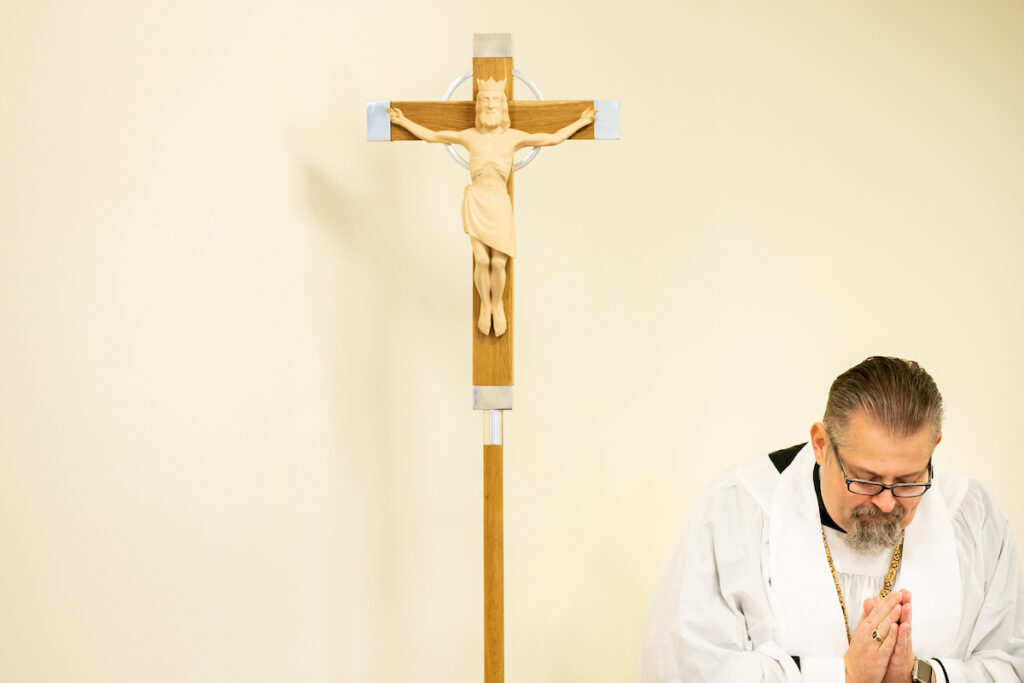 'So That They Can Also Know Christ'
One of the Luther Academy students, Joshua Salas, who is originally from Pakistan but now lives in Rome, encountered Lutheranism online. After hearing about the Luther Academy from one of its professors, LCMS missionary Rev. Dr. John Bombaro, Salas signed up for classes. Salas is now looking forward to serving as a pastor in Italy one day, with a focus on immigrants.
"I'm also going to be targeting the Pakistani community or Indian community so that even they can hear the Gospel, so that they can also know Christ," said Salas. "Christ gave His life for everyone. So, why not preach the Gospel to everyone?"
Most European countries view Christianity as little more than a link to their history. Though cathedrals draw tourists and attention to many European cities, the denizens of those communities rarely gather to hear God's Word. Those who do come often hear words and teachings dissimilar to and contrary to God's revelation in His sacred Scriptures. Though many celebrate Luther, the Christ he preached is often absent or unwelcome. Yet, some rejoice in God's loving actions to save His people by grace through faith on account of Christ.
"We don't have any confessional Lutheran seminaries at all in Italy, so it's good that we have this possibility to receive a seminary education," said Lorenzo Murrone, a student in the Luther Academy who is also from Rome. "It's also good that we are able to meet physically here in Wittenberg … for intensive weeks. … Just to see a Divine Service with more than three people on Zoom, with singing and with a more robust congregation, it's something that's almost in a sense new for us."
The dearth of faithful proclamation and the abundant need to hear God's Word drives the LCMS to seek opportunities to plant Lutheran churches, spread the Gospel and perform acts of mercy in these places. Though many have turned a deaf ear to His voice, the living Word continues to speak and to call people to faith. And some who have heard and believe now long to proclaim the Gospel to others as pastors and other church workers.
Expanding Theological Education
Where possible, the LCMS works with local church partners and encourages them to train their own pastors when and where the means are available, such as the Independent Evangelical Lutheran Church's seminary in Oberursel, Germany. Yet most of the countries in and around the European Union (EU) have too few confessional Lutherans to have their own seminary or even a church body. Into this situation, God has provided the Luther Academy and the Livonian Lutheran Project.
Working with our partner church in Latvia, LCMS missionaries have developed an accredited English-speaking academic program leading to a bachelor's degree in theology. This provides an opportunity for people to earn a degree recognized throughout the EU to work as pastors and church workers.
This is an exhilarating time in theological education. LCMS missionaries are teaching confessional Lutheran theology in the two most utilized languages in the West: The Luther Academy offers classes in English and Concordia the Reformer Seminary in Santa Domingo, Dominican Republic, teaches in Spanish. A new opportunity has arisen to train workers in Mandarin Chinese, which will facilitate further outreach.
"We are starting a confessional Lutheran seminary in Taiwan," said Just. "That will mean we are teaching in the three biggest languages in the world: English, Spanish and Mandarin. This is very exciting."
New projects, including a catechetical video series, are currently in development. These new efforts embrace a multilingual focus, as people desire to hear more biblical Christianity. Through the distribution of digital materials, translated into different languages, the Gospel can be shared and people can be led to Word and Sacrament ministry in places where missionaries have not been able to work and where the church must worship in secret.
In the early 16th century, Luther translated the Scriptures and the liturgy into German so that all the people could read God's Word and learn it. This past fall, Lutherans gathered in Luther's Wittenberg to preach, teach, sing and learn in English. And just as Luther said, the Word did everything. And according to God's promise, that Word will accomplish exactly what He desires, that all might come to a knowledge of the truth, even Jesus Christ.
Learn More
Pray with Us
Lord of the nations, You call men from every tribe, language and heritage into Your gracious kingdom. Grant wisdom to those involved in the Luther Academy, that those who teach proclaim Your Word in truth, and those who learn are shaped into servants of Your Word and Your church by that same Word. Just as You allowed in the time of the apostles, may Your Word increase throughout the nations, that all might know and trust in Jesus Christ, our Lord. Amen.
Share Jesus with the World
Your generosity today makes possible your Synod's witness and mercy efforts both at home and abroad.

Are you looking to direct your gifts for work that's more specific?
Visit the LCMS online ministry and mission catalog to find those opportunities most meaningful to you!
Don't see what you're looking for?
Contact LCMS Mission Advancement at 888-930-4438 or mission.advancement@lcms.org to talk about all the options available.
Dr. Kevin Armbrust
Director of Editorial for LCMS Communications.