Feature
Mercy After Disaster
For 15 years, Lutheran Early Response Teams have brought care for body and soul to those devastated by natural disasters.
On the morning of Aug. 29, 2005, Hurricane Katrina made landfall on the Gulf Coast near New Orleans. In the hours and days that followed, the Category 5 storm would bring immeasurable devastation by flood and wind — becoming one of the costliest and deadliest storms in U.S. history.
Over half of the 140 LCMS congregations in the Southern District, as well as many members of those congregations, were among those affected. The destruction was local, but the pain was felt across the Synod.
As donations from Lutherans across the country came in to LCMS World Relief and Human Care (WRHC), the Rev. Dr. Matthew C. Harrison, who was WRHC executive director at the time, had an idea: Instead of continuing to pass donations on to outside disaster-response organizations, what if the LCMS were to use these donations to do work for and through her own congregations?
That's when the Lutheran Early Response Team (LERT) program was born.
Like the Synod, the LERT program is organized locally: Each team is based within an LCMS congregation. They often find themselves working next to other teams from their district, coordinated by their district disaster-response coordinator.
In the 15 years since the LERT program was created, teams have formed in congregations in nearly every LCMS district. An estimated 20,000 volunteers have gone through LERT training (a one-day, six-hour event led by an official LERT trainer) at one time or another, according to the Rev. Michael Meyer, director of Disaster Training for the LCMS.
Teams have traveled across the country to respond to hurricanes, tornadoes, floods, fires and earthquakes. They have come together to serve local needs in their congregations and communities, such as doing repair work in elderly members' homes, clearing trees from church lots, and even washing windows and cleaning gutters — sometimes apart from any disaster. And they have done it all in the name of Christ.
A Distinctly Lutheran Response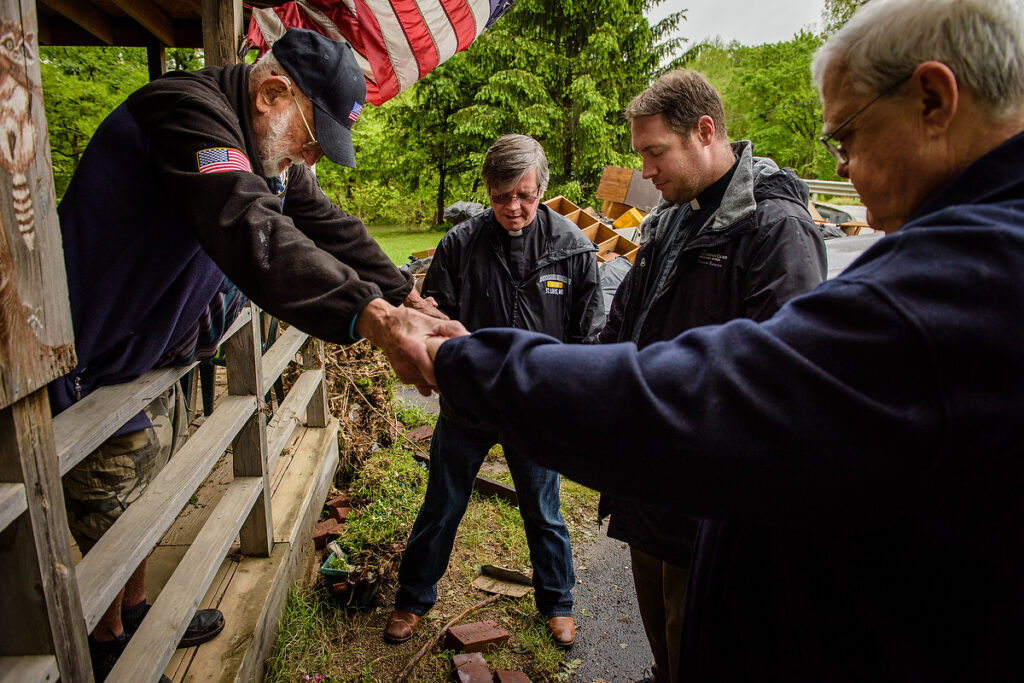 The first iteration of LERT training was created shortly after Katrina, an updated model was designed in 2013, and more updates — including the addition of an official chainsaw training track — were added in 2020. However, the mission of LERT has remained the same from the start.
"The question we ask is, 'Why should the church be engaged in disaster response in the first place?'" said Meyer. "And that lays the framework for everything else."
For these Lutherans, the answer to that question is clear: The needs after a natural disaster, and thus the opportunities for care, go much deeper than mucking out a home or removing a fallen tree, though those things are certainly important.
"All of this is in service to the Gospel and to point people to Jesus," said Meyer. "It's acute for them in the physical sense, because of the disaster, but it's acute for them also in a spiritual sense, because in the midst of this, the devil is prowling around seeking someone to devour. So, we stand in the gap and profess Christ clearly."
For this reason, LERT volunteers, even those who have traveled from out of town, always provide their services in the name of the local LCMS congregation, which connects those they serve with Word and Sacrament ministry in the area. They also are trained to be ready to provide spiritual care to those they serve — through listening, by offering the consolation of the Gospel, and through prayer.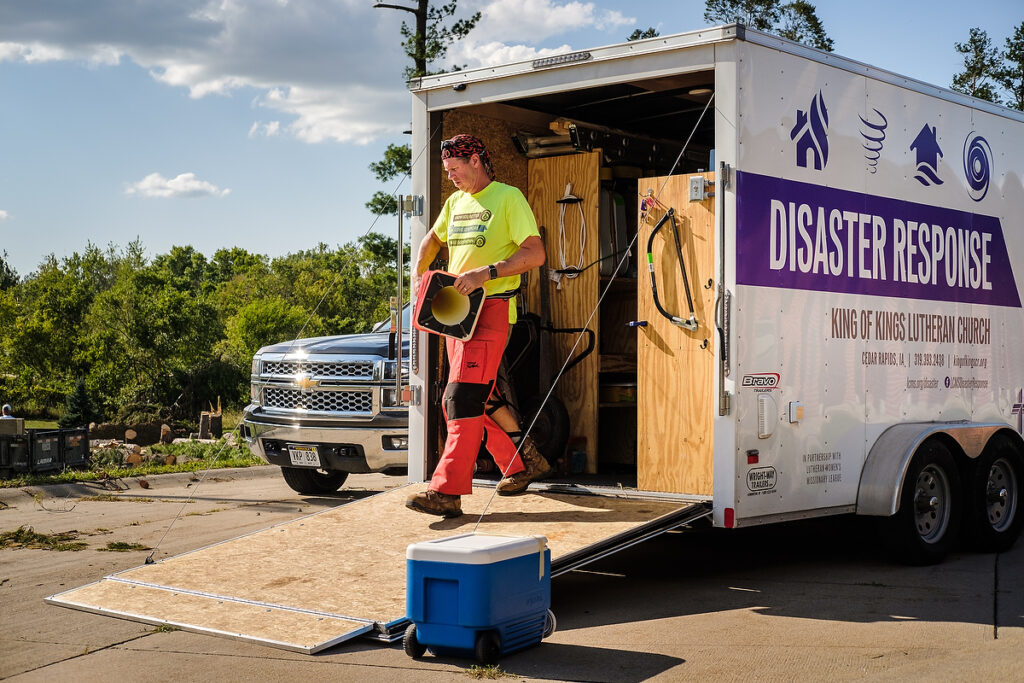 LERT volunteers speak of the many fruits they have seen this approach bear, among both Christians and non-Christians.
Bryce Cramer, a LERT trainer from Immanuel Lutheran Church in Murphysboro, Ill., remembers vividly an elderly man his team helped on his first deployment, who reacted in a hostile way when they offered to pray with him on the first day. After two days of work on his property, when they tentatively offered again, he replied, "You know, I think I would like that."
On a subsequent deployment in the same area, Cramer stopped by that man's house to check in with him.
"The first thing out of his mouth was, 'I haven't been to church yet, but I've been thinking about it.' … I just know the Holy Spirit had been working on him. … And that's why we go. Because you never know how the Holy Spirit is going to use us," said Cramer.
"I've seen people within our own congregation who hadn't been to church in years, and they've been back every week since the storm," said Paul Pacey III, a member of Redeemer Lutheran Church, Fairhope, Ala., which served as a base for LERT recovery efforts for weeks after Hurricane Sally devastated the area in September.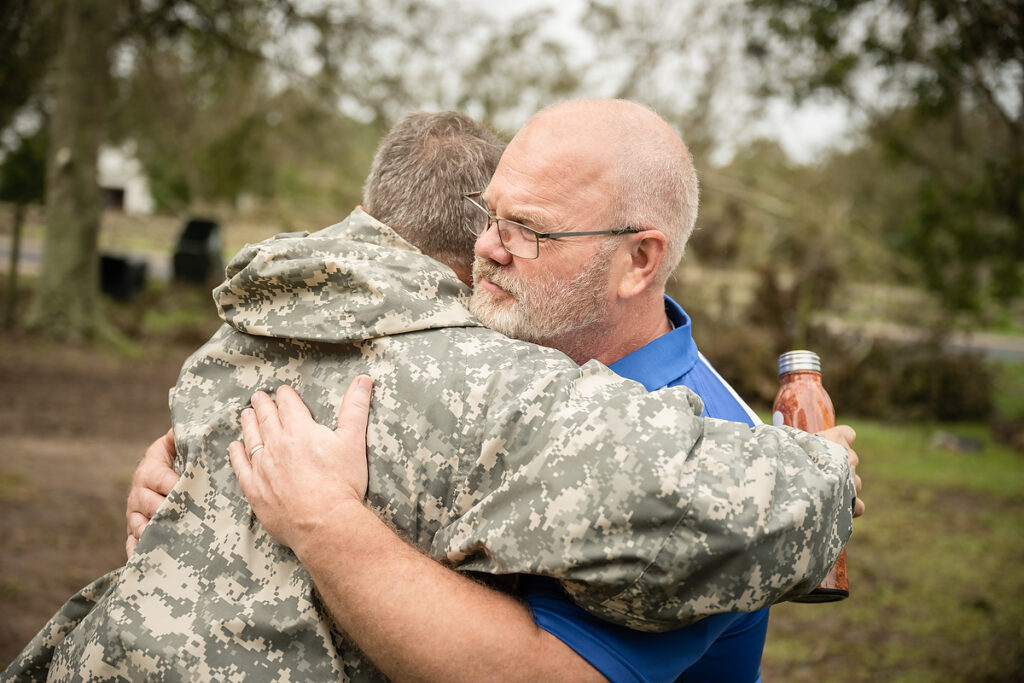 "So much of the world tells us that nobody cares about you, you're on your own, you've got to make it on your own," said Pacey. "And this group just is completely the opposite. They are living examples of God's love."
By the time the LERT volunteers arrived at Redeemer, Pacey had already hired a contractor to remove the tree that had fallen on his home in the storm. The teams cleared several other downed trees from his property. But what Pacey appreciated even more was the opportunity to watch fellow Lutherans showing God's love in his neighborhood.
"I felt very proud of my church," he said.
'Are You the Lutherans?'
Composed of volunteers and supported by the LCMS and their districts, LERT teams are able to provide their services free of charge.
After large-scale disasters, the estimates that many homeowners receive from contractors and even charitable disaster-response organizations can be immense: regularly $10,000 to $20,000 for work such as removing a tree from a home.
This summer, Kris Schuldt deployed twice each to Cedar Rapids, Iowa, and Lake Charles, La., when his team from Immanuel Lutheran Church in Wentzville, Mo., responded to a derecho and two hurricanes.
"It brings tears to a lot of people's eyes when we say, 'It doesn't cost you anything.' They say, 'Why?' And we say, 'Because we're from the Lutheran church, and we're just here to help you,'" Schuldt said.
Word starts to spread quickly.
"We would have people driving by and stopping, and rolling down their windows and saying, 'Are you the Lutherans?' … Because people were saying, 'The Lutherans in the yellow vests, just go talk to them, they're doing it for free.' It made you feel good to be a Lutheran."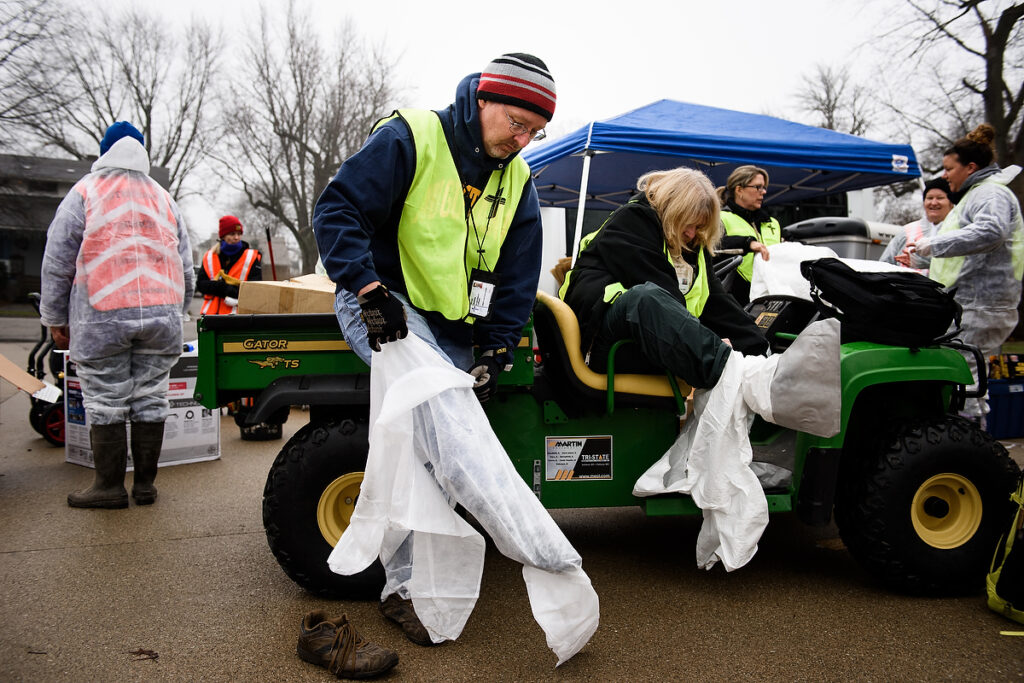 For Years to Come
While tens of thousands of Lutherans have gone through LERT training since the program's origin, Meyer said that LCMS Disaster Response only has the official records and contact information of a fraction of these volunteers.
In the coming year, they plan to implement a new volunteer management software that will change this. This software will enable Disaster Response and the individual LCMS district disaster-response coordinators to recruit new LERT volunteers, track current volunteers, and communicate about training opportunities and volunteer needs across the country. Meyer is hopeful that around 15,000 LERT volunteers will be catalogued in the system by the end of 2021.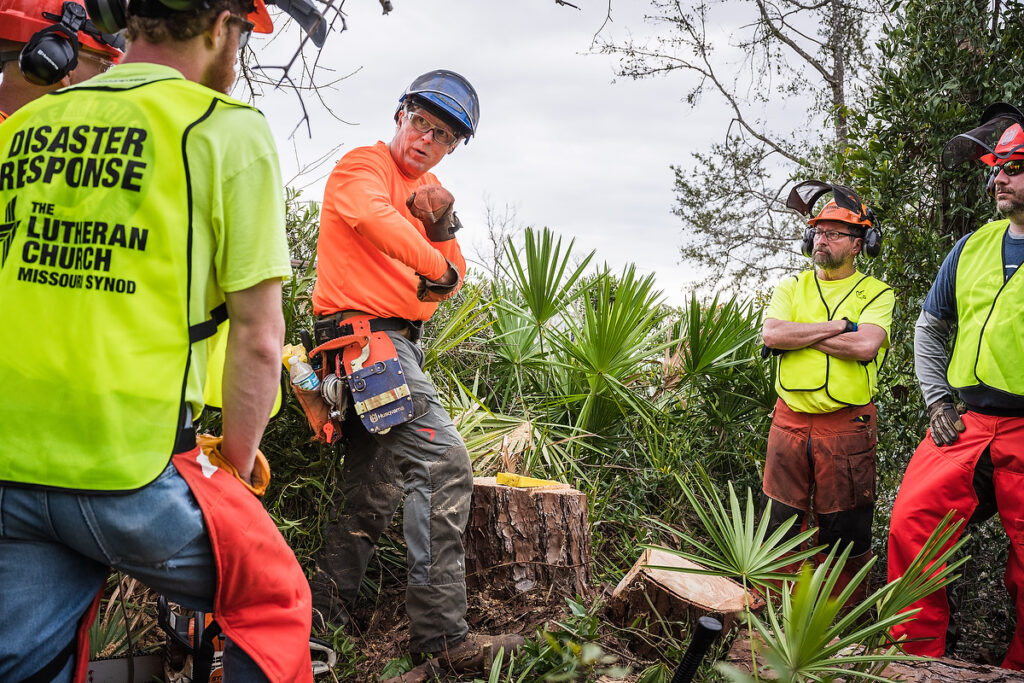 An official chainsaw training track was also added under the LERT umbrella in 2020, modeled after a training conducted by forestry expert Tim Ard for various LERT members in February 2020. This will help LERT meet the demand for individuals with chainsaw skills after wind-related disasters, such as hurricanes and tornadoes.
As it grows and expands, said Meyer, LERT will maintain the same focus: "We want this work to be done safely, and we want it to be done in the name of Christ."
Learn More
To learn more about the LERT program or to set up a training event at your congregation, contact your district office or LCMS Disaster Response.
Pray with Us
Almighty and eternal God, You know the times and seasons and hold the future in Your hands. You bid us to live our days in reverent fear and trust, knowing that we are but mortal and that all of our days are governed by Your divine Fatherly goodness and mercy. Teach us to be prepared for the day of trouble through meditation on Your Word and regular reception of Your Sacrament. You also bid us to care for our neighbor with Your merciful love. So prepare our hands and feet to be ready to serve those in need wherever and whenever we are able. Bless especially the LERT volunteers, that through their work this world might see Your love in action and be drawn to the One who came not to be served, but to serve, even Jesus Christ, our Lord. Amen.
Share Jesus with the World
Your generosity today makes possible your Synod's witness and mercy efforts both at home and abroad.

Are you looking to direct your gifts for work that's more specific?
Visit the LCMS online ministry and mission catalog to find those opportunities most meaningful to you!
Don't see what you're looking for?
Contact LCMS Mission Advancement at 888-930-4438 or mission.advancement@lcms.org to talk about all the options available.
Stacey Egger
Staff editor and writer for LCMS Communications.