Feature
Praise, Work, Prayer, Fellowship
A week at an LCMS Servant Event.
"I kind of forgot all about God. I forgot that no matter what, God loves me."
According to Shelly Carlson, community life director, this is a common reaction from the homeowners helped each year by Heart of a Servant, an LCMS Servant Event hosted by Lord of the Lakes Lutheran Church in Forest Lake, Minn. Each year, LCMS Youth Ministry works with LCMS congregations and organizations to provide opportunities like this for young people to serve others in the name of Jesus Christ.
Heart of a Servant focuses on helping area homeowners with home repairs they cannot complete on their own. Through these acts of service, the Holy Spirit is at work, reminding people of the love of God and the comfort of the Gospel.
The youth who volunteer for this event do everything from cleaning out garages to yard work to big paint jobs.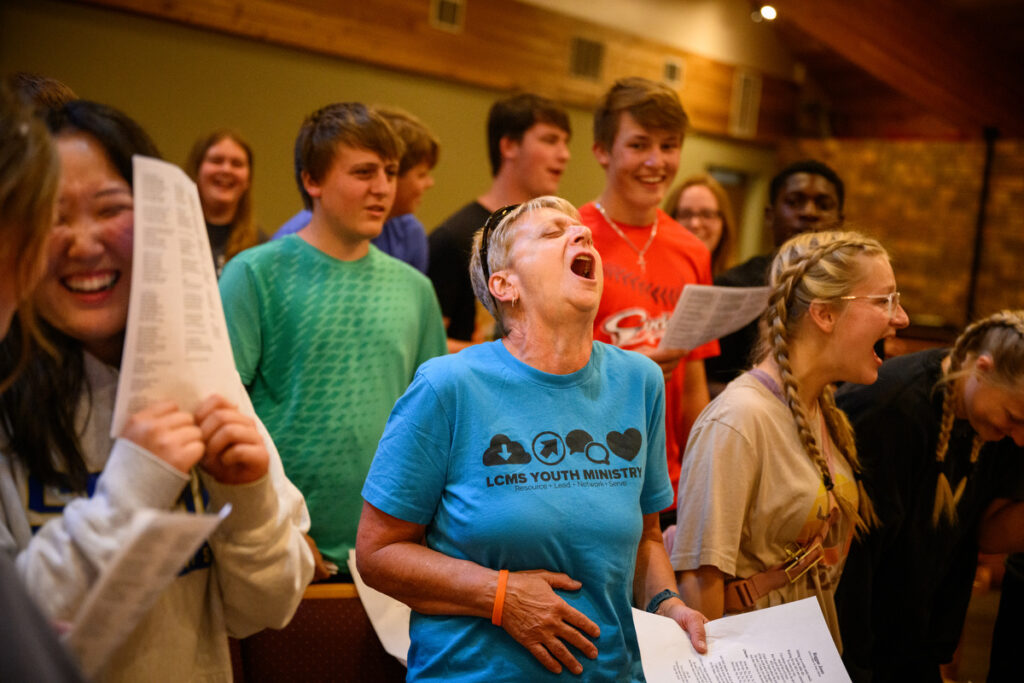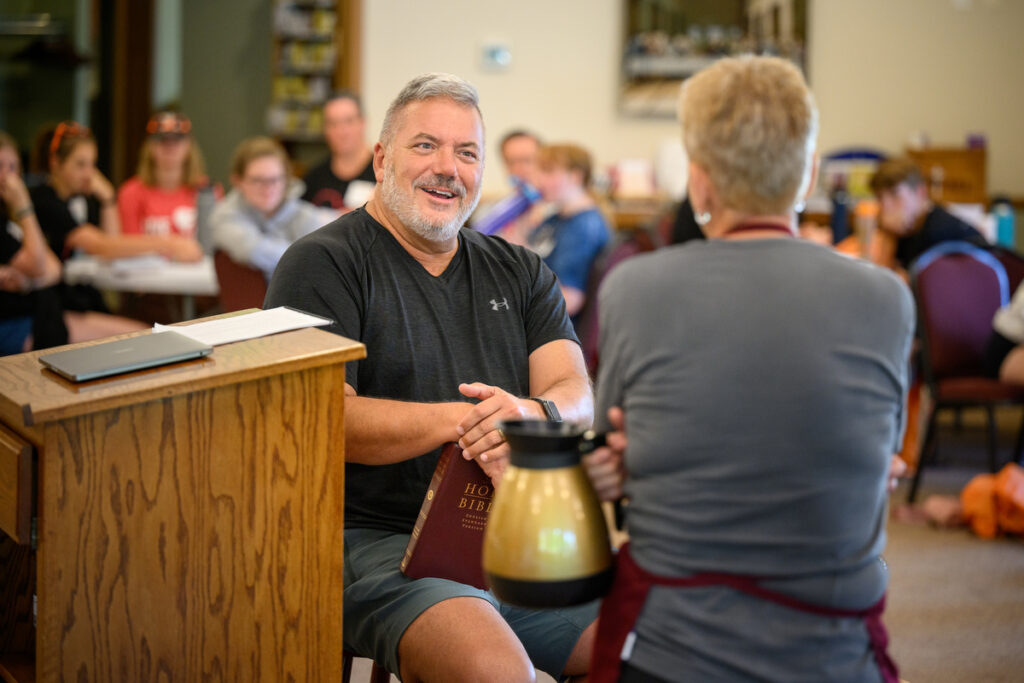 "But what they're really doing is witnessing and being the loving hands of Jesus to people who are broken or hurting or are struggling or are just overwhelmed with life," said the Rev. Craig Bertram, pastor of Lord of the Lakes and project coordinator for Heart of a Servant.
Christ's Church at Work in the World
Lord of the Lakes hosted 50 high school youth at this year's Servant Event. Youth from Lord of the Lakes were joined by groups from Resurrection Lutheran Church in Sioux Falls, S.D.; King of Kings Lutheran Church in Kansas City, Mo.; and the Lutheran Church of St. John in Quincy, Ill.
"Our pastor introduced the idea of a servant [event] to our youth group. We all decided as a youth group, instead of [doing a] youth trip somewhere fun, we wanted to do a servant event," said Kelsie Miller, a member of Resurrection, Sioux Falls.
One of the chief goals of Heart of a Servant is to build community among Christians. The relationships formed among the youth, members at Lord of the Lakes and the homeowners they serve are as important as the service projects themselves.
"I like working with other people who are from different states and different congregations, and it's really rewarding to help these people with their houses," said Miller.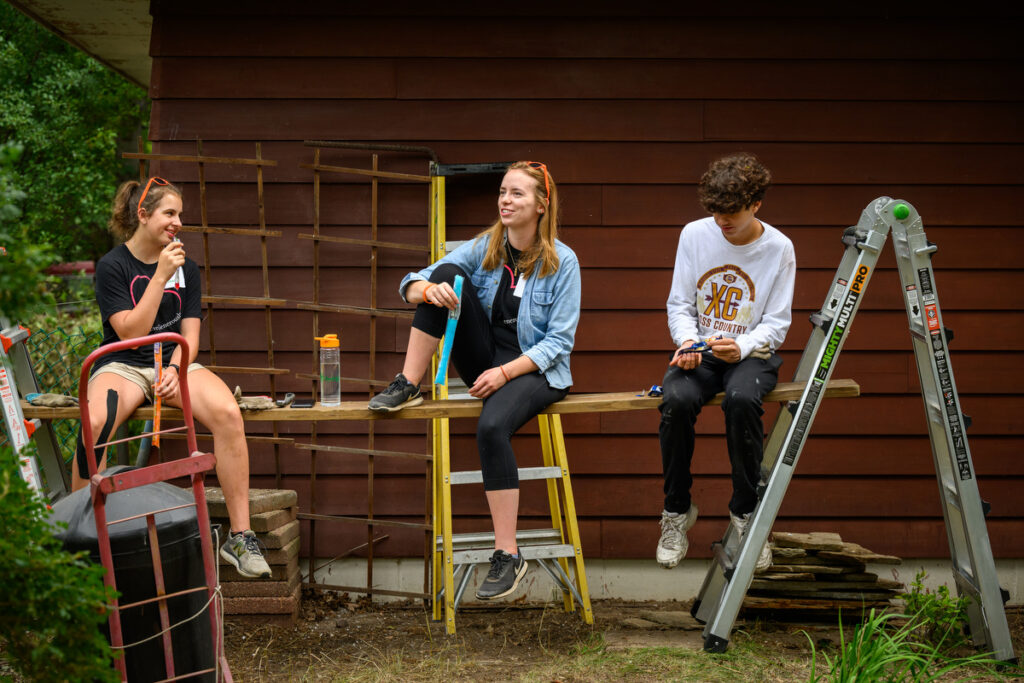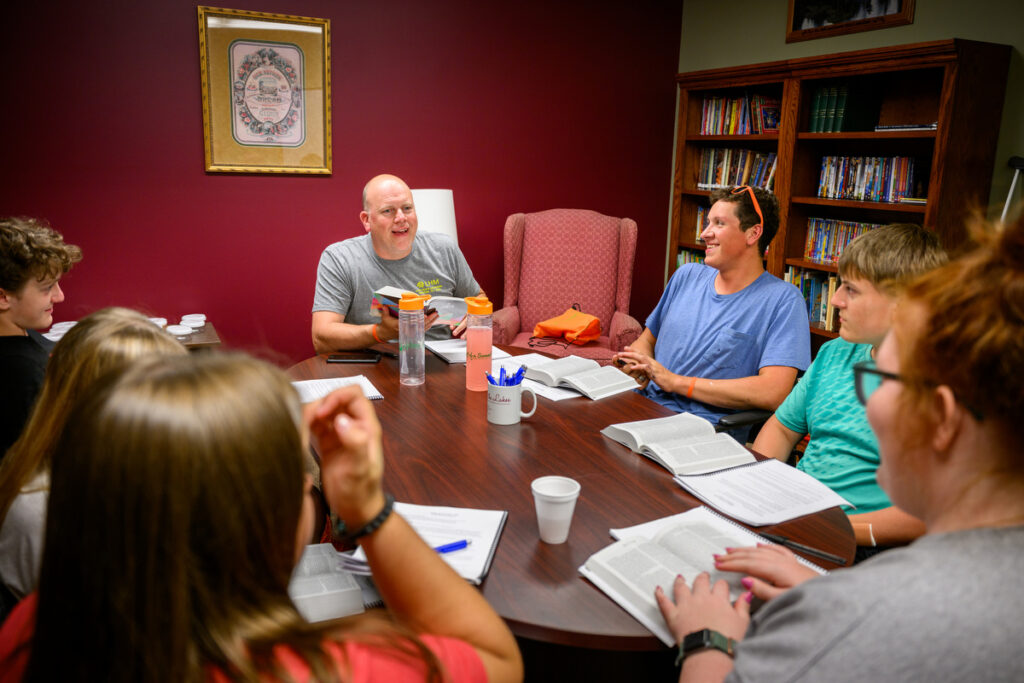 Each day of the weeklong event offers plenty of opportunities to build community. Congregation members at Lord of the Lakes prepare meals for the volunteers. As they work on projects, youth build relationships with the homeowners they serve. Pastors and youth leaders gather everyone together for devotions in the morning and Bible study in the evening. Evening games and activities, along with a final canoe trip at the end of the week, provide opportunities for youth from different states to build lasting friendships. All of these things help youth see Christ's church at work in the world, beyond the horizons of their home congregation.
At the end of the week, everyone in the community — congregation members, youth volunteers and homeowners — gathers for a closing service, followed by lunch and time for fellowship. Sometimes the homeowners are members of the congregation; other times, this could be the first time in a while, or the first time ever, that they have heard God's Word.
All Hands on Deck
Heart of a Servant has become an institution at Lord of the Lakes, and congregation members of all ages work tirelessly each year to make the event successful.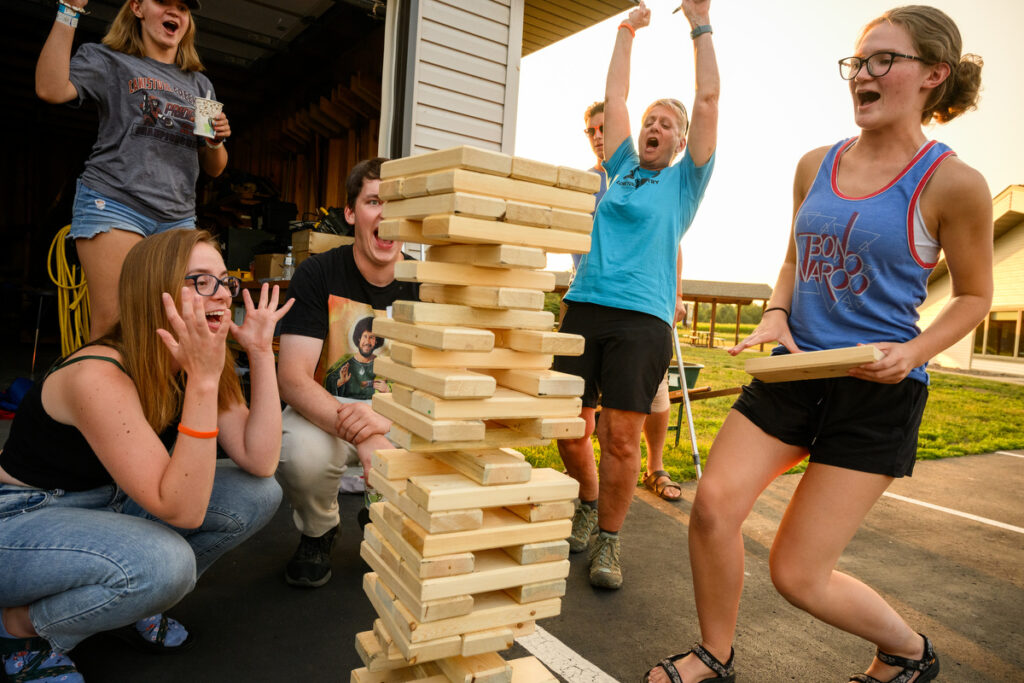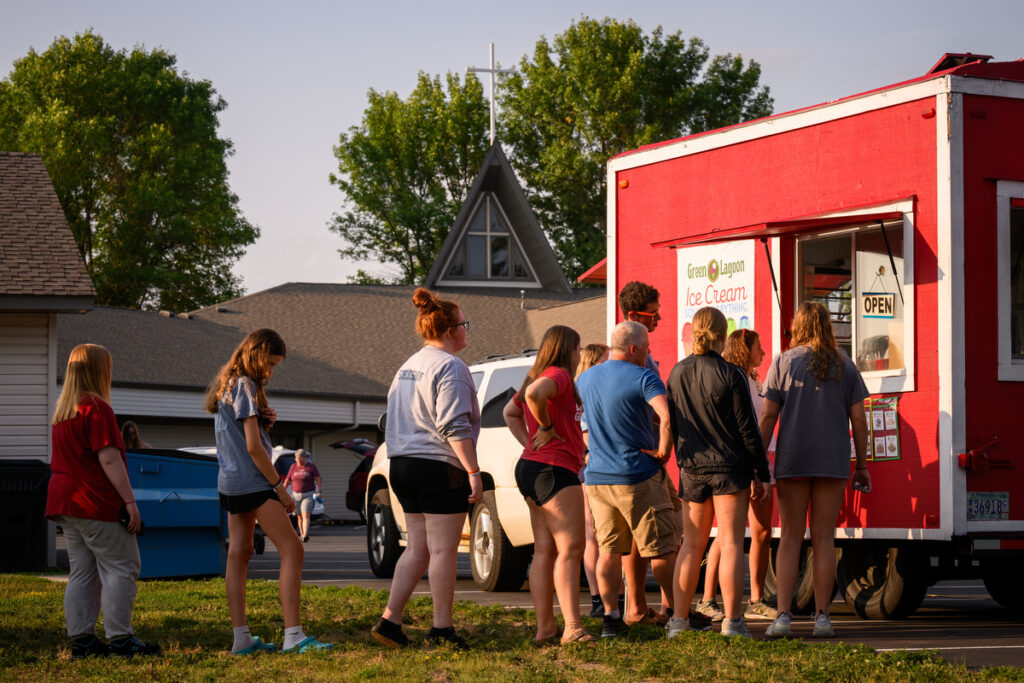 "The congregation is 100% behind it because they've seen the kids [at work] there. They've witnessed the Bible study, they've seen the fellowship, they've participated in making all of the donations happen," said Bertram.
"Our whole congregation is able to participate in it," he continued. "We're a pretty small congregation, but we have cooks, we have people who run and get ice every day for us. There's a whole crew of church members who do all kinds of volunteer [work]. Everybody here is either praying for [the event], or they donated [to it], … or they're volunteering at a work site."
Over the years, Heart of a Servant has become well-known in the greater community as well. This year, Bertram had to narrow down which homeowners they could help from more than 15 requests.
"That was really hard because they're all very deserving and in great need," said Bertram.
'Pretty Special People'
This year, volunteers served at six different sites.
"Our philosophy is that we need to find meaningful work. We serve [people who are] elderly, low income, disabled and veterans. Usually [these are] people who want to stay in their house but can't do the work to make all of that maintenance happen," said Bertram.
He often partners with the city of Forest Lake to help people whose homes are violating a city ordinance, but who can't afford to repair their home and bring it up to code.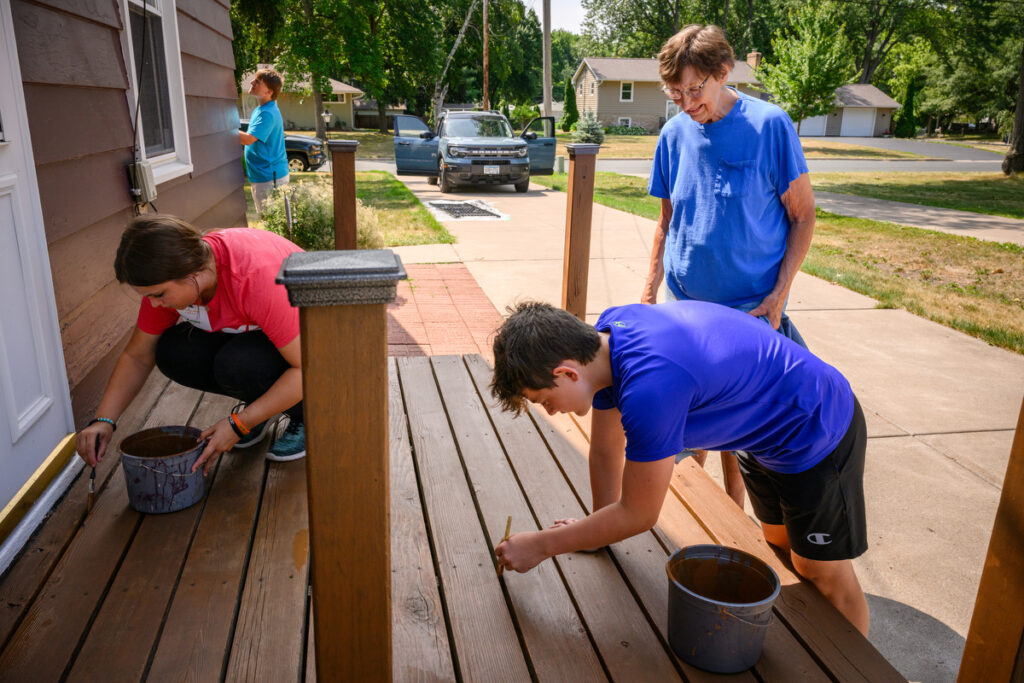 Faye Hansen, a member of Lord of the Lakes, was one of the homeowners helped by Heart of a Servant this year. Volunteers tackled big projects like restaining her deck and repainting the outside of her house.
"It's very humbling, but it's also very gratifying. I can't begin to express my thanks. I've always painted my house and everything myself, and I can't do it anymore. … They really did a nice job," Hansen said.
She also expressed how much it meant to her to spend time talking to the youth who were working on her house.
"They get involved with the congregation, and it helps them want to come and want to learn and want to stay [in the church]," said Hansen. "That's big."
A longtime member of the congregation, Hansen is pleased to see the way in which the Servant Event has blossomed over the years.
"Our church isn't that big. For us to host almost 50 kids and serve all those meals — it's a gigantic task, but they do it with joy. But what does that say? [These are] pretty special people," said Hansen.
"It's really not about the work," said Bertram. "The work is just the instrument that we [use] to expose [youth] to God's Word, have times of devotion and prayer and praise, and then form that unique fellowship we have in Christ."
Learn More
Pray with Us
Lord of life, we thank You for bringing us to life by Your Word and for giving us opportunities to speak of Your gifts to others. Bless the work of LCMS Servant Events, that our neighbors in need may be helped and that we might have the opportunity to share the love of Christ with them, through Jesus Christ, our Lord. Amen.
Share Jesus with the World
Your generosity today makes possible your Synod's witness and mercy efforts both at home and abroad.

Are you looking to direct your gifts for work that's more specific?
Visit the LCMS online ministry and mission catalog to find those opportunities most meaningful to you!
Don't see what you're looking for?
Contact LCMS Mission Advancement at 888-930-4438 or mission.advancement@lcms.org to talk about all the options available.
Sarah Reinsel
Staff writer and editor for LCMS Communications.