International Work
A Bridge to the Gospel
Die Brücke, a Lutheran outreach center in Leipzig, Germany, is connecting refugees and native Germans to Christ.
"The Bridge is a staple in the community. When the doors are open … they know that they can come in and have coffee with us," said Deaconess Kim Bueltmann, a missionary with The Lutheran Church—Missouri Synod (LCMS) in Leipzig, Germany. The Bridge Lutheran outreach center — known as Die Brücke in German — offers Bible classes, crafts and other activities through which the missionaries there help refugees learn German and teach children (mostly German) the Bible. "Even though they say they are atheists, they come back every week and they are hearing the Word of God."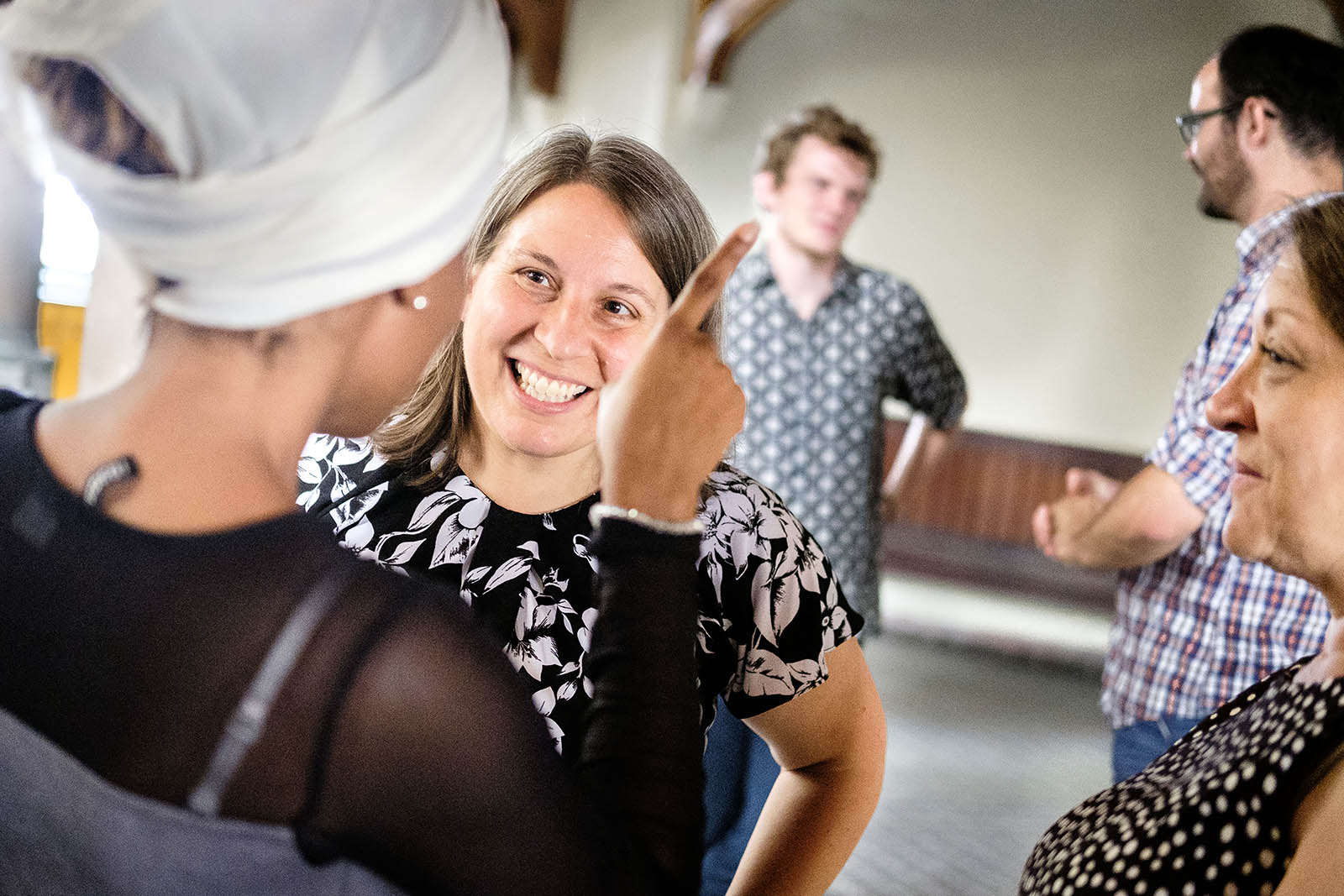 Die Brücke serves as a bridge for many people, including refugees, children and local Germans. It connects refugees to the community, brings refugees and German members of the congregation together, and — most importantly — joins people to Jesus.
"Christ is in the work that is done here," said LCMS missionary Deirdre Batiansila Christiansen. She sees "the Pentecost effect — they are hearing the Word of God in their own language. You see the joy they feel when they receive the Word of God."
Harrowing Stories
Voices shaped and honed by hardship and suffering join together in praise of the One whose death redeems sinners. Ahoura, Atefeh and Bijan, refugees from Iran now living in Germany, sing in Persian harmony, using original words mixed with Iranian tunes and rhythms. And the congregation of Trinity Lutheran Church in Leipzig welcomes their voices, works to heal their wounds and joins them as they come for God's Word and Sacraments.
"If you have experienced the love of Christ, why would you want anything else?" said a refugee from Iran, who must remain anonymous to protect her family.
The young lady loves Jesus and rejoices that He loves her. She paints to express her faith and to process her pain. One painting contains frightening images: a police officer spying on a house church, a prison cell and hangman's noose.
The refugees describe meeting in house churches underground. Military officials often showed up disguised as interested Christians. But when they learned the names of the people, they arrested many. In prison, the Christians were severely mistreated. Many were hanged or "released" to be killed on the streets.
One refugee shared a story about his brother, who was arrested, incarcerated, released and then found mutilated. In another story, the pastor of the house church was arrested, and the members were told that their names were now known and they must flee the country. A young girl described how men assaulted her repeatedly and left her in the wilderness. As she sat with her mother, tears and fear covered her face.
The refugees tell stories of terror and unbelievable cruelty. Yet they insist that the people of Iran are not bad, but the Muslim regime is cruel and has ruined their country. Islam is forced upon the citizens, with the choice of belief or death.
A young woman related that after learning Islam, she decided she would rather have no religion than the God of the Quran. Her cousin told her about Christianity and invited her to church. She said the people there were different, that Jesus taught forgiveness, and that changes everything.
The refugees journeyed through Turkey, Croatia, Greece, Hungary, Italy and other places until they landed in Germany. One related the story of a shipwreck in the Mediterranean Sea, when 35 people were saved from the cold waters. Some walked and hid in forests and sewers to avoid being found by Muslims hunting down Christian refugees fleeing the Middle East.
Germany offers refugee status and assistance to those fleeing Iran or other places. In the Saxon cities of Leipzig, Dresden and Chemnitz, the Selbständige Evangelisch-Lutherische Kirche (SELK), a partner church of the LCMS, works with refugees to teach the faith and help them adjust to life in Germany.
Hope in Christ
"We aren't just here to listen to their gut-wrenching stories," said Christiansen. "We are here to give them hope in Christ."
Baptism classes attract refugees, since it is one activity the government approves for refugee status. Many of the refugees, even the Christians, are not baptized. In Chemnitz, more than 30 refugees gathered one day to hear about the Lord's gift of Baptism. The Rev. Stefan Dittmer, pastor of Trinity Lutheran Church, Dresden, taught about sin, guilt and God's love in Christ. He explained that God's love is for the whole world in Christ, and that in Baptism it is for you, for each refugee.
"They long for community," said Karen Cecil, who, along with husband Carl, is an LCMS missionary. Carl noted that along with instruction, "We are here to build relationships and to befriend those who come."
LCMS missionaries work alongside SELK congregations and pastors. Bueltmann and Christiansen work closely with SELK missionary Rev. Hugo Gevers, who serves alongside the Rev. Markus Fischer, pastor of Trinity in the renovated historic St. Lukaskirche in Volkmarsdorf, Leipzig. The Cecils build relationships with refugees in Dresden and Chemnitz, working alongside Dittmer in Dresden. There also are other outreach activities occurring through the SELK, including two small house churches in Borna, Germany.
Intentional Mission Work among Refugees
"There are really very few churches who are doing mission work among the migrants," said Gevers, who works at Die Brücke.
"This region is really an atheist region, so many Germans do not believe in Christ and have not known Christ, since the young generation has not heard of Christ," Gevers continued. "The migrants from Islamic countries also have not heard the message of Christ yet. That is why I am here."
Gevers is able to speak Farsi, the native tongue of many of the refugees. When he first came in 2006, he quickly observed that it would be necessary to learn their language and culture in order to communicate the Gospel with the migrants. "Many come to us because they know we talk in Farsi," he said.
Gevers provides sermons in Farsi for the churches in the area, but this is not easy. He spends about six hours a week translating his sermon, which he writes in German, into Farsi. That sermon is then emailed to over 200 people and churches for use.
Trinity, Leipzig, offers Farsi and German services every Sunday at St. Lukaskirche. On most Sundays, the early service is in German. A coffee hour and then a service in Farsi follow. While people do interact during the coffee hour, the congregation is working to bring the Farsi and German people closer. To that end, one Sunday a month the congregation offers one service in both Farsi and German.
"If they can't live at home, they are welcome here," said Eva Lindecke, a German member of Trinity, Leipzig. "We welcome them in everything we do."
"It is so important to teach the Christian message," said Gevers. "Many churches are baptizing many migrants, but there is often no teaching after the Baptism. It is so important that we clearly want to do outreach to the Muslim people. It is not only good for the Muslim people, but also for the German people in the churches."
Some Lutheran materials have been translated into Farsi, with more work on the horizon. Over 7,000 copies of Luther's Small Catechism in Farsi have already been distributed.
The SELK works hard to minister to the German people as well. Refugees, Germans and all who come to church or an outreach center are welcome. The work is not always easy, and it's rarely glamorous. Yet with the promises of God, their work is bearing fruit, as He works through His Means of Grace.
"Every Sunday, it's like Pentecost — different languages, all hearing the Gospel," observed Christiansen after the combined Farsi/German service in St. Lukaskirche.
No matter the language, God speaks His Son into sinners' ears even as He has washed them into His death and resurrection and continues to feed them with the bread of life. Refugees. Native Germans. Missionaries. Visitors. All are drawn to the beautiful renovated church because the bells ring again. All hear Christ.
"God is so amazing, just how He works. These kids keep coming back week after week," observed Bueltmann. On a recent retreat she led, a young girl sang songs about Jesus' resurrection during her free time. "They come and say they are atheists, but God's Word works."
In Leipzig, Jesus is the bridge. Not in the way many picture, as the One who opens the possibility of God to the world, but as the One who bore our sins in His body and gives us eternal life.
Learn More
Pray with Us
You promise, O Lord, to be with Your Church and to call people to repentance. Many throughout our world face persecution for their faith and flee to find refuge in foreign lands. Just as You were with Israel as they wandered in the wilderness, so be with immigrants and refugees through Your Church. Bless especially those in Germany who proclaim the Gospel to those in their midst. Restore also the church there, which has weakened. May all find shelter in Jesus Christ, our Lord. Amen.
Share Jesus with the World
Your generosity today makes possible your Synod's witness and mercy efforts both at home and abroad.
Give now
Are you looking to direct your gifts for work that's more specific?
Visit the LCMS online ministry and mission catalog to find those opportunities most meaningful to you!
Don't see what you're looking for?
Contact LCMS Mission Advancement at 888-930-4438 or mission.advancement@lcms.org to talk about all the options available.